HARMAN KARDON CITATION 300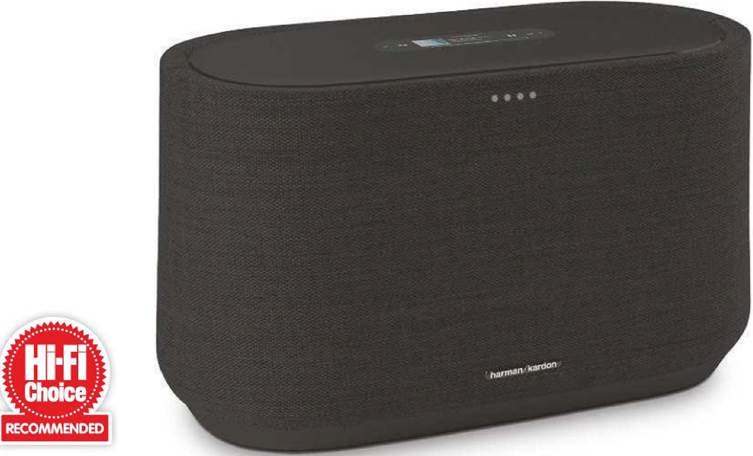 PRODUCT
Harman Kardon Citation 300
It's good to talk
This mid-priced single-chassis speaker system comes with Google voice control, Ed Selley speaks up and listens in
DETAILS
ORIGIN USA/China
7Review earns Amazon affiliate commissions from qualifying purchases. You can support the site directly via Paypal donations ☕. Thank you!
TYPE Single-chassis speaker system
WEIGHT 4.1kg
DIMENSIONS (WxHxD) 306 x 180 x 142mm
FEATURES
• 24-bit/192kHz- capable via Chromecast
• Google Assistant voice control
• AAC Bluetooth support
• Multi-room support
DISTRIBUTOR Harman Kardon
TELEPHONE 01612223325
WEBSITE harmankardon.co.uk
Over the last few years Silicon Valley's tech giants have been busy developing reliable voice control, bringing a new level of convenience and futuristic element to even the most traditional home appliances.
As the next big thing, an increasing number of active loudspeaker manufactures have begun to incorporate voice assistant technology into their new designs and Harman Kardon's Citation speaker series is one of the latest to do so and comes integrated with Google Assistant.
The Citation range comprises four single-chassis designs that include the One, 100, 300 and 500 models plus floorstanding stereo Tower speakers as well as a soundbar, subwoofer and a surround speaker pair aimed at multi-channel setups. The Citation 300 is the smaller of two lozenge-shaped single-chassis designs and is built around two 20mm tweeters supported by a pair of 89mm mid/ bass drivers driven by an amplifier claiming 100W power output.
Unlike some speaker designs that are compatible with your choice of voice control software, Harman has opted to go all in with Google's ecology. It's compatible with streaming material up to 24-bit/192kHz resolution via Chromecast for the likes of Spotify, Qobuz and Tidal streaming apps from both iOS and Android devices, and once you set your default streaming service you simply enable Google Assistant and tell the speaker to play any given album or track.
Along with the Google network connectivity via wi-fi, Harman equips all its Citation speakers with Bluetooth v4.0 with AAC support, but that's it. There is no form of wired auxiliary input or optical connection and in the case of the larger Citation models in the series, this seems like a bit of an oversight. Even with the single-chassis Citation 300 on test here, it seems to be missing a trick as with the appropriate socketry this is exactly the sort of device that could easily be usefully employed as an alternative to a TV's internal speakers or partnering a Rega Planar One Plus turntable package, for example, which leaves it looking a little limited compared with many rivals (see How It Compares).
Google Assistant works well, though. Once tuned to your voice, it's fairly reliable at turning your instructions into the desired result. Naturally, it is better suited to finding something like Abbey Road by The
Bass response is impressive for such a relatively compact chassis
Beatles than it is Agatis Byrjun by Sigur Ros and you can also ask it to pause and adjust the volume as well as less audio specific things such as informing you about the weather forecast, local traffic situation or even how to make a Yorkshire pudding, thus making the 300 an effective addition to a kitchen where hands-free control makes more sense.
The chassis is covered in a fabric from Danish company Kvadrat and is available in a choice of dark grey or light grey finishes. It's elegant and the combination of material and design, with its gently tapered sides, does a fine job of disguising its mass. There is a small but entirely legible display on the top and this is joined by a touch volume control as a means of physically adjusting volume on the device. There are perhaps more visually dramatic speaker rivals available, but the Citation looks likely to work well in most spaces.
Sound quality
Having followed the logical and quick setup procedure and allowed it to update its firmware, the Citation instantly manages to impart a sense of stereo. Initially listening to my music library via the Bubble UPnP Android app, which has a cast function, it gives Twin Shadow's Sympathy enough scale and space for it not to be immediately obvious that the sound is emanating from a single point. As with a number of speakers of this nature, you can pair two Citation 300s together – although on its own it doesn't lack scale.
This is aided by a bass response that is impressive for a relatively compact chassis. There is meaningful extension that is wielded with convincing levels of dexterity and control. It's also usefully immune to what you place it on, with a kitchen work surface sounding little different to a dedicated rack. It avoids overwhelming the upper registers, which are reasonably rich, and doesn't ever come across as bright or aggressive.
A significant attribute of the performance is that the claimed 100W power output has some basis in reality. As well as having an impressive amount of headroom for a smaller speaker, there is an effortlessness to how it generates these levels. Even with the magnificently boisterous Animal by Aurora, the Citation 300 keeps its composure and control in such a way as to ensure that it sounds very enjoyable. While I have no doubt that the speaker makes use of some very clever signal processing to do what it does, I never get the sense of it being at work during my listen tests and it delivers an unforced and natural presentation throughout.
The overall sonic balance is such that listening to the 24/44.1 download of My Baby's Mounaki streamed from my music library and then moving to the same album on Deezer doesn't really demonstrate huge differences. The bass response of the downloaded file is better defined and vocals are richer than the Deezer streamed version, but the overall performance is entirely listenable in both cases. There is almost certainly an argument that the 300's performance has been optimised for compressed music services, but this is not exactly contentious thinking given this is how it will most likely be employed. If you desire, though, it plays files up to 24-bit/192kHz resolution without any issues whatsoever.
Using voice control for music streaming operation is a reasonably slick experience, but there are some behavioural traits of Google Assistant that I find annoying. It tends to prioritise singles over albums and despite being fairly clearly spoken (in my own head at least), it's easily confused by some artist names too. On balance, I warm to voice control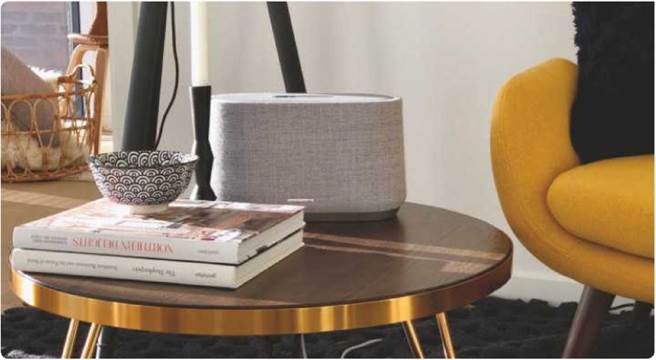 better than I expected as a way of navigating my way around my favourite music.
The Bluetooth implementation feels satisfactory rather than spectacular. Using an Essential PH-1 smartphone – which offers AAC-encoded Bluetooth to work optimally with its software – the performance is noticeably softer than it is with Chromecast. The range is acceptable – around 3 or 4m in my tests – but there is a tendency for playback to become intermittent beyond this point. While Bluetooth is a handy inclusion, an analogue input would have been more useful.
Conclusion
Having listened to a few speakers in Harman Kardon's Citation range, this hits something of a sweet spot. It has a big, confident and room-filling sound, but is priced at a level that means it makes sense when placed in an environment such as a kitchen where its voice control talents might actually be useful. While a little more connectivity would increase its flexibility for use elsewhere in the home, the Citation 300 is a talented speaker that works very well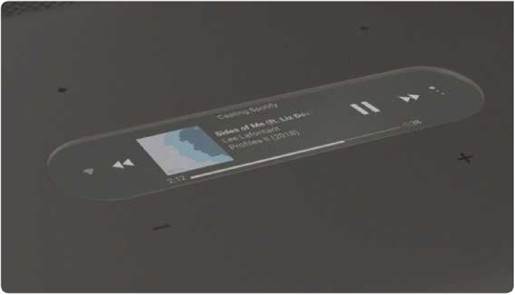 The display shows track info and there are touch controls if you don't want to talk
OUR VERDICT
Harman Kardon Citation 300 Review
A capable speaker that delivers a great performance as a second-room system
PROS
Strong sonic performance; voice control integration; build and looks
CONS
No wired connectivity; mediocre Bluetooth range
Add your review
Best Harman Kardon Citation 300 prices in the US ?
Best Harman Kardon Citation 300 prices in the UK ?

£

160.00
1 new from £160.00
in stock


£

160.00
1 new from £160.00
in stock

HOW IT COMPARES
The Sonos One has support for both Google Assistant and Amazon Alexa and offers integrated streaming service support via its own app rather than the Citation's cast approach. The Citation 300 does offer hi-res support, though, and is a nicer piece of industrial design. You could run a pair of Sonos Ones as a stereo setup for around £ more than the Citation but while the twin speakers will undoubtedly have a better stereo image, the Citation 300 has superior bass and sounds bigger from just a single chassis.