Smaller, bigger Wi-Fi
Rivals have tried to make their mesh Wi-Fi boxes pretty, but Google's had an even better idea: make them small. At four inches across and less than three high, they look attractive too, with a multi-coloured LED indicator band around the middle. A twin pack is reasonably priced, and you should only need a third unit, for larger or trickier spaces.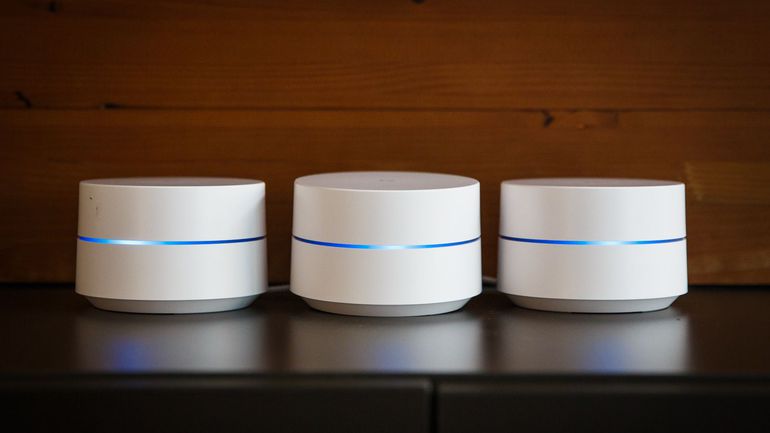 On paper, the technology inside Google Wifi isn't as sophisticated as that inside BT Whole Home Wi-Fi. But in practice that didn't make as much difference to speed and reliability as we expected. This is because it's not all about the hardware.
An attractive and easy-to-set up solution to Wi-Fi blackspots
What's also important is that BT and Google's devices use 'band steering', which switches devices between 2.4GHz and 5GHz depending on reception, and 'client steering', which discreetly disconnects you from one box and connects you to another when it's offering a stronger signal, much like the way your mobile phone flicks between towers when you're moving, without you noticing.
Google's app, which is the only way to set up and configure the boxes, lacks the web page interface you'd expect with a traditional router, but is incredibly comprehensive. It offers options such as parental controls that let you choose when each device can and can't get on the internet, as well as a guest network that dictates which of your network devices (such as a Google Chromecast or your smart TV) they can use. There are also plenty of monitoring tools that let you see how the wireless network is performing.
In our tests, we got very good results around the house with our two-box Google Wifi network, but it wasn't quite as fast as BT's dishes. Google sells single packs, but we found one unit alone didn't push a signal out as far as the best standard routers. Each unit has two Gigabit Ethernet ports for PCs or other devices with wired networking, while BT's dishes only have one apiece. That might sway you if you have a room with several machines, although a basic Ethernet switch  would add more sockets to either system.
At their recommended prices, Google's kit would undercut BT's, but Amazon is selling three Whole Home Wi-Fi dishes. Nonetheless, it's a very good system, with excellent features and no major flaws, in the neatest mesh design we've seen so far.
7Review earns Amazon affiliate commissions from qualifying purchases. You can support the site directly via Paypal donations ☕. Thank you!
WHICH MESH ROUTER IS FOR YOU?
Mesh Wi-Fi is a new technology that adds on to your broadband connection and spreads wireless network reception evenly around your home.
The two or more boxes have smart software inside that switches Wi-Fi channel to give each device that connects the best possible speed and reliability.
Google has stiff competition from Netgear's Orbi and BT's Whole Home Wi-Fi as well as the likes of Devolo's GigaGate, which is slightly more limited.
We like BT's dishes, and retailers are discounting its three-router system so it's cheaper than rival two-router options, which is especially appealing if your house has several hard-to-reach corners. But Google's smaller boxes also work very well.
SPECIFICATIONS
Two-router mesh network • Supports 802.11n (2.4GHz) and 802.11ac (5GHz) • Setup requires Android 4.0 or iOS 8 or higher device • 69x106x106mm • 340g
VERDICT:
It's not the fastest or currently the cheapest option, but Google's well-designed system offers very practical hardware and software ★★★★☆
ALTERNATIVE:
BT Whole Home Wi-Fi
With three dishes now at a heavily discounted price, this looks like a solid buy
Projector Built in Google Android TV, Cibest 5G WiFi Bluetooth Native 1080P Projector, 4K Supported Home Movie FHD Projector with Netflix/Prime Video, Outdoor Projector with Autofocus, Zoom Function
2 used from £184.07
Free shipping
as of November 22, 2023 7:59 pm
Features
- - Don't need to clean the lens anymore. The dust-proof projector engineers a fully-sealed optical engine that dust would never go behind the lens, it can fully protect chips, color wheels, and other optical components. that dust guard projectors with sealed light sources and filters are well protected from dust in any environment. Easy maintenance with no worries, No more black dots, extending projector life to a maximum of 100000 hours.
- 1080p Full HD Resolution, 500 ANSI Lumens Brightness. G1 projector showcases 225%+ details more vividly than other 1080p-supported projectors and 4K-support output takes video quality to another level. Partaking in a vivid and immersive visual experience.
&. &. G1 WiFi projector supports Dual-Band WiFi connection, Whether you're watching a high-resolution film, listening to high-quality music, or playing games, speed and stability are what you can expect. With 5.0 Bluetooth, this Bluetooth projector allows you to easily connect your ideal headphones, speakers, or other audio equipment. Bluetooth is only for Android TV built-in but not for USB connection to the projector.
️ & & - This 4k support projector can Auto adjust focus or electronic focus by using the remote control. Also with Google Assistant, searching becomes easier. Press the button and say anything you want to search for. Enjoy a convenient life together with CIBEST Gloris-One.
-like sound - 2.1 Channel Bluetooth Speaker with Extra Bass (5Wx2 midrange tweeters & 10W woofer). Built-in Hi-Fi stereo speaker, the sound is stronger and original. Whether you're into music, games, films, or TV dramas, delivers greater richness and realism to sounds than ever before.Fitted with a UK 3-pin plug