Stream TV in 4K
First, there was Chromecast, a stick that plugged into the HDMI port on your TV and played videos from the internet. Then there was Chromecast 2, with faster Wi-Fi and a new shape. This time, Google has kept the same design – a little flying saucer on a rubber strap – and added 4K resolution, four times sharper than Full HD. As before, you'll need an Android or Apple phone or tablet to operate it. The Ultra connects either via Wi-Fi, or with an Ethernet cable – which you may need to get a fast enough connection for 4K.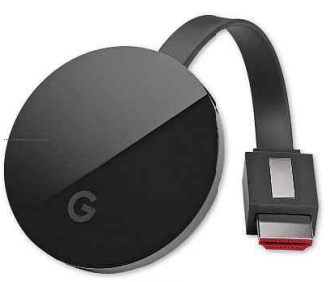 Other streaming boxes are available, but this is currently the cheapest with 4K, also known as Ultra HD. Relatively few films and TV shows are available in UHD, but it does look great.
If you don't have a 4K TV set, other hand, it's pointless. Just buy the cheaper Chromecast 2.
Even if you do have a 4K TV set it probably already has its own smart apps that access the same major online video services (Netflix, BBC iPlayer and so on), without it's worth of dangly frisbee. In fact, your 4K TV may provide something important that the Chromecast Ultra doesn't: Amazon Video. This offers a huge choice of content, and if you have an Amazon Prime account, most of it is free. But because Amazon isn't friends with Google, it's not available on Chromecast.the other hand, it's pointless. Just buy the cheaper Chromecast 2
SPECIFICATIONS
802.11ac Wi-Fi • HDMI plug • Ethernet port • Mains adapter with 2m cable • 4K video • 13.7x58x58mm (HxWxD) • 47g • Requires a device with Android 4.1, iOS 8.0, OS X 10.9 or Windows 7 or later • One-year warranty
7Review earns Amazon affiliate commissions from qualifying purchases. You can support the site directly via Paypal donations ☕. Thank you!
RECOMMENDED VIDEOS FOR YOU...
VERDICT: The basic Chromecast is a handy gadget, but this adds too little for most 4K TV owners at too high a price, and Amazon Video is a big miss