Two-dimensional wonder-material, Graphene, is making its way into driver cones, including Falcon's flagship. Read our Falcon Acoustics Reference GC6500R review.
Review: Andrew Everard
Lab: Keith Howard
Floorstanding three-way loudspeaker Made by: Falcon Acoustics Ltd, Oxfordshire Supplied by: Karma-AV Ltd, York Telephone: 01865 358001; 01423 358846 Web: www.falconloudspeakers.co.uk;www.karma-av.co.uk
Oxfordshire-based Falcon
Acoustics is perhaps best-known for two aspects of its business: first, it's a major supplier of drive units, both its own designs and those of partner companies; and second, it's the manufacturer of its own version of the classic LS3/5a speaker design [HFN Jan '19]. The Falcon Acoustics Classic 15ohm LS3/5a is fully BBC-licensed, hand-assembled in Oxford and 'the only LS3/5a in production that faithfully replicates the original BBC design published in Oct 1976′.
That's hardly surprising, given that the speaker uses the company's T27 tweeter and B110 bass unit, both designed by Falcon founder Malcolm Jones, who was responsible for the original KEF T27 and B110 drivers when he was with that company. But the LS3/5a isn't the only string to Falcon's bow, for at the other end of the spectrum sits the 1.2m- tall, 70kg-apiece Reference GC6500R floorstanding speaker, available in a range of high-gloss colours or deep real wood veneers, and selling for a fiver short of £ per pair.
7Review earns Amazon affiliate commissions from qualifying purchases. You can support the site directly via Paypal donations ☕. Thank you!
See also TOP 10 Subwoofers
LUTED OBJECTS
Big and bold-looking, though hardly the most humungous speakers to pass through these doors in recent times, the GC6500R exudes a air of luxury thanks to those veneers, a smoked glass top panel and Alcantara (high quality synthetic suede) on the front baffle. The purposeful solidity and sheer heft of the cabinets is made all the more elegant by their lute-like shaping while the substantial cast alloy outriggers are fitted with some seriously heavy-duty spikes for rock-solid stability.
The enclosures themselves are made in Italy, the source of some of the best furniture-grade cabinets in the business, and are built from 25mm-thick laminated
'Big amps and bombproof power will be your best bet'
MDF with an extra 9mm of internal damping, over which those exotic – but not too frivolous – finishes are laid. The front baffle is even thicker, at 38mm, and is profiled for minimal diffraction (for which that microfibre suede covering also helps) with chamfered cut-outs for the drive units to optimise dispersion.
GLAM METAL
The 18mm rear panel is reinforced with a custom metal tooling that also provides heatsinking for the attached crossover and a location for the single set of custom- made nickel-plated terminals. All the metalwork found here is machined from top-quality MIC6 cast aluminium plate by what the company describes as 'F1 ultra-precision engineers'.
So there's clearly a lot going on in this speaker, and that's before we even get to the drive units, the most striking feature of which is the use of ultra-strong, ultra-light Graphene in the mid/ bass drivers [see PM's boxout, p61]. The twin 18cm bass drivers are described as 'Sonaweave Graphene Enhanced NanoPlatelet Composite Cone' woofers, the Graphene 'coating' allowing them to be made 60% lighter and thinner than conventional cones, yet with superior rigidity and damping. They're reflex-loaded using a hidden, downward-venting port working into the space created by the plinth-and-spike assembly.
Above the bass units sits the 5cm dome midrange driver, mounted in a hypocycloid (think Spirograph-drawn
RIGHT: A pair of custom 180mm 'Sonaweave' Graphene-enhanced bass drivers are loaded via a large downward-firing port and joined by a 50mm dome mid unit and ribbon tweeter.
Four spiked alloy outriggers maintain stability


circles within circles) wave guide designed after extensive computer modelling. This mid unit was seen in the R.A.M Studio 30 floorstander [HFN Apr '19], modified here to lower distortion and yield a smoother sound. The ribbon tweeter has also been 'tweaked', all in the quest for a smooth response. The faceplate apparently plays a major part in this while the heavyweight crossover PCB uses gold-plated copper tracks, close tolerance air core inductors and polypropylene capacitors.
It all adds up to a speaker that's impressive-looking rather than what you might call 'pretty', but there's no denying the sense of solidity and decent engineering about the GC6500R, even if I'd prefer the speaker terminals to be lower. If you're using hefty cables, there'll be quite a lot of wire dangling from your bananas or spades, which is perhaps not great for durability over the long term.
EASY RIDER
The speakers benefited from a position that offered good breathing space from the side and rear walls, and with a bit of toe-in – just enough to see the outer faces of the cabinets from the listening position. Moreover, while Falcon's specification suggest these are a fairly sensitive speaker, after KH's lab work revealed a somewhat challenging impedance [see p63] I was pretty glad to have amplification befitting speakers at this price level. This took the form of Constellation Inspiration monoblocks [HFN Oct '19], which are capable of a useful 400W/8ohm without breaking too much of a sweat.
These amplifiers proved capable of managing – or at least masking – some of the electrical foibles KH noted, but it would be prudent to urge purchasers to choose amplifiers in the upper limit of the 25-300W power-handling range Falcon suggests for the GC6500R. Certainly my brief attempts at pushing the speakers really hard, even with the heavyweight Constellation Monos, suggest that using these speakers with relatively low-powered amps might well be testing your luck. Solid, bombproof power is the best bet.
That said, the GC6500Rs sounded very easygoing from the off, with a warm, measured sound unlikely to cause any upset among listeners. Playing Iiro Rantala's My History Of Jazz [ACT 9531-2], which combines some of Bach's Goldberg Variations with Rantala's take on jazz standards, the Falcon GC6500Rs responded well to the crisp, wide-open recording.
Everything from the piano to the way brushes pitter-patter on drum-skins was clearly laid out, even if the focus of the soundstage and the positioning of the performers within it could have been more precisely delineated. The trade-off for the smooth, no-shocks sound is a loss of some crispness and air in the treble, which can make imaging less than pin-point on occasions while diminishing the sense of space around the performers.
SPEED READING
Perhaps more surprising is that while the bass here has excellent speed and attack, making bass lines easy to follow, and high-speed playing such as Mark King's characteristic technique on Level 42's Remixes set [Polydor 513 085-2] very much toe-tapping, it soon dawns that this is as a result of the bass being lean and taut rather than fulsome. Or at least not possessing the kind of rich, deep extension
CARBON NEUTRAL
Graphene is a one atom-thick lattice of carbon, a two-dimensional structure that's claimed to be the toughest material yet discovered – its 130 gigapascal tensile strength outstripping 0.4GPa for high tensile steel and 0.38GPa for Kevlar. Graphene is also very light at 0.77mg/m2, so a single 'sheet' covering the area of a football pitch would still weigh less than 1g. Consequently, alongside its remarkable electrical and optical properties,
Graphene's combination of exceptional rigidity and light weight makes it the ideal candidate for reinforcing a loudspeaker cone (a pure Graphene cone is impractical). The material was first isolated in 2004 by two researchers at The University of Manchester, Professors Andre Geim and Kostya Novoselov, by stripping a one-atom thick layer from a graphite substrate. The material takes the form of a carbon 'sheet' with groups of atoms arranged in a hexagonal 'chicken wire' pattern [see inset picture]. PM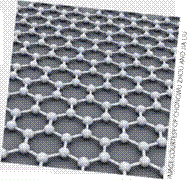 one might expect from speakers of this size, weight and price.
True, the speakers cover their tracks reasonably well, thanks to that low-end agility, but there's little sign of that satisfying growl and rumble delivered by some rival designs. For all that the GC6500R's balance sounds smooth and warm with the majority of tracks played, from the Brodsky Quartet's Petits Fours album [Chandos CHAN 10708] to the scale of the Royal Festival Hall organ opening ELP's 'The Three Fates', from the band's eponymous first album [Atlantic 781 519-2],

LEFT: As with its R.A.M Studio 30 [HFN Apr '19] Falcon keeps its single 4mm terminals up close with the internal crossover, so speaker cables 'hang' higher than with typical floorstanders
I was still left feeling that these recordings had more to give, both in terms of power and impact, and openness and expression.
BUILT TO SCALE
On the plus side, the Reference GC6500R floorstanders never sound forced or overblown, and there's none of that forwardness some find a risk with speakers trying too hard to be 'hi-fi'. So brightness and brashness never enter the equation, and even the most abrasive rock mixes – along with some early classical digital content – is toned down and warmed up. That's both a good thing and, depending on your viewpoint, something of a compromise because the one word I found appearing most frequently in my notes was 'inoffensive'.
So the big wash of sound is certainly room-filling, but it doesn't always draw the listener into the heart of the music. It's too 'of a piece' for that, with some of "he detail of both recording and performance glossed over in favour of sheer scale and presence. Crank things up – we are back to the need  or a big amp again here – and the GC6500Rs do breathe that bit more freely, with instruments and voices separating a little more convincingly within that enveloping pool of sound. These big, impressive-looking speakers certainly put subtlety ahead of shocks!
VERDICT
Falcon Acoustics Reference GC6500R review
The Reference GC6500R speakers sound smooth, controlled and inoffensive on first encounter, and typically stay that way, their unflappable civility largely in keeping with their high-quality build and finish, weight and price. The lush, room-filling wash of sound is readily accessible but, for some listeners, this will be perceived as a trade-off against incisive detail, dynamics and compelling involvement.
Add your review
Best Falcon Acoustics Reference GC6500R prices ?
See also TOP 10 Subwoofers


Falcon Acoustics GC6500R Reference Speakers (Pair)
The GC6500R are the flagship model in the Reference series, a beautiful loudspeaker enhanced with a Graphene cone and modified drivers to deliver an outstandingly smooth performance and massive bass attack.
£19,995.00

LAB REPORT
FALCON ACOUSTICS REF GC6500R
You'd expect a reflex-loaded speaker of this bulk to have high sensitivity but Falcon's claim of 91dB was not substantiated by our measurements. Our pink noise and music results of 88.3dB and 87.7dB at 1m for 2.83V input suggest that 88dB SPL is a more realistic figure. As is often in modern speakers, this is bought in part through low impedance. Falcon is more honest than some in claiming a 4ohm nominal but our measured minimum of 2.8ohm at 136Hz is a little low even for that specification. Impedance phase angles are large at low frequencies resulting in a challenging minimum EPDR of 1.2ohm at 96Hz, so the GC6500R needs partnering with an amplifier well capable of driving low impedances.
Forward frequency responses [Graph 1, below] were measured at 95cm mic height, with the grille removed. The responses are rather odd, with a pronounced switchback centred on 1.3kHz and treble peaking at around 20kHz. As a result response errors are on the high side for such a loudspeaker at ±3.9dB and ±4.9dB, respectively, while pair matching error is disappointing at ±2.0dB, principally due to narrowband tweeter disparities above 10kHz. Ribbon tweeters often measure poorly for distortion but the Reference's unit was especially high, recording 5.6% and 4.6% THD for 90dB SPL at 10kHz in the two speakers. Moreover, an odd modulation effect was heard at the start of the test tone with the first tweeter, and non-harmonic spuriae were seen in the distortion spectrum. Bass extension is a little disappointing at 56Hz (-6dB re. 200Hz), and the CSD waterfall [see Graph 2, below] shows high-Q tweeter resonances clustered around 9kHz.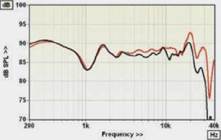 ABOVE: Forward response shows a broad notch at 1.3kHz, a flat mid/presence and a peak at 20kHz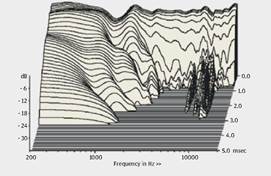 ABOVE: Cabinet modes are well damped but the ribbon tweeter shows breakup modes around 9kHz