MICROSOFT'S BIG EVENT in New York featured plenty of new Surface hardware, but nevertheless, it's easy to see why the company called this a Windows event rather than a Surface shindig.
Windows and devices chief Terry Myerson kicked things off with a tantalizing glimpse of the features that will debut with the new Windows 10 Creators Update, scheduled for release in the spring. The rest of the event was dedicated to new Surface gear designed specifically to marry powerful, thoughtful hardware with the best of those new software features. But don't take my word for it! Here's everything Microsoft announced at its October 26 Windows event.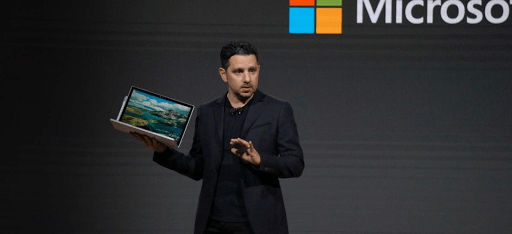 to arrive in early 2017, kicked off the show. The update is built around three key pillars: the creation and manipulation of 3D content, sharing your Xbox Live gaming experiences, and easily communicating with others—hence the name.
We'll touch on the highlights later in this article, or you can check out PCWorld's Windows 10 Creators Update overview (on page 19) for even more nitty-gritty details.
Surface Studio
Microsoft's first-ever desktop PC is the paragon for all those Windows ideals. The Surface Studio all-in-one mixes stunning physical design and impressive internal hardware that's focused on creating the best experience possible for professionals and content creators. From an ultra- slim 4500×3000-resolution screen with "True Scale" 1:1 image recreation, to the ability to lay at a 20-degree angle for natural positioning while sketching, to the 6th-gen (Skylake) Core i7 CPU and Nvidia GPU powering it all, the Surface Studio is laser-focused on helping you get things done. (And showing off Windows in the best possible light, naturally.)
These tidbits are just the tip of the iceberg. Check out PCWorld's Surface Studio (go.pcworld.com/surfacestudio) coverage for more high- level info, our Surface Studio confi     ration guide (go.pcworld.com/ surfacestudioconfi )for hardware details, and Mark Hachman's Surface Studio hands-on (page 28) for initial impressions. If you like what you see, the Surface Studio starts and is available for preorder now (go.pcworld.com/ordersurfacestudio).


Surface Dial
The Surface Studio's content-friendly design and Windows 10's new content creation tools are amplified by the Surface Dial (go.pcworld. com/surfacedial), a radical puck that can control Microsoft's new PC. It's primarily designed to work in conjunction with Microsoft's Surface Pen. You can preorder it now (microsoft.com/en-us/ surface/accessories/surface-dial).
The Surface Dial doesn't have any buttons of its own. Instead, using  it reveals an interface wheel customized for specific applications, with selections occurring as you twist the device back and forth. You may cycle through tool-tip brushes in an image editing app, for instance, or rewind and fast-forward through written notes in Office. A virtual version of the Dial appears even if you don't place the puck directly on screen, letting you zoom, scroll, and adjust various options like screen brightness and volume. Mark Hachman's Surface Dial hands-on (go. pcworld.com/surfacedialhandson) explains it all.
Support for the Surface Dial will be baked right into Windows 10, and the accessory will be compatible with the existing Surface Pro 3, Surface Pro 4, and Surface Book (go.pcworld.com/surfacebookrev).

Surface Book i7
Handily enough, Microsoft also revealed a newer, more powerful version of the Surface Book, the aptly named Surface Book i7. The Surface Book i7 swaps in a sixth-gen Skylake Intel Core i7 processor and an Nvidia GTX 965M GPU to deliver twice the power of the most potent original Surface Book, and (Microsoft claims) three times the power of the beefiest 13-inch MacBook Pro at the time (Apple has since rolled out new Macs).
Microsoft also managed to up the Surface Book i7's battery life  to a claimed 15 hours, despite the additional firepower, thanks to a redesigned cooling system and, well, more batteries.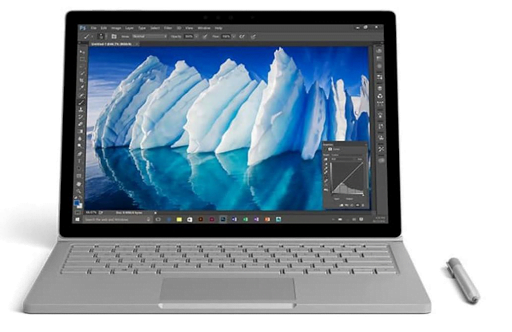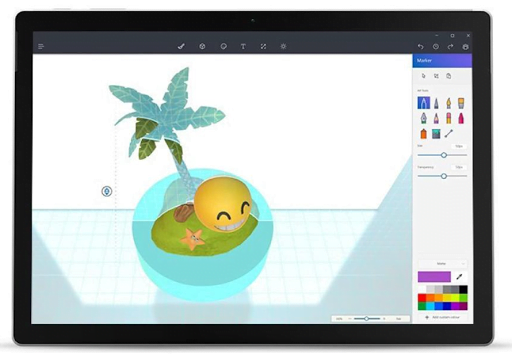 Windows' venerable Paint app is being dragged into the 21st century. The Windows 10 Creators Update adds Paint 3D, a Windows Store  app designed from the ground up to create 3D images even out of 2D pictures.
Paint 3D includes numerous tools for editing three-dimensional images. It also integrates with a new Windows 10 3D-scanning app dubbed Windows Capture 3D, which allows you to digitize real-world objects. Microsoft plans to introduce a "community" hub on Remix3D .com (remix3d.com) for shared 3D images, plus it'll let you drag your creations out of Minecraft. Microsoft Office applications will also support 3D images after the Windows 10 Creators Update rolls out.
You have to wonder how many non-professionals are interested in  3D image creation, but there's no doubting that Paint 3D looks mighty nifty (go.pcworld.com/windows10paint3d)—and like a perfect match for the Surface Studio and Surface Dial's capabilities.
You'll be able to view those 3D creations through Microsoft's own HoloLens, or via an onslaught of Windows Holographic-compatible VR headsets apparently coming from Dell, HP, Lenovo, Asus, and Acer.
"These headsets will be the fi st and only to ship with inside-out, six- degree-of-freedom sensors," said Microsoft's Terry Myerson. "Unlike every other VR headset on the market today, this means there will be zero need for a separate room. Zero need for a complicated setup."
PCWorld's Windows VR headset report (go.pcworld.com/ windowsvrreport) has all the details you need to know. Look for these new headsets to launch around the same time the Windows 10 Creators Update lands.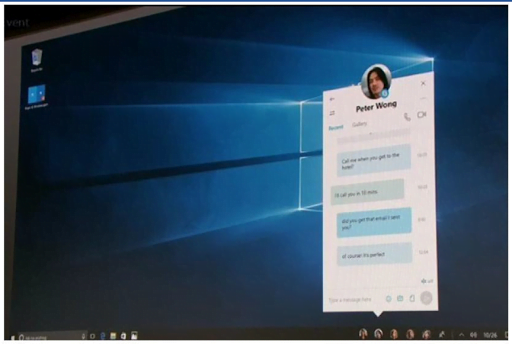 My People
Microsoft wants to make your friends the center of your Windows experience with My People, a feature that borrows from Android and iOS. In the Creators Update, five important contacts will appear as profile images in your taskbar. You'll be able to drop files onto these contacts to immediately share items, or click the contact to interact in a specifi  app like Mail, Skype, SMS, or Xbox Live. Handy!
For more details on My People, be sure to read PCWorld's Windows 10 Creators Update overview on page 19.
Live PC game streaming
Microsoft's muscling in on Twitch. The Windows 10 Creators Update adds the ability to easily start broadcasting your Xbox Live games via the operating system's Game DVR toolbar, sending notifications out to your pals and fellow club members to let them know when you're online. Once they hop into your stream they'll be able to chat with you, as with every other streaming service out there.
The service is powered by Microsoft's recent Beam acquisition and looks dead-simple to use. It's easy to envision Windows 10 Game DVR live streaming becoming popular on consoles, but Microsoft faces an uphill battle on PCs, where Twitch and tools like Nvidia Shadowplay and OBS already enjoy massive, entrenched user bases.
Custom tournaments and fancy audio
Microsoft's tying console and PC users closer together with custom tournaments powered by Xbox Live's Arena platform. Next year, you'll be able to create your own custom gaming tournaments, controlling everything from the games, to the rules, to the players, to the start times. Previously, Area tournaments were only created by Microsoft and its official partners.
The Xbox One S, which is itself powered by Windows 10, is adding support for bitstreaming Blu-ray audio pass-through and Dolby Atmos. Soon, those 4K videos and games will sound just as glorious as they look.
Surface Mouse and keyboards
The niche Surface Dial isn't the only Studio peripheral Microsoft announced, though none of the others made it onto the stage during the big event.
Microsoft quietly launched a Surface Mouse and a pair of desktop Surface keyboards (go.pcworld.com/ surfacemouse)—one standard, the other ergonomic—to complement its premium all- in-one PC. All three match the gray aesthetic of Microsoft's first-ever desktop PC. The Surface Studio includes a Surface Mouse and basic Surface Keyboard, however.
You can order all three on Microsoft's Surface accessories page (microsoft.com/en-us/surface/accessories/browse).