By Al Griffin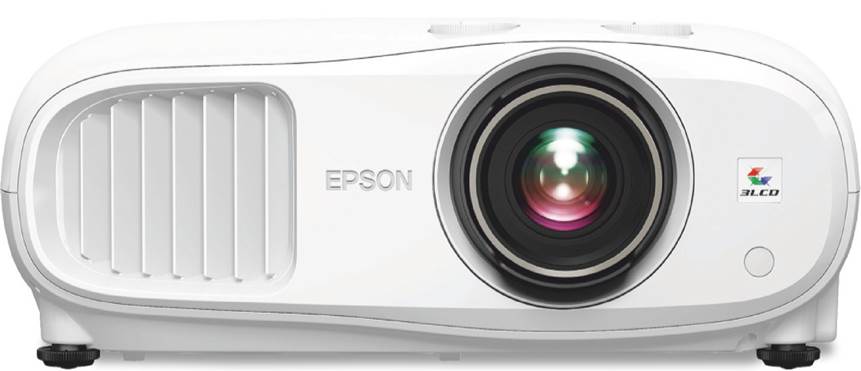 EPSON'S Home Cinema LCD projector lineup ranges from basic, inexpensive beamers designed for portable use to high-end models meant for serious home theater installations. Of these, we typically devote space to the company's premium UB (Ultra Black) offerings such as the 5050UB 4K PRO-UHD (reviewed in the August/September issue and also on soundandvision. com), along with mid-range models like the 3800 under evaluation here. A big plus of the Epson projector family is that the costs usually top out, with mid-range offer­ings priced about one-third to one- half that amount while providing many of the same features found in the high-end offerings.
To provide one example of the above, the Home Cinema 3800 features the same 4K PRO-UHD technology and HDR10/ Hybrid Log-Gamma display compatibility found in the 5050UB. Epson's 4K PRO-UHD tech diagonally shifts the pixels on the projector's red, green, and blue 1080p display chips to double reso­lution to just over four million pixels. While this process doesn't deliver the four-times onscreen resolu­tion boost (to 8,294,400 pixels) of competing pixel-shifting DLP models, Epson combines it with 12-bit video processing to enhance detail and eliminate banding and blocking noise.
Other notable 3800 features include a "Precision Lens" with up to ±60 percent vertical and ±24 percent horizontal lens shift and 1.6x zoom capability. While lens adjustments were motorized on the 5050UB, those same features are manual on the 3800. Epson's newest model also provides dual HDMI 2.0 inputs with 18Gbps bandwidth for full compatibility with sources that output 4K/60Hz signals and also supports 3D

7Review earns Amazon affiliate commissions from qualifying purchases. You can support the site directly via Paypal donations ☕. Thank you!
See also TOP 15 projectors
display.
The 3800 sports the same family look of other Epson projectors, though its 16.1 x 6.5 x 13-inch (WxHxD) white case is more compact than other models I've handled in recent years. With light output specified at 3,000 lumens (color and white brightness), the 3800 is a good candidate for use in a mixed-use room where rigid control over ambient lighting isn't possible. Rear-firing 10-watt stereo speakers deliver decent sound quality for a built-in projector audio system and Bluetooth aptX audio output also lets you link the 3800 with an outboard wireless speaker or soundbar.
Along with the dual HDMI 2.0 inputs, a mini-jack stereo audio output and two USB type-A ports (one power-only, one for viewing photos from an attached thumb drive) are located on the 3800's back panel. There's also an RS-232 control port, a 12-volt trigger output, and a mini-USB port for service.
Epson's remote control is the same super-awesome, full-sized version that's pack­aged with all of the company's projectors. Along with being big, it has a backlit keypad with sizeable buttons that can be easily located in a dark room. Buttons located at the bottom permit direct access to menus for advanced features including Auto Iris, grayscale, and color management system adjust­ments. There's a button to call up the Memory presets where you can store multiple picture and other settings, and another for the HDR menu, which provides quick access to a convenient 16-step adjustment for tweaking the presentation of 4K/HDR programs.
SETUP
For my evaluation, I installed the 3800 at my regular projector location on a high shelf located 14 feet away from a 92-inch diagonal, 1.1 gain Stewart Filmscreen Cima screen. Many "budget" projectors wouldn't be able to accommodate such a high projector-to-screen distance, but the Epson's 1.6x zoom capability put it well within reach. Horizontal and vertical lens shift adjustments were carried out using individual manual dials located on the projector's top surface, while a set of adjustable feet allowed for fine picture geometry tweaks.
Out of the box, the default settings of the 3800's Cinema picture mode delivered an image with a pronounced reddish bias, though it was easily corrected through calibration (see Test Bench). Along with Cinema, Bright Cinema, Natural, and other modes, the projector provides 12 Memory presets for storing adjustments. Using these, I created a set of unique picture modes for viewing in my dark theater room: one for HD/standard dynamic range, and a second for 4K/high dynamic range.
Settings used for HD/SDR viewing included Eco Power Consumption and High Speed Auto Iris. The former delivered a satisfyingly bright image (45 ft-L) in my room, while the latter setting managed to squeeze out optimal picture contrast without adding distracting iris "pumping" artifacts. (I did note an occasional contrast jump during viewing, but it was so infrequent that 99 percent of viewers wouldn't even have noticed.) Along with virtually artifact-free performance, the 3800's Auto Iris delivered a full-on/full-off contrast ratio of 11,287:1—an exceptional result for a budget projector, though well below the 34,700:1 CR I measured when reviewing Epson's 5050UB.
The available options for tweaking sharpness and "detail enhancement" on the 3800 are confusingly numerous, with settings spread out between Image Enhancement, Detail Enhancement, and Super Resolution sub-menus. Even so, Epson does offer five preset options to help make this easier, and I was able to reach a combi­nation that helped to bring forth extra detail from images without adding any noise or ringing artifacts. Frame interpola­tion with High, Medium, and Low presets is available for HD sources, though applying any of these to content with a 24-fps "film" frame rate results in the anticipated "soap opera" effect. Fan noise with Eco Power Consumption selected was low enough to be barely noticeable at 35 dB, while the Medium and High settings boosted that level to 40 and 41 dB, respectively.
HD/SDR PERFORMANCE
Although the 3800's setup menu offers a Rec.2020 option to display the extended color gamut, color measurements indicated only 78.27 coverage of the DCI-P3 color space (within a Rec.2020 container) used for Ultra HD sources. DCI-P3 coverage measured significantly higher with the last two Epson projectors I reviewed, so this is one area where the 3800 reveals its budget-projector status.
Even with the 3800's compar­atively limited extended color capability, I noted no serious shortcomings on discs and video streams I checked out. Animated programs on Hulu like Rick & Morty (a pandemic plea­sure-binge) had a bright, crisp, clean look that highlighted the lurid hues used to depict alien worlds and their inhabitants. Reference Blu-rays revealed appropriately vivid color and balanced, natural-looking skin tones. When I watched the recent remastered version of 2001: A Space Odyssey, I noted good black depth in the cave scene where the proto-human apes huddle together, along with a fair amount of detail in their black fur. And when the action later abruptly shifted to modern-day outer space, the white space vehicles also showed good detail and stood out in marked contrast against the black background of space.
The Chinese film Shadow, another black-level and shadow detail reference, also came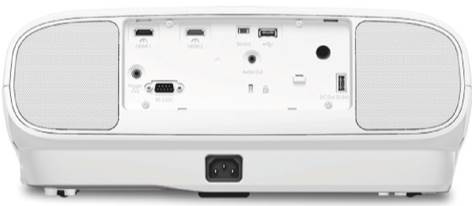 At a Glance
+ Very good contrast and light output
+ Low input lag
+ Generous lens shift range
+ Fully backlit remote
— Limited DCI-P3 color space coverage
800-463-7766
epson.com
across impressively when I watched the Blu-ray version. In a scene where the intoxicated king shows off his calligraphy skills to a gallery of fawning sycophants at court, the ink that he applied to paper in broad, loose strokes came across as a deep black. There was also a good range of near-black tones visible in black robes worn by the king and other officials, and gray tones in the transparent banners hanging from the ceiling.
ULTRA HD/HDR PERFORMANCE
Watching the films mentioned above on Ultra HD Blu-ray, I noted improved black depth in the 2001's cave scenes. Outer space shots also looked more vibrant, with starfields displaying greater pop against the rich, black background. Watching the court scene from Shadow, the image looked noticeably more solid and detailed than it did on Blu-ray. While the improvement here could mostly be seen in the hanging banners, which displayed a greater range of subtle gray tones, the picture quality boost that Ultra HD Blu-ray provided on the 3800 extended to many other aspects as well. One thing that needs to be noted here is that getting the best image quality with HDR content usually involved experi­mentation with the projector's 16-step HDR10 adjustment. Fortunately, the menu for that control can be called up via a dedicated remote button for quick, on-the-fly tweaks.
The Meg, an Ultra HD disc used by S&V's resident projector guru Kris Deering in many of his reviews, is a good example of a title that pushes the limits of a projector's ability to process HDR highlights. Watching it on the 3800, the displays in the control room and submarine had a bright, vibrant look that really made the image pop. And in the scenes where the Rover is sending back live images, the lamps used to illuminate the ocean floor stood out powerfully against the black background and gave the image a strong sense of depth.
Test Bench
FULL-ON/FULL-OFF CONTRAST RATIO: 11,287:1
The measurements here were made using CalMAN measurement software from Portrait Displays (www. portrait.com), together with a Photo Research PR- 650 color meter, Minolta LS-100 luminance meter and a Murideo/AVPro (Fresco Six-G) test pattern generator.
Pre-calibration measurements were made with the HC 3800's Cinema picture mode active. Post­calibration measurements were made in the same mode. All measurements were made with the projector positioned 14 feet from a 92-inch diagonal, 1.1 gain Stewart Filmscreen Cima screen.
The projector's full-on/ full-off SDR contrast ratio was achieved with the Cinema Picture mode, Eco Power mode, and High Speed Auto Iris
The recent release of Sam Mendes' WWI drama 1917 may not flex the black and white highlight extremes of HDR—much of the film's action is set against a dismal gray backdrop—but it's nonethe­less a solid Ultra HD Blu-ray title due to its remarkably crisp 4K master and, of course, Roger Deakins' fluid, virtuosic cinema­photography. Viewed with the 3800, the camera's motion in and out of battlefield trenches revealed excellent detail in the weapons and uniforms of the soldiers waiting on their turn to advance. Natural materials such as grass, brush, and rubble also displayed rich textures that helped create a heightened sense of realism and added to the visual immersion.
settings active. With this combination, black measured 0.004 ft-L and peak white 45.15 ft-L for a contrast ratio of 11,287:1. The projector's native (Auto Iris off) contrast ratio with the same preset and Power mode active was 1,372:1.
Before calibration, the default color temperature preset in Cinema Picture mode displayed a reddish bias, with the Delta E averaging out to 4.2. After calibration, that number improved to 1.4 with a high of 2.2 at 50 percent brightness. (Delta E is a figure of merit indicating how close the color comes to the standards, either D65 for the white point or the color coordinates for each of the primary and secondary colors that define the color gamut under test. Values below 3 are generally unnoticeable.)
With the default settings active in Cinema Picture mode, the Delta E of the
CONCLUSION
Epson's Home Cinema 3800 is an excellent option for anyone seeking to assemble a big-screen home theater system on a budget. This budget projector's very good overall picture quality is marked by strong contrast courtesy of an Auto Iris feature that delivers mostly transparent performance, and it provides a noticeable resolution boost when viewing 4K sources such as Ultra HD Blu-ray. Setup features are generous for a budget projector and include a 1.6x zoom, horizontal and vertical lens shift, and an easily accessible adjustment to tweak the overall look of HDR programs. The 3800's low input lag also makes it a great option for gaming while its high light output bodes well for viewing sports in rooms with a high level of ambient light. Given its low price, my only real complaint is the limited DCI-P3 color space coverage compared with other budget projectors like BenQ's HT3550 and even other models in Epson's own lineup. Aside from that, the HC 3800 is a clear Top Pick and also an outstanding value.
HC 3800's measured color points averaged out to 5.8. Using the projector's color management system controls, I was able to improve color point accuracy to an average Delta E of 2.2. Coverage of the DCI-P3 color gamut topped out at 78.2 percent.
Post-calibration, gamma closely tracked a 2.2 target for most of the range with the -1 Gamma preset selected, with the highest deviation being 2.4 at 90 IRE. In HDR10 mode with the Medium Power mode and a mid-level HDR brightness setting
selected, peak white output measured 213 nits +/- 5 nits regardless of the size of the measured white window. Picture uniformity was excellent: white full-field test patterns showed minimal brightness drops between the center and edges of the screen, and no color shifts. Our suite of video processing tests revealed average performance, with the Epson tripping up only on an HD 2:2 pulldown pattern.
Input lag with a 1080p source measured 28ms, making the 3800 a very good option for gaming. AG
Specs
DIMENSIONS (WxHxD, Inches): 16.1 x 6.5 x 13
WEIGHT (Pounds): 15.2
VIDEO INPUTS: HDMI 2.0b (2)
OTHER: USB type-A (2, 5V/2.5A power and media reader), USB-mini (FW update), RS-232C, 12-volt trigger output
Illumination Method: 250-watt UHE lamp
LAMP LIFE: 4,000 hours (Normal mode) / 5,000 hours (Economic mode)
The Verdict
Epson home cinema 3800 review
Epson's latest 3LCD projector goes easy on the wallet while delivering performance and fea­tures typically found in more expensive models.
Add your review
Best Epson home cinema 3800 prices in the US ?

$

1,499.99

$1,699.99
2 used from $1,451.33
10 new from $1,499.99
in stock

Best Epson home cinema 3800 prices in the UK ?

£

152.21
1 new from £152.21
in stock

MORE DEALS

See also TOP 15 projectors