Elipson has updated its turntables for 2020. Ed Selley jumps into the fray with the all-singing, all-dancing Chroma 400 RIAA BT. Read our Elipson Chroma 400 RIAA BT Review.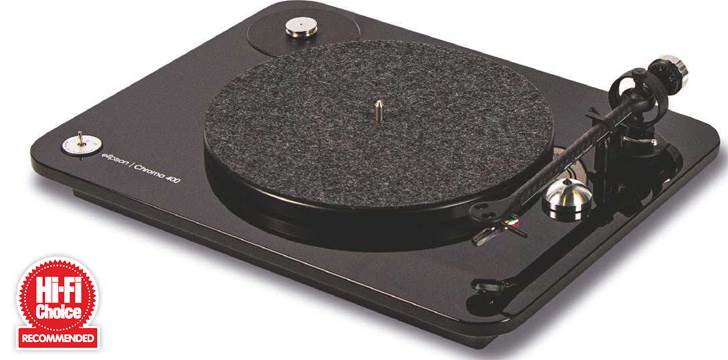 One of the tell-tale indicators as to how serious a manufacturer is about joining a new market segment is not the range of products for its first attempt, but whether there's a second generation follow up. Elipson is best known for its innovative and often unusual-looking speakers, but the company took the decision to enter the affordable turntable market in 2016. The result has apparently been considered sufficiently successful that it's updated the lineup with the Alpha and Omega models giving way to the Chroma series. The Chroma 400 RIAA BT is the top of the range with both a built-in phono stage and Bluetooth.
Crucially, the most technically interesting aspect of the turntables haven't been altered. With the exception of their Ortofon cartridges, the Elipsons are bespoke and do not share parts or thinking with any other model. This means they retain the interesting Orbital Torsion tonearm of the preceding models, which combines the bearings into a 'knuckle' in the centre of a circular housing that has the antiskate applied through the axis of the two bearings. Without changing the basic design, Elipson has added an armlift – absent on the original – and made the counterweight easier to adjust for fitting different cartridges.
Elsewhere, the design has changes that reflect feedback from the first generation, seeking to improve performance. The belt still acts on the outer edge of the aluminium platter, but this no longer ships in place and there is a sub platter underneath that helps to reduce interference to the playing surface. The decision to now supply the Chroma 400 with a flat and reasonably wide belt means that fitting it is fairly straightforward, too.
DETAILS
PRODUCT Elipson Chroma 400 RIAA BT
ORIGIN France
7Review earns Amazon affiliate commissions from qualifying purchases. You can support the site directly via Paypal donations ☕. Thank you!
See also TOP 15 turntables
TYPE Belt-drive turntable
WEIGHT 5.8kg
DIMENSIONS (WxHxD) 450 x 120 x 380mm
FEATURES
•  33/45/78rpm
•   Carbon fibre tonearm with Ortofon OM10 cartridge
•  On board MM/MC phono stage
•  AptX HD Bluetooth transmitter
DISTRIBUTOR Avoke Ltd.
TELEPHONE 01628 857958
WEBSITE en.elipson.com
The motor is also new and benefits from an improved mounting system to reduce interference and vibration. Unusually at this price, it includes an electronic speed control. Like its predecessor this is still a slightly odd thing to use; flick the switch for 33 or 45 and there is a pause before the platter starts to spin that seems perfectly timed to make you start to question if something's wrong. The circuitry that controls this has also been improved and Elipson says that speed stability is better as a result.
The Chroma 400 has an on-board phono stage that cannot be switched
The Chroma 400 sounds detailed and energetic, but never overly bright
out of the circuit, although it alternates between moving-magnet and coil operation. Additionally, there is a Bluetooth transmitter that can send the line-level signal to a suitably equipped receiver. This is aptX HD for improved performance, although I'm still not sure there are many owners using this function.
The Chroma 400 manages to look both elegant and functional at the same time. Little touches like the
domed 45rpm adapter and neat switch for speed selection help it to feel a cut above some of the budget offerings (see, how it compares). It also feels well made and goes together out of the box in a logical and confidence­inspiring manner. The only area of concern is the new armlift, which tends to drop the arm fairly quickly and can bounce out of the intended groove if you aren't careful. As it was originally designed for hand cueing, this remains very easy to do.
Sound quality
Any turntable with a phono stage that cannot be switched out of the circuit is going to live or die on just how well that stage executes. The good news is that here it meets all of the basic criteria for good performance admirably. Connected to a Cambridge Audio Edge A integrated amp and Kudos Titan 505 speaker (HFC 451), it's silent at idle and the available gain should be sufficient for most systems. It is commendably pitch stable and noise levels are low to the point of being inaudible during normal use.
This translates into a turntable that does a good job of being sufficiently transparent that you concentrate on the music rather than the delivery system. It takes Joan Armatrading's Me Myself And I and delivers those wonderful, sonorous vocals with enough warmth and richness to be wholly convincing without tipping over into sounding bloomy or overblown. They form the centre of the soundstage with supporting instruments arrayed neatly behind. The Elipson might not produce a truly expansive soundstage, but there is generally enough room to ensure that nothing sounds congested.
The partnership that the Chroma 400 RIAA BT has with its Ortofon OM10 cartridge is a good one. There have been times when I've used turntables with the OM10 and the balance has been a little on the bright
IN SIGHT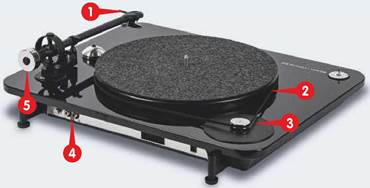 1) Ortofon OM10 cartridge
2)  Felt mat
3) Belt-drive mechanism
4) RCA outputs
5) Counterweight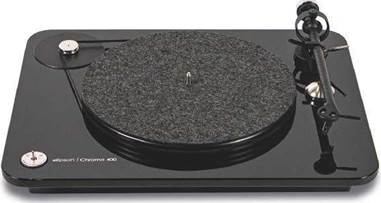 side, making it sound a little sharp and forward with poorer pressings. The Elipson doesn't have this issue, instead sounding detailed and energetic, but never overly bright.
At the other end of the frequency response it isn't quite so assured. The bass extension is tight and well controlled, but never feels especially seismic, even when I use something like Dead Can Dance's Spiritchaser with its sensational bass mastering. It consistently manages to sound fun, though. Without compromising on the fundamental feeling of accuracy, there is a rhythmic engagement that ensures that the Elipson manages to get the head nodding. It has been a while since I listened to the preceding Omega model, but this does seem to be a meaningful improvement over the older design – which was a little more matter of fact in its presentation.
The Bluetooth implementation is very good too. Streaming to the aptX HD-capable Bluetooth input of the aforementioned Cambridge Audio Edge A integrated gives a commendable facsimile of the performance via a wired connection while listening to Marina's Love + Fear. The range is sufficient that I can place the Elipson in a different room without any drop out or interference.
It is also possible to stream to a Naim Mu-So Qb2 over roughly the same distance while it's physically connected to the Cambridge amp, but as this connection is at the default SBC codec (as the Naim doesn't have aptX and the Elipson doesn't have AAC), it's nowhere near as compelling to listen to. Unless you have a very specific application for this feature, I'm not completely sure I can see the point of it, but this isn't a complaint that's specific to the Elipson turntable.
Conclusion
The Chroma 400 RIAA BT is a useful step forward over its predecessor without losing the aesthetics and design flair that made the original so appealing. The changes add up to a more capable and user-friendly turntable that still looks and feels more special than most of its rivals. Thanks to its decent on-board phono stage and fundamentally benign characteristics, the Elipson is a fine option for anyone looking for a capable plug-and-play turntable that doesn't compromise when it comes to the business of vinyl replay. The Bluetooth section doesn't feel like a 'must have' extra, but judged in comparison with similar fitments there is no arguing with the performance it offers. Elipson is sticking around in the turntable market and, based on this, that decision looks like a very good one
OUR VERDICT
Recommended
Elipson Chroma 400 RIAA BT Review
A capable and engaging turntable that delivers excellent plug-and- play performance
PROS
Engaging and refined performance
attractive
build quality
CONS
Limited bass extension
crude armlift
Add your review
Best Elipson Chroma 400 RIAA BT prices in the UK ?

£

865.30
3 new from £865.30
in stock

MORE DEALS

See also TOP 15 turntables
How it compares
Pro-Ject's T1 Phono SB (HFC 464) closely matches the spec of the Elipson at a significantly lower price and a Bluetooth version is available too (although adding Bluetooth means you lose the speed control). The Pro­Ject manages to get impressively close in absolute sound quality, but the Elipson looks and feels more special and offers more design stretch if you want to upgrade it. Whether this is worth the price premium is up to you to decide.