If nothing else, you've got to admire how concise ELAC's Solano range of loudspeakers is. One floorstander (FS 287), one centre channel (CC 281) and one stand-mounter (this BS 283) – and that's your lot. None of your 'slightly larger cabinet/a few more drivers' padding until a range comprises six or seven models nonsense. The brevity of the Solano line-up speaks of confidence. So does the binary choice of high-gloss black or high-gloss white as finishes. Can't build a suitably great­sounding stereo pair or home theatre surround­sound system from these three models? ELAC, I'm pretty sure, thinks the problem is with you rather than the other way around. Read our ELAC Solano BS 283 Review.
The Solano BS 283 are far from the priciest product in ELAC's catalogue. But despite selling for what is a relatively modest amount, the company hasn't made an overt attempt to economise. Certainly no one seems to have had budget uppermost in their minds when they specified the complement of drivers. ELAC's widely celebrated, visually dramatic and wantonly high-performance JET5 concertinaed foil membrane tweeter sits above a 150mm mid/bass driver of the company's preferred 'aluminium sandwich' type – both are hand­crafted and assembled in Kiel, Germany. The former has a claimed frequency response of 50kHz (which puts any potenital uneveness way beyond human ears), while the latter seeks to combine its metal's torsional rigidity with the transient capabilities of a cellulose alternative. Crossover between the two occurs at the quotidian figure of 2.4kHz.
Aluminium baskets hold the drivers in a rounded-off rectangle of a cabinet that's a combination of MDF and lustrous, beautifully applied lacquer. At the rear are biwire binding posts of suitably chunky dimensions, while
"The only meaningful way in which ELAC can expect the Solano BS 283 to stand out from the crowd is with the quality of its sound."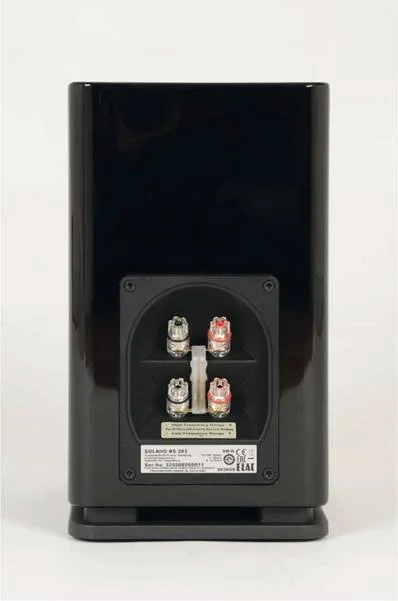 ► the bottom of the cabinet is raised a few millimetres above a metal plinth (to give the downward-facing bass reflex port space to do its thing). At 331 x 190 x 248mm (hwd) the BS 283 is a workaday, and consequently quite manageable, size – and its configuration promises an easy-going nature as far as positioning is concerned. With sensitivity of 85dB and nominal 4 ohm
impedance, it doesn't threaten to be all that troublesome, either.
Of course, JET5 tweeter aside, there are any number of similarly specified, similarly priced and similarly sized stand-mounting speakers vying for your attention. Many companies have a shiny, well-turned out dog in this particular fight. Really, the only meaningful way in which ELAC can expect the Solano BS 283 to stand out from the crowd is with the quality of its sound.
For the purposes of this test, the ELACs are given a fighting chance by being a) positioned securely on top of a pair of Atacama Moseco 6 stands and b) attached to a Naim NAP100 power amp via a couple of lengths of QED XT400 speaker cable with Airloc Forte plugs at either end. Sources into the amp include the matching UnitiQute 2 streamer/pre-amp accessing Buffalo network-attached storage, a Cambridge Audio Alva TT turntable (attached via both its always-on phono stage and aptX Bluetooth) and a Cyrus i9 XR CD player. QED Reference Audio 40 is used for both analogue connections into the pre-amp and also from pre-amp to power amp.
7Review earns Amazon affiliate commissions from qualifying purchases. You can support the site directly via Paypal donations ☕. Thank you!
See also TOP 10 Subwoofers
A Japanese pressing of Paul Simon's There Goes Rhymin' Simon [CBS/Sony] using a hard connection from turntable to pre-amp ought to be a gimme for a pair of speakers with the BS 283's aspirations – and, to no small extent, that's how it proves. Certainly the ELAC absolutely lap up the painstaking, detail-drenched recording, happily identifying even the finest harmonic variances and reporting back on them in full. Rhythmic expression is very satisfying too – the ELAC understand the polite, knowingly inhibited grooves and syncopations of the album and can describe their motivations eloquently. This is a very-little-expense- ►
"The ELAC BS 283 make a mighty strong case for themselves – and in the process they do a fine job of differentiating themselves."
► spared state-of-the-analogue-art recording that even at fifty years' distance sounds upmarket and sophisticated – and it sounds no less luxurious for being delivered by the BS 283.
High-end response is, unsurprisingly, deeply impressive. Treble sounds are crisply rendered, detail-heavy and informative on every level. We may not be able to hear to the top of the tweeter's claimed extension, but that peculiar 'absence of silence' sensation whenever a sound is played at a frequency above the range of hearing is evident from time to time. And at the opposite end of the frequency range, there's control, straight-edged precision and, again, a level of information served up regarding texture that borders on the torrential.
In between, Simon's vocal – recorded (or so it sounds) from no distance whatsoever, and with his disinclination to raise his voice even slightly more apparent than perhaps at any other time in his career – communicates in spades. All of the details of technique are apparent (both of his and his recording engineer's), as are his quirks of diction.
There's precious little temperature in the Solanos' delivery, however. This LP should be the sonic equivalent of a nice relaxing bath – but the ELAC's precision and neutrality makes listening to this album less of a tranquil soak. 'Neutrality' is all well and good in a loudspeaker, as is a desire to stick one's oar in as little as possible. But the BS 283 is so 'honest', how you react to such neutrality is a bit like thinking about Switzerland; do you summon up visions of watches, banks and chocolates, or start recalling the 'Cuckoo Clock' speech from The Third Man?
Admirably, the ELACs don't alter their stance one iota. A switch to a 24bit/96kHz file of Public Enemy's By the Time I Get to Arizona [Def Jam] ups the dynamism quotient considerably, along with the brittleness and scuzziness count at the same time. The ELACs peer deep into the relatively rough and chaotic mix, and return with all kinds of worthwhile insights. They preserve the implacable attack of the rhythm track, avoiding lumpiness and instead giving proper expression to the gimpy momentum that's intended. And yes, they serve all this good stuff up without any overt displays of emotion. It's not every loudspeaker that can cut through the ruckus to make Public Enemy sound like master craftsmen, but then it's becoming increasingly obvious the ELAC BS 283 are not every loudspeaker.
Try any music you like, from any source you like – and during the course of this testing we ran through a reasonably wide selection, from a 180g vinyl reissue of Scott Walker's Scott 2 [UMG] through a compact disc copy of Patti Smith Group's Easter [Arista] to a 24bit/192kHz stream of Giant Swan's punishing Bring Back Fives [Howling Owl] – and you won't get the ELACs to amend their position even a little. If you want a sort of sonic equivalent of verbatim reportage, an examination of a recording down to an almost molecular level, you won't go wrong here. And if you like this sort of behaviour with a big serving
of rhythmic positivity and surefootedness, that's even better. The ELAC BS 283 make a mighty strong case for themselves – and in the process they do a fine job of differentiating themselves from the multitude.
No one is ever going to 'plunge' into ELAC Solano BS 283 ownership because these loudspeakers are not made for such people who act on impulse. Instead, they appeal to your less base instincts. This is the perfect choice for the studied listener. The ELACs simply do what they do with utmost precision and accuracy and the BS 283 make their attitude obvious right from the off. If you share this 'detail and accuracy are paramount' approach, the cerebral ELAC Solano BS 283 is the logical loudspeaker choice.
TECHNICAL SPECIFICATIONS
Type: two-way; bass reflex port
Driver complement: 1 x JET5 tweeter; 1 x 150mm mid/bass driver Frequency response: 41Hz-50kHz Crossover frequency: 2400Hz Impedance: 4 Ohms nominal (3.2 Ohms minimum)
Sensitivity: 85dB/W/m
Dimensions (HxWxD): 331 x 190 x 248mm
Weight: 8 kg/each
Finishes: High gloss white; high gloss black
Manufacturer: ELAC Electroacustic
URL: elac.com
UK Distributor: Hi-Fi Network
URL: hifl-network.com
Tel: +44(0)1285 643088
Best ELAC Solano BS 283 prices ?
MORE DEALS

See also TOP 10 Subwoofers