Jamie Biesemans discovers not a lot has changed with Denon's mid-market seven-channel AVR, but that doesn't take the shine off an accomplished all-rounder. Read our DENON AVR-X2600H Review.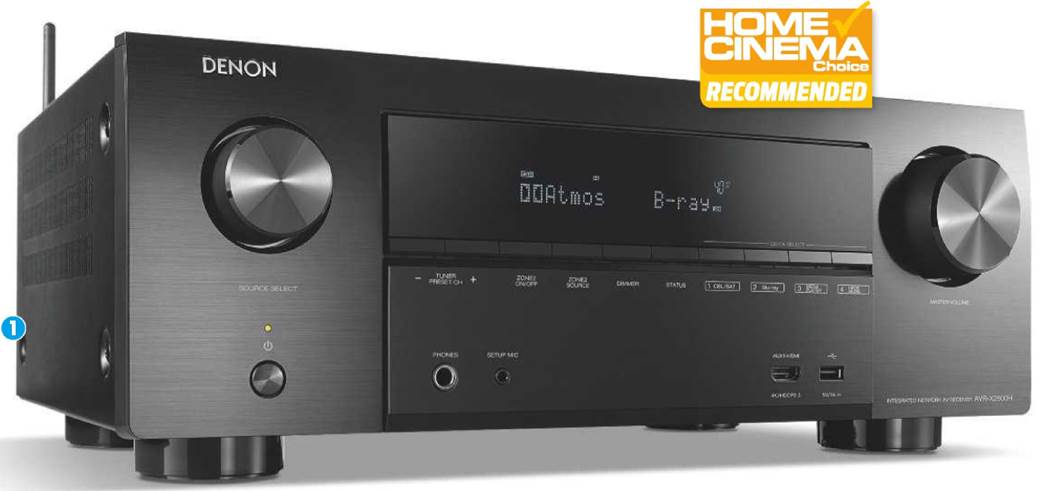 1. Front inputs include a full-size headphone jack and USB port
7.2-channel networked AVR
POSITION: Mid-range, above X1600H and five- channel models
PEERS: Onkyo TX-NR696; Pioneer VSX-LX304
AS REGULAR AS clockwork, Denon launches an update for one of the mainstays of its AV receiver lineup. The affordable AVR-X2600H broadly offers the same feature set as last year's X2500H, but adds some future-looking HDMI features. This may not sound particularly exciting, but Denon receivers at this price point have typically offered great value for money, combining a rich feature set with expansive connectivity and HEOS streaming integration. There's no reason for the Denon AVR-X2600H to be any different, surely?
7Review earns Amazon affiliate commissions from qualifying purchases. You can support the site directly via Paypal donations ☕. Thank you!
Easy Atmos
The AVR-X2600H is a 7.2 design boasting a 150W per channel rating. This figure is into 6 ohms with 1% THD and one channel in play; take the 95W per channel figure (8 ohms, 0.8% THD, two-channel) as a more real-world starting point.
That said, this is not a budget receiver masquerading as a more powerful product. It's definitely an entry into the more serious side of
Denon, with the means to drive a more demanding speaker setup. You'll notice that the moment you set it up; the 7.2 channels can be configured in various ways, including a 5.1.2 system with one pair of height channels for Dolby Atmos/DTS:X, or 5.1 with a second zone with wired speakers. There's no option to add extra (external) channels.
One of the X2600H's strengths is its user interface, which is rather excellent, and allows you to quickly configure your speaker layout, and caters for front height/ top height/reflected height enclosures. In fact, it's a superb example of how to design an AVR for people who've never installed such a device. Denon's Setup Assistant guides you through all steps, and will even show you which cables need to be inserted where. The cardboard DIY tripod in the box is a real boon too, allowing more accurate measurements for the onboard Audyssey MultEQ XT room correction. Shell out an extra 20 quid for the Audyssey MultEQ Editor App and you get more parameters to play with and can tweak the results more easily without redoing the measurements.
New is support for Dolby Atmos Height Virtualization, which aims to deliver an Atmos-like experience from a two-channel or (flat) five-channel system. Does it work?
2. Hit the Eco button on Denon's handset to kickstart its power conserving (and cool-running) mode

There's no way of judging yet, as Denon – as with Onkyo and Pioneer – will only be adding the feature via a future firmware update. The same is true for Auto Low Latency Mode (ALLM), an HDMI 2.1 skill but achievable through the AVR's HDMI 2.0a connections. Once this arrives, it will notify your display to automatically switch to a gaming picture mode when you fire up your console.
The AVR-X2600H is well-equipped when it comes to HDMI, with eight inputs (one exposed on the front panel) and two outputs, one with eARC. Admittedly at this point eARC doesn't add much to an AVR, but that might change if streaming services begin offering uncompressed object-based audio. The HDMI ports are HDCP 2.3 compliant, yet more future-proofing.
In some parts of Europe the X2600H is available with a DAB+ tuner, which is quite unusual, but this isn't the case in the UK. Considering you can easily listen to relatively high-quality radio streams through the built-in HEOS platform, it's not a great loss.
It can often seem that mainstream AVRs possess more streaming options than channels. Although Denon doesn't match some rivals in the amount of choices provided (there's no Chromecast), it's still an impressive haul, with Bluetooth (soon to be boosted by an update providing for transmission to compatible headphones), DLNA and Apple AirPlay 2 adding to the HEOS implementation. The latter is a bit light on integrated services (Qobuz isn't featured, for instance), but makes up for it with a user-friendly app, hi-res support and multiroom capabilities (although you can't send another stream to the AVR's second zone, something rival Yamaha manages with MusicCast).
Ready for battle
A run-through of the final episode of Game of Thrones (HBO) finds the Denon AVR-X2600H in good voice. I was first impressed by the minute detail conveyed, hammering home the devastation a shell-shocked Tyrion encounters while searching for his siblings. Crackling flames, an icy wind and footsteps are well placed and realistic, with clean separation. It's testament to both the receiver's processing and the fine-tuning skills offered by Audyssey MultEQ XT, so take the time to implement it.
When Ramin Djawadi's soundtrack kicks in, this receiver doesn't disappoint either, presenting the orchestration in an engrossing manner. Denon claims the receiver has received an improved sound tuning over last year's X2500H, but without being able to make A/B comparisons that's a statement that's hard to judge. In truth, there's probably not a major difference, but that doesn't mean it doesn't sound alluring.
The manic helicopter pursuit through Kashmir airspace in Mission Impossible: Fallout (UHD Blu-ray) is a masterpiece of sound design that thrills through a Dolby Atmos setup. Even though I'd prefer to sample it in 5.1.4, the seven-channel AVR-X2600H does an impressive job of relaying the overhead information through my two DALI Alteco height speakers. The whooshing blades and rushing air in shots when August Walker (Henry Cavill) leans out of the open helicopter doors add a sense of speed to the scene, and the receiver isn't found sluggish. Equally, when Ethan Hunt (Tom Cruise) is in the frame, through details like creaking metal you feel how much he's pushing the aircraft to its limits. It's a credit to the AVR-X2600H that it handles the dynamics of this scene (and the earlier car chase through Paris) adroitly. It captures the drama, unearthing soundmix details and building an immersive even-handed soundfield. The amplifier stage is sufficiently powerful too; it had no problem powering my relatively sensitive DALI Rubicon/ Alteco combination.
Somewhere in-between
Denon's approach to its lower/mid-range AV receivers is to lay on the features and deliver crowd-pleasing sonics. It's a winning combination, improved by its attention to ease-of-use. The Denon AVR-X2600H is an accomplished all-rounder that's hard to find fault with (beyond its seven-channel limit and a few streaming omissions), and is a fine option for cinematic audio and music alike. The differences with last year's model are too limited to require upgrading, though
VERDICT
Recommended
DENON AVR-X2600H Review
Great value-for-money AVR with a commitment to ease-of-use, streaming music fun, and a detailed and dynamic multichannel performance.
Add your review
Best DENON AVR-X2600H prices in the UK ?

£

2,673.00
1 new from £2,673.00
in stock

MORE DEALS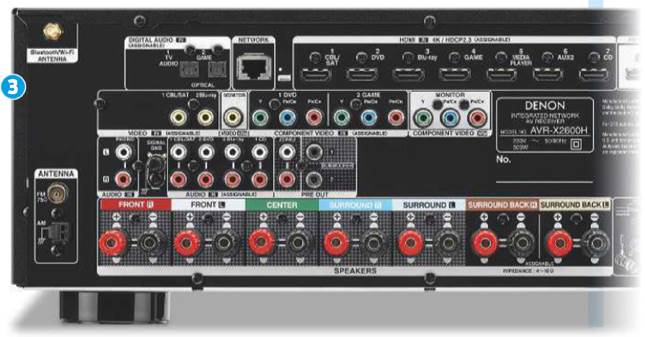 3. As well as HDMI, the receiver packs component and even composite video connections
SPECIFICATIONS
DOLBY ATMOS: Yes DTS:X: Yes THX: No MULTICHANNEL INPUT: No. MULTICHANNEL PRE-OUT: No MULTICHANNEL OUTPUT (CLAIMED): 7 x 95W (into 8 ohms) MULTIROOM: Yes. Second zone plus HEOS AV INPUTS: 2 x digital optical audio inputs; 4 x analogue inputs HDMI: Yes. 8 x inputs; 2 x outputs COMPONENT VIDEO: Yes. 2 x inputs; 1 x output VIDEO UPSCALING: Yes DIMENSIONS: 434(w) 167(h) x 329(d)mm WEIGHT: 9.5kg
FEATURES: Ethernet; dual-band Wi-Fi; Bluetooth; 2 x subwoofer pre-outs; Dolby Height Virtualization (via firmware); DTS Virtual:X; Apple AirPlay 2; Works with Amazon Alexa; Google Assistant support; MM phono input; USB; front-mounted HDMI input; Audyssey MultEQ XT (with supplied mic and fold-out tripod); eARC; FLAC, ALAC, WAV and DSD hi-res audio playback
PARTNER WITH
FYNEAUDIO F300 SERIES 5.1:
The upstart Scottish brand makes a strong first impression with this floorstanding speaker pack. Styling is a bit staid but the performance is superb, with a remarkable bass punch and cohesive soundfield.