Richard Stevenson enjoys the gung-ho attitude of Denon's 11-channel AV amp. Read our Denon AVC-X6700H Review.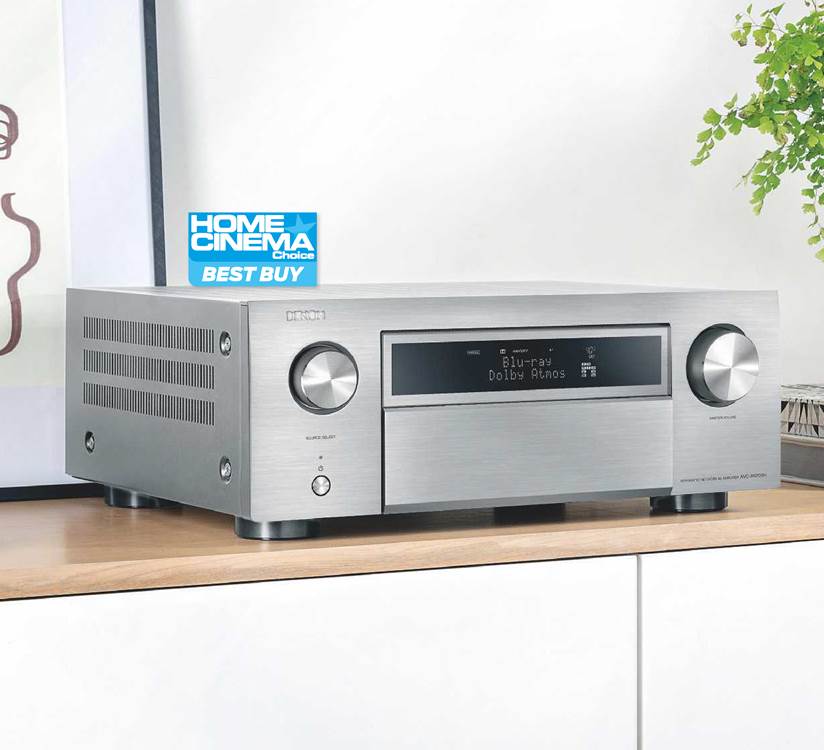 Denon's X-Series AV receiver lineup tops out this year with the AVC-X6700H. It's not the brand's flagship: the AVC-X8500H remains in the range for its audiophile-buffed internals and 13-channel power plant, while the AVC-A110 is a special edition for the company's 110th anniversary. But as 'regular' Denons go, this is the best the brand has to offer in 2020.
Details
11-channel networked AV amplifier
Between the nine-channel AVC-X4700H and 13-channel AVC-X8500H
PEERS: Arcam AVR10; Marantz SR8015; Yamaha RX-A3080
1. Looking for a headphone socket? It's behind the pull-down panel
7Review earns Amazon affiliate commissions from qualifying purchases. You can support the site directly via Paypal donations ☕. Thank you!
2. Denon's remote is a bit button-heavy
Its price tag is far from eye-watering in this market, and it backs it up with impressive power claims, a bevy of features, and a passion for acronyms.
On the video side it sports a dedicated 8K/60Hz HDMI input and 4K to 8K upscaling, HDR delivery in HDR10+ and Dolby Vision flavours, 4:4:4 colour subsampling, HDCP 2.3 and REC.2020 passthrough. Two of its HDMI outputs are also 8K-enabled, and tote other features of the HDMI 2.1 spec: 4K/120Hz compatibility, Variable Refresh Rate to reduce frame tearing, and Auto Low Latency and Quick Frame Transport modes to reduce imaging lag.
Well, that was the theory. At the time of writing the 4K/120Hz mode has been befuddled by an HDMI chipset bug. Denon, as noted on p10, says it is working on a solution, but quite what that will entail is unclear at present. Still, as it's a relatively easy workaround and I last bought a gaming console when the original Tomb Raider was the hottest thing in town, it hasn't caused me any sleepless nights.
On the audio side this amp gets a red-carpet specification, with 13.2-channel processing and 11 onboard amplifier channels rated at 140W (8 ohm, 20Hz-20kHz, 0.05% THD). The audio codec list covers – deep breath – Dolby Atmos, Atmos Height Virtualization, Auro-3D, IMAX Enhanced and DTS:X, the latter including DTS:X Pro thanks to a firmware update in November. While an external stereo amp will be required to max out the latter format's abilities, it does mean DTS:X Pro/IMAX Enhanced could be configured as 7.2.6 or 9.2.4, should you have shares in a loudspeaker company.
Sprinkle in Audyssey MultEQ XT32 with dual speaker configuration setup, AirPlay2, Roon Tested certification, Denon HEOS, two-way Bluetooth and compatibility with all three major voice assistants, and you have a sheet of fully ticked boxes. There's even an MM phono input and the ability to run the X6700H in a dedicated pre-amp mode that disconnects the internal amplifiers.
Where this model steps up a notch over its X-Series understudies is in attention to its audio credentials. The amplifier modules are designed in what Denon refers to as a monolithic construction: discrete amp modules, albeit with shared supply rails as opposed to full monoblock units. Meanwhile, features of the step-down AVC-X4700H [HCC #314], such as AL32 signal processing (which aims to suppress quantisation noise and 'bring out all the delicate nuances' through the amp's D/A converters), plus gold-plated connectors and speaker terminals, are naturally also present here.

What's missing is old-school FM or DAB, but you can still enjoy countless radio stations thanks to TuneIn support. And, as I am scratching around for something to gripe about, there's no multichannel analogue input amidst its packed back-panel, the industrial design hasn't changed much since Noah put his first Denon AVR on the Ark, and the supplied remote control is more functional than inspiring – although there is the recently refreshed Denon AVR remote app as an alternative.
The Audyssey setup suite has a full-colour GUI, and demands a minimum three-point measurement to get you going (and will handle up to eight should you have multiple rows of seating positions). Note that features like Dynamic Volume and Dolby Loudness Management default to their on/auto positions, and are best set to off for the full-fat experience at regular listening volumes. More in-depth tweaking can be achieved through the Audyssey MultEQ Editor app.
During setup, Audyssey pointed out that two 18in/2,000W subwoofers in a 20sqm room was, well, 'a bit much', and suggested a considerable backing down of the subwoofer gain controls to balance the system. Which I did, grudgingly.
Pulling no punches
Given the complexity and variables of object­based audio formats, a stereo track and Pure Direct mode activated give a good sense of a machine's overall sonic character. In this Denon's case, that is leather-clad rocker more at home with Motorhead than Mendelssohn. This is a robust performer with masses of grunt, drive and energy, yet it gives little away in terms of clarity and detail to similarly priced competitors. > It reminded me of the Denon AVRs of old that could turn a period drama into an action movie, yet it retains a more even-handed approach and a marginally better sense of appropriate behaviour.
The 4K Blu-ray of Luc Besson's stylish masterpiece Leon was the first disc to flex the AVC-X6700H's abilities. Its Atmos soundtrack is sublime from the outset, with the crisp 'click' of a Zippo lighter positioned smack in the middle-middle of the room to grasp your attention. Smooth dialogue ensues, etched across the front soundstage. Subsequently, a busy city soundscape fires up every speaker
'A real sweet-spot in Denon's AVR lineup with insatiable sonic energy and enviable resolution of detail'
to leave you sat just off to the side of the main road by the convenience store. The X6700H's resolution of detail and accuracy in its effect placement was outstanding, with Audyssey MultEQ XT neatly removing speaker bloom to leave a laser-inscribed soundstage of impressive precision.
Skipping straight to Chapter Four and Oldman's definitive scene to date (IMHO), the DEA's assault on the tatty apartment is a huge festival of gunshots, screaming and effects that barely got this amplifier breaking into a sweat, even at serious volume.
The scene is underpinned with a rising bass note that pulses with Oldman's flailing arms as he conducts a drug-fuelled Beethoven symphony in his mind. The swelling LF started to get the better of the overall balance and I found myself reaching for the manual sub controls to back things down even further. Have the sub output set to LFE+Main (rather than just LFE) and the effect is compounded, with the Denon getting a little swamped in its own bass thunder. This is an area you need to tweak and experiment with to get nailed, especially if you are utilising large woofers. But when I did get the system dialled, the LFE snapped back into the same sharp focus as the rest of the sound.
Streaming 4K Netflix opens up a plethora of test material and the Denon never disappointed. It even made the woeful 6 Underground watchable thanks to its foot- on-the-gas rendition of the wantonly explosive Atmos soundtrack and accurate portrayal of dialogue so cheesy it should probably be named after a county. Sadly, it couldn't make Season 3 of Star Trek Discovery any less ponderous, but it did at least deliver the Dolby 5.1 sound with phaser­like accuracy.
Value added
The X6700H is a real sweet-spot in Denon's burgeoning AVR lineup. Having 11 channels on tap makes sense in our object-based era, and yet again the Japanese brand proves able to layer on bonus features without letting them get in the way of an AV amp's raison d'etre: raising hell in your cinema room. This has insatiable sonic energy and enviable resolution of detail. Sure, there are models offering a few more watts, a little more refinement regards two-channel replay and a weightier build, but all are more expensive or demand external amps for a 7.1.4 setup. The AVC-X6700H offers simply spectacularly good value all round
Verdict
Highly Recommended
Denon AVC-X6700H Review
A spectacularly good-value AV amp with a high-energy performance and networking smarts. Eleven power channels and 13-channel processing equals install flexibility.
Add your review
|
Read reviews and comments
Best Denon AVC-X6700H prices in the UK ?
MORE DEALS


3. The amp's pre-outs, including Heights/ front-wide, support 13-channel systems
SPECIFICATIONS
DOLBY ATMOS: Yes DTS:X: Yes. Including DTS:X Pro IMAX ENHANCED: Yes POWER OUTPUT (CLAIMED): 11 x 140W MULTICHANNEL INPUT: No MULTICHANNEL OUTPUT: Yes. 13.2 MULTIROOM: Yes. Zone 2 and 3 AV INPUTS: 4 x composite; 4 x digital audio (2 x optical and 2 x coaxial); 7 x stereo phono; MM phono HDMI: 8 x inputs; 3 x outputs VIDEO UPSCALING: Yes. To 8K COMPONENT VIDEO: Yes. 2 x inputs; 1 x output DIMENSIONS: 434(w) x 389(d) x 167(h)mm WEIGHT: 14.8kg
FEATURES: Auro-3D; Audyssey MultEQ XT32 room EQ; Denon AL32 processing; WAV, FLAC, ALAC and DSD 2.8MHz/5.6MHz file playback via USB or network; voice assistant compatibility (Alexa, Google Assistant, Apple Siri); Apple AirPlay2; HEOS multiroom audio; app control; front-wide channel support; two-way Bluetooth; pre-amplifier mode; monolithic amplifier design
PARTNER WITH
LEON: DIRECTOR'S CUT:
Another of Studiocanal's back-catalogue 4K releases, this 2019 remaster of Luc Besson's hitman thriller (starring Jean Reno) adds a well-crafted Dolby Atmos remix to a filmic 4K Dolby Vision HDR presentation.