KABY LAKE MAKES ITS LAPTOP DEBUT
Premium. Sexy. Stylish. Lightweight. Gold. Ok, that last descriptor may be a little inaccurate, as Dell describes the color scheme on this as "Rose Gold" which is slightly more orange than a pure gold, but damn does this Ultrabook impress at first sight. It's Dell's latest incarnation of the much-loved XPS series, and they've managed to make it even more desirable. Yet there's a couple of other front-runners in the premium Ultrabook segment at the moment – such as the Razer Blade Stealth and Apple Macbook – so can Dell's latest make enough improvements to keep up?
This 13-incher isn't quite as svelte as the competition, with a maximum width of 15mm, making it a tiny bit tubbier than the competition on the rear edge. Yet this new "InfinityEdge" display is basically borderless, making the screen look larger than it actually is. There's a tiny 2mm or so area of black around the viewable display, but we love the almost edge-less look. Our version came with the incredibly crisp 3200 x 1800 resolution display, and it has been built using IGZO IPS technology, delivering great brightness, color clarity and viewing angles. It happens to be a touch-screen as well, and the rigid display hinges means it doesn't bounce around like a 3-year old on a trampoline when you're exercising your index finger.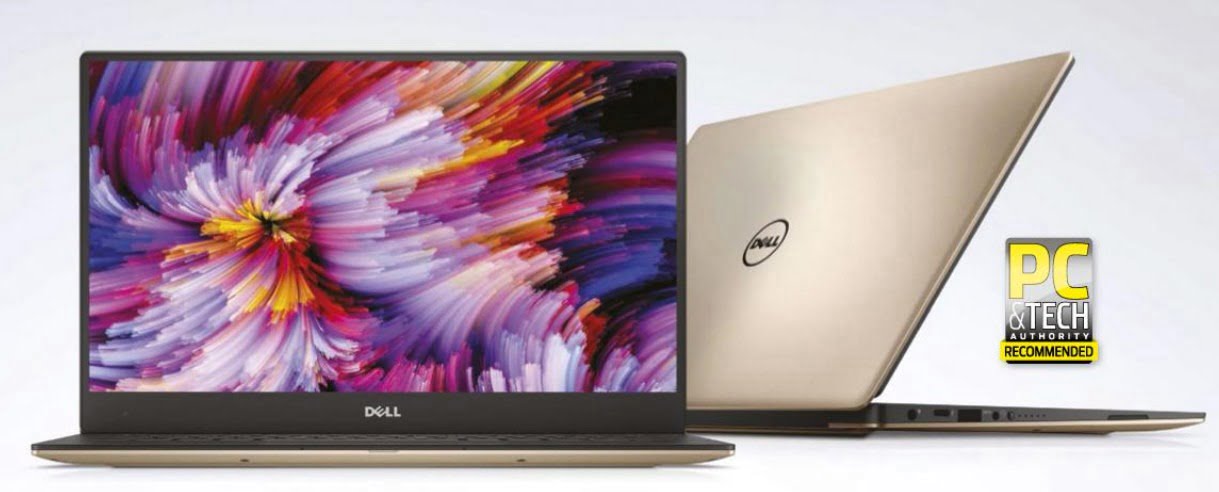 The backlit keyboard is one of our favorite features, with seemingly more key travel than the competition, making each press that much more satisfying. This is likely a side effect of its extra depth. The touch pad is incredibly accurate, but at default speeds was way too fast for us – drop it down by 25% or so and you're good to go. The beautiful aluminium chassis, cut from a single block, means it weighs just 1.2kg (starting weight), yet feels as sturdy as a rock in the hand.
Thanks to the slightly fatter dimensions, Dell has been able to deck out this Ultrabook with more than a single USB 3.0 Type-C connection. On the right is a USB 3.0 Type-A input, alongside an SD card reader. The left side delivers another identical USB connection, along with a USD 3.0 Type-C/Thunderbolt 3 connection. There's a power adaptor as well, but it can apparently be charged over USB 3.0 as well. Finally we have a headphone jack for those times when you want quality audio.
If the exterior has impressed, just wait until you see what Dell has packed inside. Our review unit came with the brand new 7th generation Intel Core i7-7500 CPU. This twin-core CPU delivers HyperThreading and a top speed of 3.5GHz, yet only requires a top TDP of a mere 25W, thanks to its use of Intel's new Kaby Lake architecture.
Our system also came with 8GB of DDR4 memory, along with a single 256GB SSD. Obviously it's a PCIe SSD packing the latest NVMe technology, but usable space is limited to 225GB once you've installed Windows. Thankfully the Killer 1535 802.11ac Wi-Fi will help you synch to the cloud quickly, but we wish it had a 3×3 antennae configuration instead of the 2×2 included here. Oh well, there's only so many things Dell could squeeze into such a small laptop.
This combination of components powered this ultra-book to an impressive 3085 in our PCMark 8 Home accelerated tests, a solid 20% improvement over our beloved Razer Blade Stealth. On the other hand, the Dell XPS 13 is a hefty $500 or so more expensive, so that 20% extra performance definitely comes at a cost. However, when it comes to battery life, the Dell XPS 13 is a winner. We measured a whopping 258 mins during the PCMark 8 Home battery test, giving this true all-day performance provided you're not doing heavy 3D or video editing.
There's no denying how sexy Dell's latest XPS is, but you do pay a marked extra for the super-efficient CPU inside. Yet that extra battery life will be all that many care about, as the hunt for a power point becomes a ghost of the past. Bennett Ring
KEY SPECS
Intel 7th Generation Core i7-7500 • 8GB memory • 256GB SSD • 13.3-inch QHD+ with Touch
Dell XPS 13 Rose Gold Review