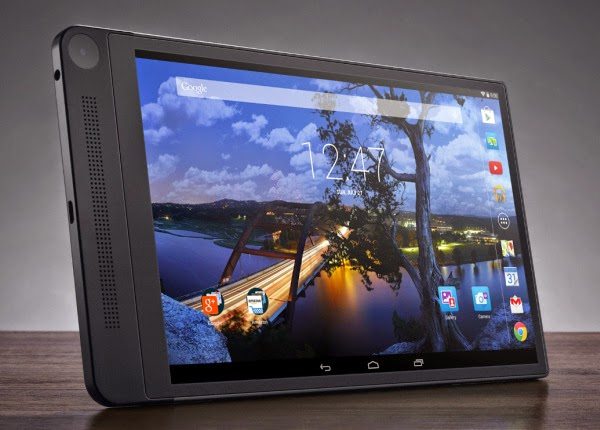 An Android tablet that lets you measure things with its cameraDell may be best known for its PCs and laptops, but the company is also one of the oldest manufacturers of Android tablets. None of them, it has to be said, have been particularly good. At first glance, the Venue 8 7840 (also known as the Venue 8 7000) seems to buck this trend. It's incredibly thin, has a super-high-resolution screen and has a camera that can measure objects and distances. On closer inspection, however, the 7840 isn't all it's cracked up to be.
With a thickness of just 6mm, the 7840 is one of the thinnest tablets we've tested. You might expect it to be quite flimsy, but its metal casing feels incredibly robust. It's also impressively lightweight at just 306g. The borders around three sides of its screen are Incredibly narrow, and with so little purchase area for your fingers it's not always easy to hold. The thin borders also means it's far too easy to inadvertently trigger an onscreen control or cover up the rear camera when trying to take a photo.
The bottom border (in portrait mode) is wider, but this houses the front-facing camera and speaker, so you have to be careful not to cover these with your fingers when having a video chat. The placement of the front-facing camera near the edge, rather than closer to the middle as on most tablets, seems odd at first but it does make it a little easier to get a good view of your face in video chats while still maintaining eye contact with the other caller.
The most striking feature of the 7840 is its rear-facing camera. This has three lenses which, using technology' developed by Intel, can measure objects such as the dimensions of a picture frame or the width of a hallway.
You use Dell's camera app to take a photo, then its photo app to indicate what you want to measure by marking the object with your finger. That's the theory. In practice, the measurements were often off by around two inches or so – in some cases by as much as a whole foot. Despite the photo app's insistence that the measurements would be more accurate the more photos we took, this yawning margin of error persisted throughout our efforts, making this potentially useful measuring feature no more than a gimmick. It might help settle a pub argument or two, but it'll be of little use when planning some weekend DIY. To be fair to Intel and Dell, this is a difficult trick to pull off, given how even the clearest photos can suffer from subtle distortions in perspective and geometry, but they should have held back this technology and perfected it rather than releasing it in such a flawed and under-developed state.
Another problematic feature that uses the three-lens rear camera is the ability to change the focus of your photos after you've taken them, similar to the trick of the Lytro camera. However, much like other Android devices that have attempted to reproduce this focus-shifting ability (namely the HTC One M8 and the Samsung Galaxy S5), the 7840's version of this feature is crude. Within a photo, certain parts of a building or a person, for example, will randomly appear out of focus.The rear cameras aren't even good enough for standard photography. Photos are blighted by lots of noise and a blue-ish cast, even when shooting In broad daylight. It's no match for a decent smartphone camera, making it a camera of last resort only.It's a shame this tablet's camera isn't up to scratch, because photos look gorgeous on the high-quality 8in screen. While contrast leaves a little to be desired, colour accuracy is excellent and the screen is so dazzlingly bright at its maximum setting, you may need sunglasses.
7Review earns Amazon affiliate commissions from qualifying purchases. You can support the site directly via Paypal donations ☕. Thank you!
Due to the screen's very high resolution (2560×1440 pixels), text is razor sharp and images incredibly detailed. Disappointingly, the touchscreen often responded slowly to our swipes and prods, which was frustrating.
At least the performance of the quad-core Intel Atom Z3580 processor was up to scratch. It sped through our 3D graphics and app-loading benchmark tests. It only fell down in our web page-loading test, where it was slower than the very fastest tablets such as the iPad Air 2 and the Nexus 9. But that means it's still faster than most Android tablets we've put through this test. We have no complaints about its battery life though. It lasted an impressive 14 and a half hours when playing videos continuously.
The 7840 comes with Android 4.4 KitKat pre-installed, with a free upgrade to Android 5.0 Lollipop promised for late April. Thankfully, Dell has resisted the urge to tamper extensively with the standard Android interface. Aside from the inclusion of a few-extra apps, including the ones necessary to use the camera's measurement features, the only major alteration is the addition of an equaliser.Accessed from the notifications drawer, the equaliser greatly Improves the sound quality of the otherwise tinny built-in speakers, increasing the clarity of spoken dialogue in both videos and audio (in podcasts and online radio streams, for example). There's only so much the equaliser can do though, and It can't hide the speakers' lack of precision and bass sound. For the best audio quality, particularly for music, you'll need a high-quality pair of headphones or external speakers.
Despite its quality screen and long battery life, the Dell Venue 8 7840 is a pretty average tablet overall. By focusing on its slender construction and gimmicky camera features, Dell has neglected crucial aspects such as screen responsiveness and user-friendly design, resulting in a flawed and inconsistent tablet. At this price, we'd much rather have the Sony Xperia Z3 Tablet Compact or the IPad Mini 2, which are far better mini tablets.8.4in 2560×1600-pixel touchscreen • 2.3GHz Intel Atom Z3580 quad-core processor • 2GB memory • 16GB storage • Android 4.4 KitKat • 306g • 216x124x6mm (HxWxD) • One-year warrantyA gimmicky camera and some bad design choices hobble what could've been an excellent tablet.