D-Link Omna 180 Cam HD – This all-in-one home-security camera works with Apple HomeKit, which is significant because very little else does. This means iPhone and iPad users can control it from the Home app and link its features to other HomeKit accessories: for example, if you have Philips Hue lighting, you can set selected lights to come on when the motion detector is triggered. You can also watch a live feed from the camera within the Home app, but to set up the Omna and access other features, (such as watching recorded video), you'll need the Omna app, which is also available for Android.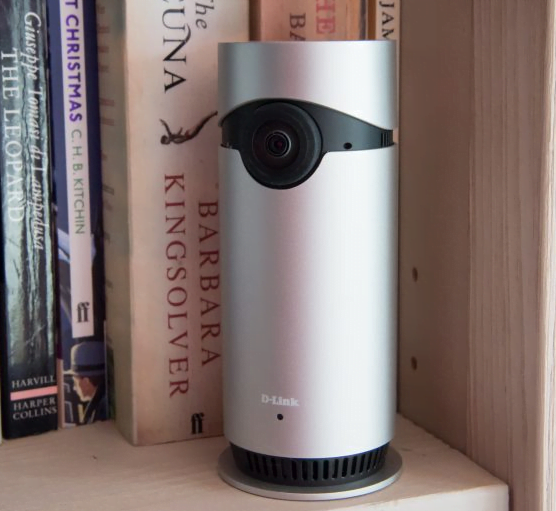 The tin-can-sized aluminium cylinder takes mains power through a micro USB adapter and is for indoor use only. It shoots at 1080p Full HD, and when watching the live view – which can also be streamed to an Apple TV, if you have one – everything looks very sharp and clear.
The 180-degree view helps a single camera cover a whole room or open-plan area, at the expense of some fisheye distortion. Infrared LEDs enable night vision,
A wide view, motion sensors and a speaker to yell at burglars
which remains clear enough to identify faces within a reasonable distance.
There's also a speaker in the camera, so if you do see a burglar or next door's pesky cat you can yell at them.
As with similar cameras, the idea is that you set up motion detection – zones and sensitivity can be defined to avoid false alarms – and any movement will then start it recording. Of course, you can also turn motion detection off when you're in the house, but if you have HomeKit events set up, they ignore this and trigger anyway.
7Review earns Amazon affiliate commissions from qualifying purchases. You can support the site directly via Paypal donations ☕. Thank you!
This isn't one of those cameras that saves footage online (in the 'cloud'). Instead, there's a slot for a microSD card, on to which footage is saved at a compressed 720p resolution. That saves space, but we'd have liked the option to save Full HD. You can take the card out to transfer recordings to a PC if necessary.
SPECIFICATIONS
1080p camera with mic, speaker, motion detection and alarm • Infrared night vision • MicroSD card slot • Requires Android 4.3 or iOS 10.0 or higher device • Requires Wi-Fi connection •132x58x58mm (HxWxD) • 232g
VERDICT:
If you want a HomeKit setup or just a simple camera with no online subscription, the Omna works fine, but features are limited
ALTERNATIVE:
Netatmo Welcome
With similar recording to card plus clever facial recognition, this is a smarter camera with a narrower 130-degree view
D-Link Omna 180 Cam HD Review
If you want a HomeKit setup or just a simple camera with no online subscription, the Omna works fine, but features are limited
Add your review