Less than the sum of its parts
Your body is made up of about 37 trillion cells. They vary in size, but you'll need a microscope to see any of these tiny haggises stuffed with biological bits and bobs. Inside most cells you'll find the rough endoplasmic reticulum, a folded-up maze of membranes. If your microscope is powerful enough – w'e're now inside a small part of a single cell, after all – you'll see that those membranes are studded with little dots. The little dots are ribosomes, which convert your genetic code into sequences of amino acids. Yes, you are still reading Computeractive, not a medical journal, and here's the point: each ribosome is bigger than one of the transistors in today's Intel CPU chips.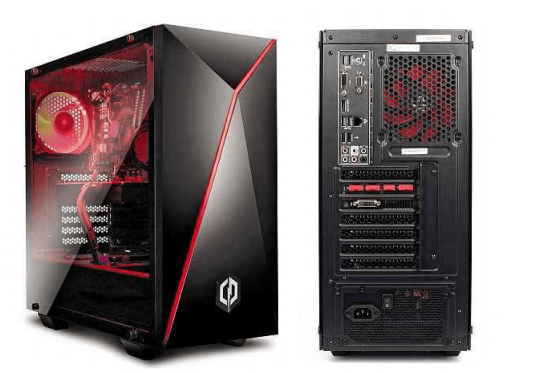 Style over substance – this PC's performance doesn't live up to its looks
When you start thinking about things like this, a desktop PC is really too remarkable a machine to be sitting unnoticed under your desk in one of those generic black plastic cases. So Cyberpower has come up with a new case that tries to do it more justice. A diagonal slash of red LED glows through the sculpted front panel, while both sides are full-length glass, tinted so that the interior remains unseen except for more red LED fairy lights illuminating the components. It's both striking and tasteful.
Not that the components within are any different from other PCs you could buy. It's relatively uncluttered – partly because there are no drive cages. If you want more storage, you screw it straight on to the chassis or the PSU shroud. As standard, there's a sensible combination of a 256GB SSD on the fast M.2 interface and a standard 1TB hard drive.
Graphics processing is handled by the full 6GB version of Nvidia's new GeForce GTX1060 graphics card. Our tests found this could run many games at up to 4K resolution with no compromises and run the most demanding titles in Full HD with decent quality settings. Even when doing so, the basic fan setup managed to keep the Infinity X55 VX cool without making much noise.
We were less impressed by the main processor – an i5-6402P. This slightly souped-up variant of the quad-core i5-6400 (from Intel's Skylake series) would be acceptable in a PC costing a few hundred quid less, but our test results were underwhelming compared to other systems we've reviewed recently. In everyday tasks, the speedy SSD kept Windows 10 feeling very responsive, but more ambitious tasks would be much better served by a beefier processor.
Things move fast in the world of PCs, though, and no sooner had we completed our testing than Cyberpower upgraded the Infinity X55 VX to Intel's new seventh-generation chips. It now comes with an i5-7400, accompanied by a generous 16GB of fast DDR1 memory, we originally received. The MSI motherboard accordingly shifts from the Z170-A Pro to the 270-A Pro, which still lacks any USB Type-C or Thunderbolt ports, but does have plenty of USB 3.1 sockets, along with two PCI-Express 3.0 xl6 slots and four regular PCIe 3.0 x1.
7Review earns Amazon affiliate commissions from qualifying purchases. You can support the site directly via Paypal donations ☕. Thank you!
Although we weren't able to retest this configuration, we're already familiar with the i5-7400, which we saw in Chillblast's Fusion Sentinel (see our review, Issue 493). We were very happy with its performance in that system. So the update doesn't change our view that while the Infinity X55 VX looks lovely from the outside, it doesn't justify its price tag.
SPECIFICATIONS
3.0GHz Intel i5-7400K quad-core processor • 16GB memory • 6GB MSI GeForce GTX 1060 graphics card • 256GB SSD • 1TB hard drive • 6x USB 3.1 ports • 2x USB 2.0 ports • Gigabit Ethernet • HDMI port • 4x DispiayPort • 2x DVI ports • 1x VGA port • Windows 10 • 480x210x500mm (HxWxD) • Two-year warranty
VERDICT:
The case is one of the few we've seen that looks impressive without being garish, but performance doesn't live up to it
ALTERNATIVE:
ChiUblast Fusion Hubble
An i5-7600K overclocked to 4.2GHz gives this system considerably more raw processing power