Bunting must surely be in short supply. Along with the Royal Jubilee, we had SME officially celebrating its 60th birthday while Nagra rolled out the cake for its 70th – and now Clearaudio has released a product to celebrate its '40 years of excellence' (an anniversary that actually fell in 2018, but product delays are nothing new). The good news is that the result is the £ Clearaudio Reference Jubilee turntable; the bad news is that production is limited to 250 units worldwide. Read our Clearaudio Reference Jubilee Review.
audio file
Belt-driven turntable with electronic speed control and tonearm
Made by: Clearaudio Electronic GmbH, Germany
Supplied by: Sound Fowndations, UK
Telephone: 0118 981 4238
Web: www.clearaudio.de; www.soundfowndations.co.uk
Prices: £ (inc. PP 24V PSU), £ (Universal arm)
Review: Adam Smith
Lab: Paul Miller
With its distinctive V-shaped plinth, this celebratory model doffs its cap to the company's first Reference turntable, released in 1993. However, the original acrylic is replaced in the Reference Jubilee's plinth with Panzerholz – the 'armour-plated' wood. This laminate material is sandwiched between layers of aluminium, and the bearing is located front and centre of the V. To the right is the tonearm base, to the left are operation buttons selecting Off, 33.3, 45 and 78rpm. The plinth sits on three spiked feet, all adjustable for levelling.
HYBRID DRIVE
At the very left corner can be found the 24V DC motor, suspended within a circular turret by 18 tensioned O-rings – nine above the motor and nine below. The turret has cut-outs for the belt to pass through, and is supplied with a cover to be used when the belt is in position.
The Jubilee Reference's motor drive electronics combine both analogue and digital technologies. A ring on the underside of the main platter works in conjunction with a sensor on the plinth to monitor the platter's rotation, using 1598 impulses per revolution. A 12-bit DAC generates a motor reference voltage, which is fed into the analogue motor control circuitry. This compares the feedback from the platter with the reference signal, which is then adjusted accordingly to keep the speed spot-on. It is possible, however, to override this and tweak each speed manually in fine steps.
The platter is a two-piece construction. The lower part is a 15mm-thick, 8.5kg stainless steel disc, and above this is a 50mm, 5kg POM (polyoxymethylene) main platter – both locate onto a central upper bearing housing. Naturally, the turntable makes use of Clearaudio's familiar Ceramic Magnetic Bearing technology, meaning that magnets in the plinth and the lower platter act against each other to support the bearing with minimal physical contact. The ceramic post provides a location feature and the platter effectively floats in the vertical plane, thus reducing friction.
7Review earns Amazon affiliate commissions from qualifying purchases. You can support the site directly via Paypal donations ☕. Thank you!
RECOMMENDED VIDEOS FOR YOU...
See also TOP 15 turntables
Power to the Reference Jubilee's motor is provided by Clearaudio's small, cylindrical Professional Power 24V unit, now supplied as part of the package. That said, the simple plug-top type PSU mentioned in the user manual was also in the box and comparisons here proved very interesting.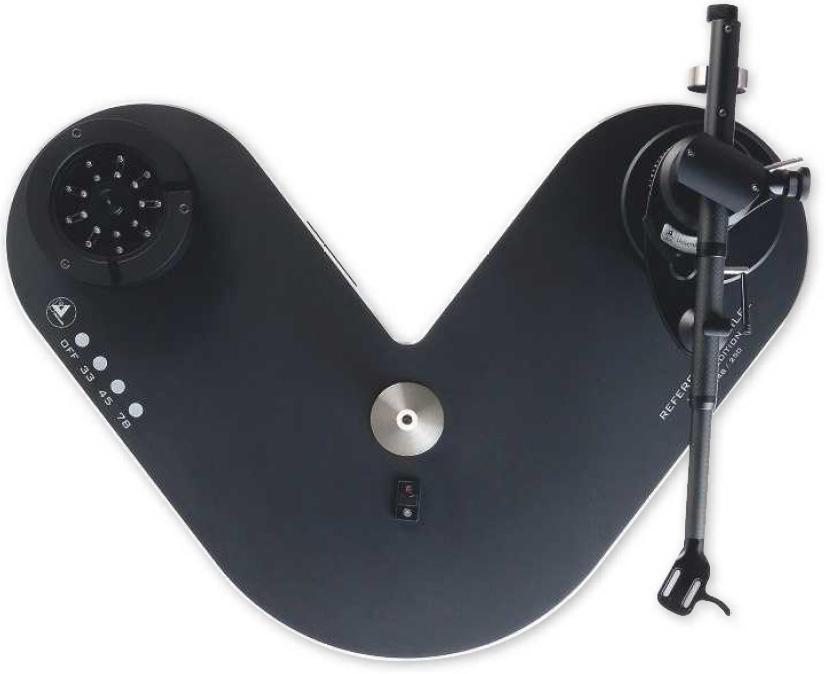 'The cacophony of "Careless Love" was an absolute riot'
For review, the deck was supplied with Clearaudio's £ Universal 9in tonearm, in its black finish. This features a carbon fibre armtube, and the model supplied is a new variant with silver internal wire and a DIN output socket rather than a captive arm lead. Also supplied was the Clearaudio VTA adjuster, a £ addition which makes installation and adjustment that much easier; it's definitely an option box I would tick. There's also a £ Jubilee MC cartridge available and, when purchased with the turntable and arm, a 5% discount applies, bringing the total price for these three items to £.
ARM WRESTLING
The Reference Jubilee is beautifully engineered, as is the arm, but neither are exactly plug and play, despite the excellent user manual. The arm comes with a set of five different counterweights, and will accommodate a very wide range of cartridge weights and tracking forces, but as these are unscrewed from beneath they are fiddlier than some. In addition, the fine pitch of the weight adjustment screw requires considerable twiddling to effect a decent change. Finally, while I'm in grumbling mode, the cueing device could do with more damping – I found it a tad abrupt in action.
MUSICAL MAESTRO
However, with all the faff out of the way it soon becomes clear that taking time with the Reference Jubilee's setup is amply rewarded. Used with my tried-and-tested MC Essence cartridge, Clearaudio's deck/arm combination proved to have a knack of picking the best aspects from a whole different range of musical styles, and serving them up in delicious fashion. Jack of all trades it certainly is, but it's also a master of many…
In other words, whatever you pass under the stylus comes out brilliantly. The Reference Jubilee has the sense of poise and refinement that marks out a thoroughly well-engineered product, but never sounds flat or torpid. In fact, it combines its sophistication with a joyous sense of dynamic alacrity and a willingness to let its hair down when required.
Key to this side of its performance is the bass, which is nothing short of magnificent. The Reference Jubilee has an almost 'direct drive' sense of timing and precision at the low end, showing that Clearaudio's engineering on the drive and bearing system was well worth the effort. The bassline from Bob Marley and the Wailers' 'Waiting In Vain' [Legend, Island Records BMW1] was a delight from start to finish. If you hear this on the radio it bounces along in a typically cheery reggae style but, through the Reference Jubilee, suddenly those notes take on real form. They have their own space and a proper sense of texture and definition, moving the track to a new superlative level.
That exceptional bass doesn't dominate proceedings, however. On the Bob Marley track I was well aware of the crisp percussion effects lurking in the background, while the vocals were definitively front and centre. This turntable has a solidity to its imagery, and never any sense of uncertainty as to performer placement.
UNIVERSAL APPEAL
At the top end, the Reference Jubilee's mastery of sonic magic continues. I've used the MC Essence pick-up for years and know it well, but it really does gel beautifully with the Universal tonearm. I might have called the arm a few unsavoury names during setup, but all was soon forgiven.
Treble quality of the deck, arm and cartridge was impeccable, with transparency, definition and an underlying sweetness present and correct. Percussion elements were brought into the main mix and their nature expertly captured. The synthesised 'hi-hats' on 'Nothing To Fear' from Chris Rea's God's Great Banana Skin LP from 1992 [EastWest 4509-90995-1] had a crispness and clarity to them, but there was never any doubt they were an electronic facsimile of the real deal.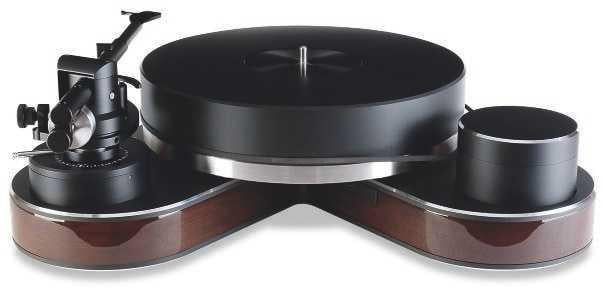 Another striking thing about the Reference Jubilee's playback of this track was the dynamic range exhibited. During the initial verses the vocals projected gloriously into my room, with all those delicate effects neatly lined up behind. However, when Rea lets rip on the slide guitar, lesser decks have a tendency to flatten the 3D perspective as they struggle to fit it all in. Clearaudio's turntable was having none of this, leaving the performance to wash over me with authority and impressive scale.
SHEER PRECISION
If I had to pick a small flaw in the Reference Jubilee's armoury, it is that its lateral image width does not extend quite as far beyond the plane of the loudspeakers as some of its competitors. This is not something that particularly stands out, though, and is countered by the front-to-back scale and sheer precision of separation in the centre of the soundstage. The pleasing cacophony of instruments on Ronnie Lane's 'Careless Love' [Anymore For Anymore; Universal Music 355 046-6] was an absolute riot, with Jimmy Jewell's saxophone ringing out strongly and cleanly.
In contrast, a more intimate and simple recording played exquisitely to the Reference Jubilee's strengths. The track 'Your Heart Is As Black As Night' from Melody Gardot's My One And Only Thrill [Verve 1796787] was captivating, with her vocals husky and alluring. In addition, Patrick Hughes' trumpet could have been in the room with me, and the backing double bassline kept just the right distance, setting up a wonderful, solid foundation for the piece.
The urge to dispense with the Professional Power 24V PSU and plug in the standard plug-top item proved irresistible. After all, DC is DC isn't it? What difference could it make? The answer was a great deal. With the standard PSU plugged in, the noise floor rose noticeably and vinyl roar became moderately intrusive on quieter tracks. Worst of all, though, was the wonderful bass, which gained bloat and lacked in definition. If your Reference Jubilee comes with the standard PSU in the box, don't even think of using it. If you do, you really won't scratch the surface of this deck's capabilities!
VERDICT
Clearaudio Reference Jubilee Review
The Clearaudio Reference Jubilee is a fitting milestone for this German brand – taking its first turntable design and updating it with 30 years of experience. Yes, setup is a little fiddly, but the effort is amply rewarded by the performance on offer. The deck can wear its 'Reference' tag with pride and with the hope that it sires a permanent version, as this stunning LP spinner begs to break free of its limited-edition shackles.
Add your review
Best Clearaudio Reference Jubilee prices ?
See also TOP 15 turntables
REFERENCE GENESIS
From its foundation in 1978 with a focus on speaker, arm and cartridge design, it wasn't until 1993 that Clearaudio's first production turntable, the 'Reference', was launched [see inset picture]. It was designed by company founder Peter Suchy, who introduced the concept of a V-shaped chassis to minimise resonances. Those first decks used clear acrylic for the plinth and a frosted acrylic for the platter, with mass strategically added through the use of heavy stainless-steel feet and an equally chunky arm-mounting pod.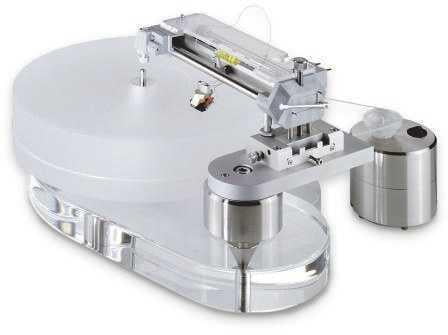 The Reference's synchronous AC motor was freestanding in its own enclosure and driven directly from the mains. An outboard PSU – the Accurate Power AC mains regenerator – was added later by way of upgrade. The deck proved an excellent companion for the linear tracking arms that Clearaudio had begun building for Souther in 1988 and so the early '90s marked the beginning of a long and successful line of both turntable and arm development. The first upgrade came in 1994 with the arrival of the bigger and even better-performing Master Reference turntable. This has even secured its place in history as a bona fide Hollywood star, thanks to its appearance alongside Angelina Jolie's heroine in 2001's Lara Croft: Tomb Raider movie.
LAB REPORT
CLEARAUDIO REFERENCE JUBILEE
While Clearaudio's 8.5kg, 15mm-thick stainless steel main platter and 50mm-thick POM top platter are belt-driven, the DC motor is governed by what Clearaudio describes as its OSC or 'Optical Speed Control'. The optical sensor can be seen near the inverted ceramic bearing in our 'platter off' shot [p46], part of a hybrid digital/analogue drive synthesiser that evidently results in a very fine absolute speed accuracy of +0.03% and also a very low peak wtd wow of just 0.02% [see Graph 1, below]. Flutter is rather higher at 0.07% but is seemingly distributed in a semi-random, noise-like fashion – analogue but digitally 'dithered'! Interestingly, while there's little advantage in speed stability when upgrading to the 'Professional Power 24V' from the default 'wall wart', the reduction in rumble is little short of astonishing. Measured both through the groove and directly through the magnetically-assisted bearing, the DIN-B wtd rumble measured ~–64.8dB – rather below average – but this was lifted to an above-average – 70.2dB (through-groove) with the PSU upgrade in place.
In the 12 years since we first tested Clearaudio's 9in Universal tonearm, the outward appearance of its substantial (ball-race) bearing housing and three-part tapering-diameter carbon-fibre armtube looks unchanged. Within, however, Clearaudio has clearly improved the damping and resonance-control of the tube's main beam mode – seen here at 175Hz – and torsional/harmonic modes at 270Hz, 410Hz, 670Hz and 860Hz [see CSD waterfall, Graph 2]. In short, the latest Universal arm is markedly less 'lively' than the launch version. Bearing play is almost undetectable and friction/stiction below 10mg in both planes.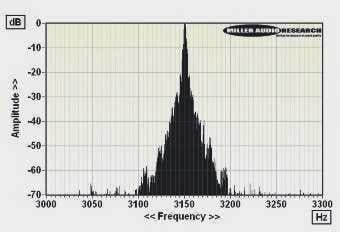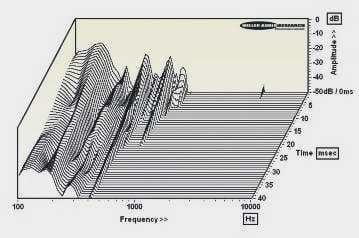 SPECS
Turntable speed error at 33.33rpm 33.34rpm (+0.03%)
Time to audible stabilisation 3-4sec
Peak Wow/Flutter (Peak wtd) 0.02% / 0.07%
Rumble (silent groove, DIN B wtd) –70.2dB (with PP 2V upgrade)
Rumble (through bearing, DIN B wtd) – 66.8dB
Hum & Noise (unwtd, rel. to 5cm/sec) – 54.7dB
Power Consumption 5W (1W standby)
Dimensions (WHD) / Weight 495x160x343mm / 22kg