UK-produced set looks the part and partners Quantum Dot tech with Android smarts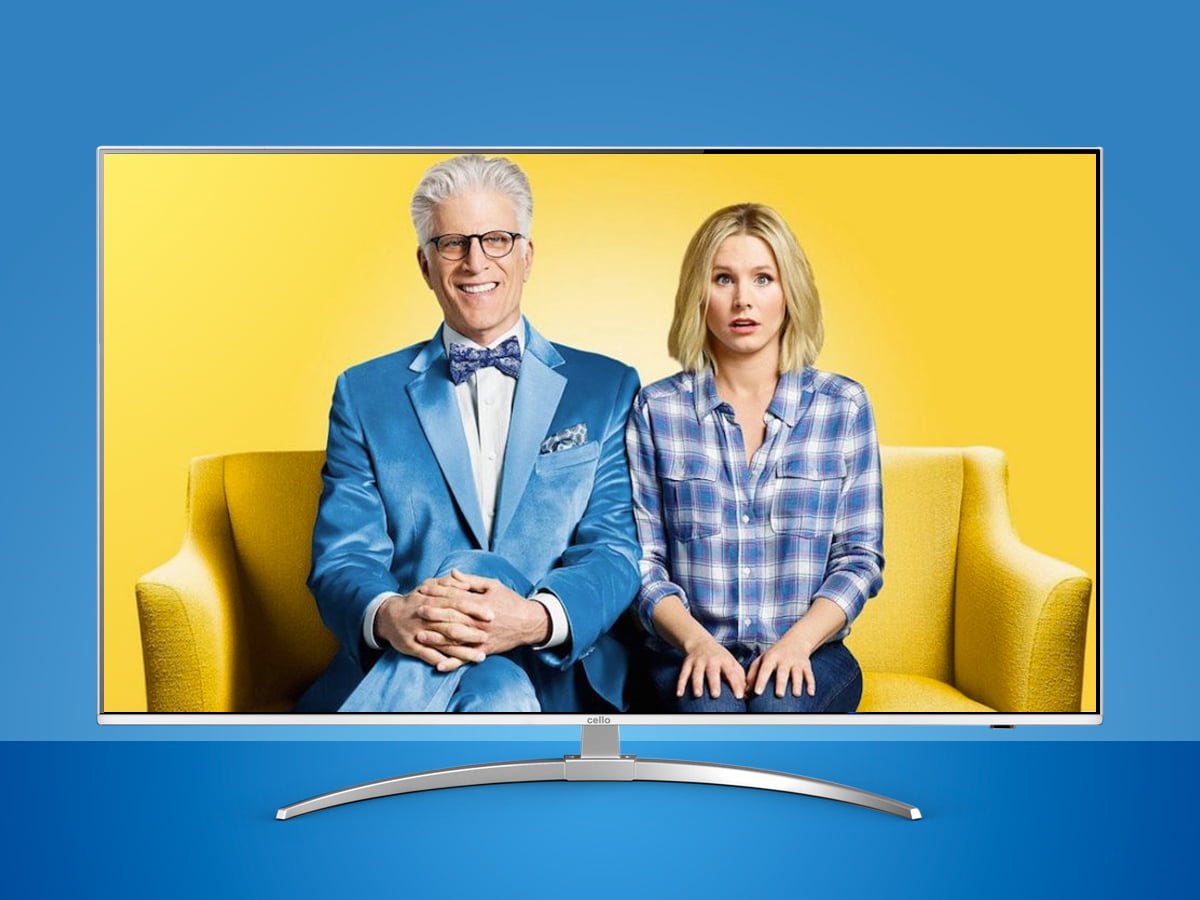 PATRIOTIC SORTS THAT we are, we'd love to love the Cello C55SFS4K QLED. It is, after all, a TV that's born and bred in the UK.
Sadly, though, it doesn't put Britain on the TV hardware map as convincingly as we'd hoped.
First impressions are strong. From its narrow metallic bezel to its startlingly thin, gleaming silver rear it looks more like a high-end OLED TV than a relatively affordable LCD model. Its half-moon stand is also elegant – if faffy to build.
It's well connected, too, with four HDMIs, two USBs, an Ethernet port and built-in Wi-Fi ticking the boxes.
Extremely unusually for a TV, the C55SFS4K QLED uses Quantum Dots to paint its colours. These can usually run brighter and deliver more colour volume than standard LCD colour filters – handy for playing back the HDR10 high dynamic range content the set supports.
7Review earns Amazon affiliate commissions from qualifying purchases. You can support the site directly via Paypal donations ☕. Thank you!
See also TOP Televisions
and The best OLED TV deals 2022: get an awesome OLED at the lowest price
Smart features are provided by an Android platform. This provides access to a huge range of apps, but menus are a bit clunky by modern standards. Unfortunately, it also seems to be using a tablet Android system, not a bespoke TV one – certainly the clients for Netflix and Amazon Prime Video are the tablet versions, which means no HDR or 4K. The Netflix picture appears somewhat compressed, too.
The TV's remote control is also a let-down. Its buttons are cramped, poorly organised and badly labelled, and while its point and click and 'mouse' options sound promising, they end up adding an extra layer of confusion.
Poetry not in motion
Feeding the Cello the 4K Blu-ray of Shane Black's The Predator reveals some flaws. First and worst, motion handling with 24p sources is sub-par, plagued constantly by significant juddering and blurring. And there's no motion processing to help things out.
A night-time scrap between two aliens, meanwhile, shows some uninspiring backlight management. There's obvious greyness over the supposedly black skies and distracting areas of clouding crop up over various parts of the screen. I suspect Cello's ultra-slim design hasn't helped in this regard.
The Predator 4K BD's colours also cause the TV some issues. Dark scenes tend to look too blue, while greyish tones – such as the interior of the Predator ship – can take on a strange magenta hue. And while it wasn't a big issue with The Predator, various other titles revealed some heavy colour banding in HDR content in areas such as skies and swirling smoke.
Bright HDR exteriors in The Predator also suffer with severe clipping (detail loss). So much so that different sky colour shades can appear as glowing 'clumps'.
There are decent things about the Cello QLED's pictures. They look slightly brighter than those of some TVs in this roundup (though it only hits 300 nits on a 10 per cent white HDR window); there's a decent amount of detail visible in dark areas; and relatively static 4K sources can look crisp.
The Predator also looks better in its HD, SDR form. Colours are more natural and balanced, and black levels more convincing. You're slightly less aware, too, of the motion softness, and there's no more distracting clipping in the brightest parts of the picture.
A slightly high 57ms input lag time damages the TV's potential as a gaming monitor, while its sound performance suffers with minimal bass and a generally thin and muffled tone that's routinely over-powered by The Predator's robust action-movie mix.
Verdict
Best Cello C55SFS4K QLED prices ?
MORE DEALS

See also TOP Televisions
and The best OLED TV deals 2022: get an awesome OLED at the lowest price
SPECIFICATIONS
3D: No 4K: Yes. 3,840 x 2,160 HDR: Yes. HDR10 TUNER: Yes. Freeview HD CONNECTIONS: 4 x HDMI inputs; 2 x USB; Ethernet; microSD card slot; stereo analogue audio input; composite video input; RF input; optical digital audio output; headphone jack SOUND (CLAIMED): 2 x 8W BRIGHTNESS (CLAIMED): 200 cd/m2 CONTRAST RATIO (CLAIMED):1,200:1 DIMENSIONS (OFF STAND): 1,236(w) x 714(h) x51(d)mm WEIGHT (OFF STAND): 14.5kg
FEATURES: Built-in Wi-Fi; USB multimedia playback/timeshifting; QLED colour technology; Android OS