Cayin HA-300 300B tube- driven headphone amplifier/ integrated amplifier
by Chris Martens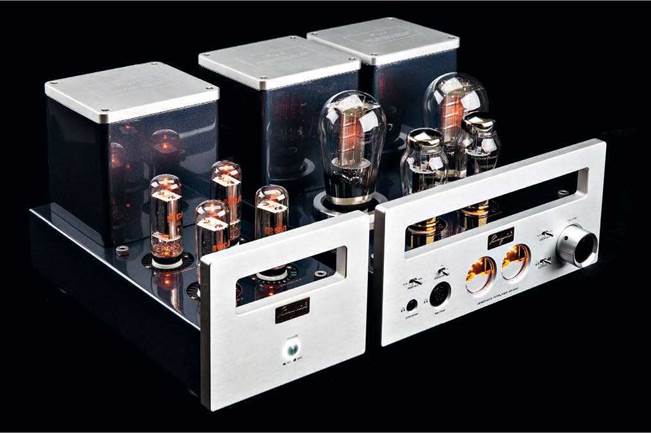 Founded in 1993, Cayin is a performance minded audio manufacturer from China whose reputation was initially built on building affordable, high performance valve amplification components. While the firm has since branched out to build many solid-state products, including portable headphone amps, amp/ DACs, digital audio players, DACs, and more, Cayin's commitment to valve- powered amplification runs deep. When it came time to launch a statement class headphone amplifier, then, Cayin chose a Class A, single-ended triode design whose roots go back over 20 years.
Cayin's HA-300 is a beautifully made, two-chassis, valve-powered head­phone amplifier. The amplifier relies upon a pair of 6SN7 driver valves feeding 300B output valves, which are legendary in audiophile circles; the 300B's in turn drive a pair of proprietary Cayin-manufactured output transformers, which support both single-ended and balanced headphone
The real magic of the HA-300, however, has more to do with its sound than its looks.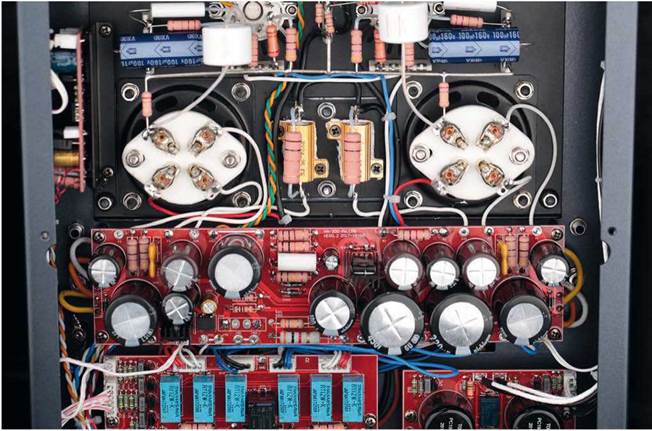 ► outputs. These special output transformers provide, says Cayin, "three sets of impedance matched outputs for a very wide range of headphone impedance loading." Moreover, the HA-300 is capable of serving as an 8Wpc stereo integrated amplifier suitable for driving high sensitivity loudspeakers.
7Review earns Amazon affiliate commissions from qualifying purchases. You can support the site directly via Paypal donations ☕. Thank you!
The larger HA-300 chassis houses the main amplifier, while the smaller chassis houses the power supply; a beefy 'umbilical cable' connects one to the other. Even the outboard power supply is valve-driven, with four NOS RCA 22DE4 rectifier valves each feeding independent regulators for different gain stages within the voltage amplifier circuit. Completing the picture is a massive custom-made toroidal power transformer.
Let me come right out and say it: The HA-300 is drop dead gorgeous. Both chassis feature 12mm thick milled aluminium faceplates with inset gold Cayin logos, while the chassis enclosures and transformer housings are done in a lustrous metallic grey lacquer finish. Capping the tops of the transformers are thick milled aluminium cover plates engraved with Cayin logos, while the tube sections of both the amplifier and the power supply come with handsome, removable, black wire-frame valve cages. The real magic of the HA-300, however, has far more to do with its sound than its looks.
I listened to the HA-300 with three of the finest planar magnetic headphones I had on hand: the HiFiMAN Susvara, the Final D8000, and the Abyss AB-1266 Phi edition. The HA-300 proved to have enough output to do justice to all three top-tier headphones, even the extremely difficult-to-drive Susvara.
Through each of these headphones, the HA-300 delivered a big, highly expressive, and dynamically robust sound —one that ►
Through the HA-300, the music breathes naturally.
► in every case produced broad, deep soundstages with wonderfully precise placements of individual sounds within those stages. Stated simply, the HA-300 vividly shows exactly how individual instruments and voices sound, but also shows where those sounds are coming from.
The amp delivers a slightly warmer than neutral sound coupled with excellent transient speeds, terrific dynamic agility, and disarmingly great renditions of those low- level details in the music. In fact, on several occasions transient sounds seemed so real and convincing that I pulled the headphones from my head to look for the sound sources, only to realise with wonder (and perhaps disappointment), "Oh, that sound was actually in the recording—not outside in my listening room." Listen to Melody Gardot's infectious laughter at the very end of 'Who Will Comfort Me' from Worrisome Heart [Verve, 16/44.1] to hear what I mean.
The Cayin's sound is much different from the almost hyper-focused, hyper-controlled, and hyper-analytical sound of some of today's better solid-state amps. Instead, through the HA-300, the music breathes naturally and sounds harmonically rich and full of delicate, unforced details, but with an uncanny quality of being 'illuminated' from within (a hallmark of fine 300B designs). This quality, for example, beautifully underscored the emotive power of Joan Armatrading's voice on 'Merchant of Love' from What's Inside [Savoy Jazz, 16/44.1].
Cayin's HA-300 is a wonderful, top- tier headphone amplifier that not only offers compelling technical strengths, but — more importantly—offers musical ones that constantly show how vital and alive recorded music truly can be.
TECHNICAL SPECIFICATIONS
Type: High performance, valve powered, balanced headphone amplifier/integrated amplifier Valve complement:
Power supply: four NOS RCA 22DE4 rectifier valves Amplifier: Two 6SN7 driver valves, two 300B power valves Inputs: One stereo single-ended analogue input (via RCA jacks), one stereo balanced input (via XLR jacks)
Outputs:
Integrated amplifier: One stereo set of loudspeaker binding posts Headphone amplifier: One balanced stereo headphone output via a 4-pin XLR jack, one single-ended stereo headphone output via a 6.35mm headphone jack
Controls: Speakers/headphones output switch, XLR/RCA input switch, L/M/H headphone impedance switch, STD (single-ended)/BAL headphone output switch, illuminated on/off switch, illuminated L/R VU meters, stepped volume control.
Frequency response:
Integrated amplifier: 10Hz-60kHz± 3dB Headphone amplifier: 10Hz-50kHz±3dB Distortion: < 1% at rated output at 1kHz Output power:
Integrated amplifier: 8Wpc (Class A)
Headphone amplifier:
Low impedance (8-64 Ohms):
Single ended: HOOmW/channel Balanced: 1800mW/channel Medium impedance (65-250 Ohms):
Single ended: 2400mW/channel Balanced: 2200mW/channel High impedance (251-600 Ohms):
Single ended: 5000mW/channel Balanced: 3700mW/channel
Dimensions (HxWxD): Power Supply: 210 x 159 x 345mm;
Amplifier: 210 x 286 x 368mm Weight:
Power Supply: 10kg Amplifier: 19kg