Canon Pixma TS8050 Review
A sharper printer-scanner
Like the TS5050, the TS8050 is an all-in-one inkjet printer/scanner featuring Canon's new streamlined design. This pricier model has a larger screen, although it mostly displays the same options with more white space around them. It also has a 100-sheet paper cassette in addition to the rear feed, which takes the form of a slot at the back of the top panel with a vertical prop. The TS5050 advertises this as holding up to 100 sheets of plain paper, while the TS8050 quotes 20 sheets of photo paper, which you're not supposed to load in the front. Again, both USB and Wi-Fi are built in, with support for all the usual systems, and there's an SD card slot to print directly from digital camera cards.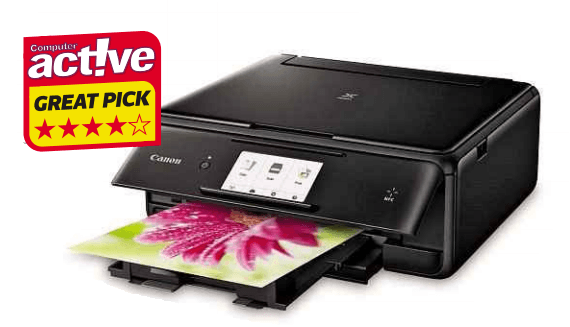 Unlike its stablemate, the TS8050 can print both sides of the paper (duplex), and instead of five inks it uses six. As well as a dye-based black for subtler shading in photos, there's a grey ink for, well, even subtler shading.
This only works on photo paper, but the results impressed us, with extremely fine detail. The 9600x2400dpi resolution is the highest you'll see in a mainstream printer. Note that these numbers reflect the size of ink dots – your image files still only need a resolution of about 240 pixels per inch to take advantage of this.
Scanning was also sharp and accurate, capturing an A4 page at 300dpi in a quick 14 seconds. Black-and-white photocopies took 12 seconds, and looked a bit dark, while color took twice as long. Black text prints showed a few flaws, but were printed in a decent 13.3 pages per minute, while color graphics on plain paper were very good, although they could have been a touch bolder.
Print costs work out at about 7.8p per standard color page, or 2.7p for black only, which is above average. If you do print a lot of full-page high-quality photos, they'll use a lot more ink than that. Overall, the TS8050 is an excellent printer, but not cheap to buy or run.
SPECIFICATIONS
9600x2400dpi maximum print resolution • 2400x4800dpi maximum scan resolution • 100-sheet front cartridge • Rear photo paper tray • USB 2 • 802.11n Wi-Fi • 126x372x315mm (HxWxD) • 5.5kg • One-year warranty
VERDICT:
It's not the most convenient for churning out lots of pages, but for creative home use this is a very good all-in-one printer
ALTERNATIVE:
Canon Pixma MG5750
This older five-ink duplex machine lacks an SD slot but is still our all-round value-for money favorite
Canon Pixma TS8050 Review
It's not the most convenient for churning out lots of pages, but for creative home use this is a very good all-in-one printer
Add your review