Canon upgrades its main enthusiast DSLR with a new sensor and AF system. Angela Nicholson got her hands on a sample
The new 80D, which replaces the 70D launched in July 2013, sits smack in the middle of Canon's EOS DSLR line-up. That puts it in prime enthusiast territory, offering the heightened level of control and advanced features that serious amateurs demand in comparison with novices.
Inside the new camera is a 24.2Mp Dual Pixel CMOS AF sensor coupled with a Digic 6 processing engine – both a step up from the 20.2Mp sensor and Digic 5+ processing of the 70D. Despite the increase in pixel count, Canon must be confident of an improvement in image quality because it has pushed the 80D's native sensitivity range one stop further than the 70D's so that it now spans IS0100-16,000.
The maximum expansion setting remains the same at IS025,600.
While the 70D was no slouch, with a maximum high continuous shooting rate of 7fps, I'm a little surprised that Canon hasn't pushed the rate up a little for the 80D, it has the same 7fps maximum. What is good, however, is that the burst depth has been increased to 110 JPEGs or 25 Raw files when a UHS-1 SD card is inserted. That's up from 65 JPEG and 16 Raw files with the 70D. That's not bad, given the 20% increase in the pixel count, but I can't help wondering what might have been possible if Canon had plumped for the Digic 7 processing engine that has surfaced for the first time in the PowerShot G7 X Mark II, announced alongside the 80D.
In line with the recently announced ID X Mark II, Canon has given the 80D a redesigned mirror box, which uses cams and gears rather than springs to lift and lower the mirror, making the process smoother and quieter, as well as reducing blackout time.
Fast focusing
Like the 70D, the 80D has a Dual Pixel CMOS AF sensor. That means
Canon must be confident as it has pushed the 80D's ISO range to 100-16,000
that it has phase detection points on the sensor to make focusing faster than a contrast detection system in Live View and video mode. According to Canon, this focusing system has been improved for the 80D, making it more sensitive and faster than the 70D's. It's also possible to vary the speed of the Live View and video AF system across seven steps, enabling slower rates to be used with video when you want a smooth transition and having snappier focusing for stills. My initial impressions of the slowest setting are very good, it will be interesting to see how the faster option fairs with moving subjects. Being a DSLR, the 80D also has a dedicated phase detection sensor for autofocusing in reflex mode.
The new AF system is impressive, giving you 45 points (the 70D has 19), all of which are cross type with lenses that have a maximum aperture of f/5.6 or greater. Furthermore, the central 27 points work down to f/8, with nine being cross-type at that aperture. It's claimed to operate at -3EV, or what Canon refers to as moonlight. Autofocus point selection can be left to the camera or you can choose an individual point in Single point AF mode, or groups in Zone AF or Large Zone AF mode.
We'll need to conduct in-depth testing of the AF with a range of lenses in a variety of conditions with stationary and moving subjects, but on first inspection it seems capable, getting subjects sharp very quickly, even in low light.
As in the 750D and 760D, there's 7560-pixel RGB+IR (infrared) sensor for metering in reflex mode (the imaging sensor is used in Live View mode) and the metering area is divided into 63 zones. As usual Evaluative, Partial, Centre-weighted and Spot metering options are available. The metering sensor is also used to assist the autofocus system, using colour information to help with subject tracking.
Extras
Canon introduced its Anti-flicker system with the 7D Mark II to help produce predictable exposure and colour when shooting under a flickering light source – such as fluorescent light. This clever technology, which detects the frequency of the flicker and times shots so that they are taken when the impact on exposure and colour is minimal, now appears in 80D.
Anyone hoping that the 80D will have 4K video recording is going to be disappointed, but the maximum frame rate of Full HD (1920×1080) recording has been increased to 50fps, making 2x slow motion playback possible. In addition to the 3.5mm mic socket that's found on the 70D, there's a headphone port for in-camera audio monitoring.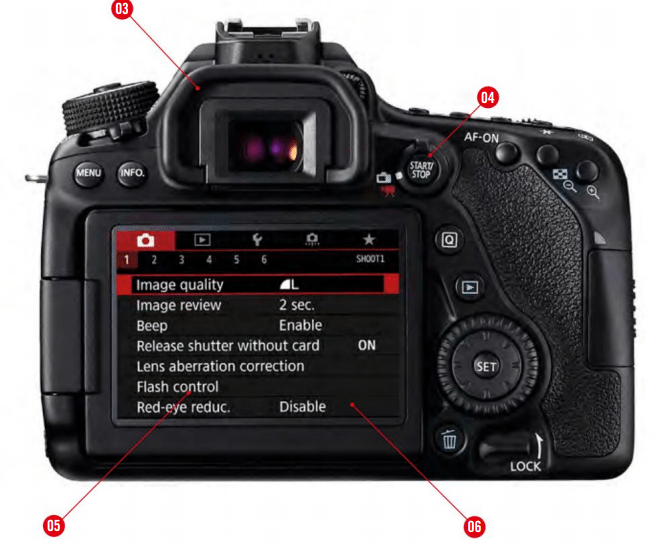 Features
In addition to Wi-Fi connectivity, the 80D has an NFC chip to enable it to connect quickly to compatible devices.
The 80D accepts SD/SDHC/SDXC cards and is compatible with UHS-1 media.
The viewfinder housing is bigger than the 70D's because coverage has been increased from 98% to 100%.
The Live View/Video control has changed slightly, but operates in the same way. with the central button starting recording.
Canon has cleaned up the menu and used a clearer font.
This 3-inch 1.040K-dot Clear View II screen is touch-sensitive and mounted on a variable bracket.
As is becoming commonplace, the 80D has Wi-Fi and NFC technology to enable it to be connected wirelessly to a smartphone. As well as enabling images to be shared quickly to the Internet, this allows the camera

Like many enthusiast Canon DSLRs, the 80D has an adjustable vari-angle LCD that's also touchscreen
80D SPECIFICATIONS
SENSOR 24.2Mp APS-C CMOS (1.6x crop) IMAGE PROCESSOR Digic 6 AF POINTS 45 (all cross-type)
ISO RANGE 100-16,000 (25.600 exp)
MAX IMAGE SIZE 6000×4000 METERING ZONES 63 (7560-pixel RGB+IR metering sensor)
HD VIDEO 1080p at 60 and 50fps
VIEWFINDER Pentaprism 100% coverage,
0.95x magnification
MEMORY CARD lx SD/SDHC/SDXC
LCD 3in, 1040K, vari-angle, touchscreen
TOP-PLATE LCD Yes
MAX BURST 110 JPEG or 25 Raw at 7fps
WI-FI/GPS/NFC Wi-Fi/NFC
SIZE 139x105x79mm
WEIGHT (BODY) 730g
AVAILABLE May
to be controlled remotely using Canon's free EOS Remote app.
Like the 5DS/R and ID X Mark II, the 80D has Ambience Priority and White Priority options for the Auto white balance (AWB) system. Using the Ambience Priority setting produces images that retain some of the colour created by the lighting, whereas the White Priority setting is intended to remove the colour cast.
I found this works very well when shooting a scene illuminated by household bulbs, with a noticeable difference between the two images.
Build and handling
A close inspection of the 80D reveals that its control layout and shape is almost identical to that of the 70D. There are a couple of changes on the Mode dial, however.
Firsdy, there are two Custom mode settings (Cl and C2) and secondly there's a setting to access the Filter modes – which can be used in Live View or reflex mode. When this option is selected the filter can be chosen with a tap on the screen icon, followed by a further tap on the desired option. If you're shooting in Live View mode you're able to see the effect on the rear screen, but as the viewfinder is optical there's no preview when using it to compose images.
The 80D's front and rear grips are slightly different from the 70D's, with the main one being a little deeper for better purchase.
In an improvement over the 70D, the 80D's viewfinder shows 100% of the image that will be captured, which will enable more accurate composition. Meanwhile, there's no change to the screen on the back of the camera, it's still a 3-inch Clear View II unit with 1,040K dots.
Performance

Although Canon already has two DSLRs with the 24.2Mp sensor and Digic 6 combination, in the form of the 750D and 760D, the 80D has Dual Pixel AF technology rather than the 750/760D's Hybrid AF III system, so it uses a new sensor. The native sensitivity range of the 750D and 760D is also capped at 12,800, one-third of a stop lower than the standard maximum of the 80D. This may indicate a slight improvement in noise control in comparison with the older models. I've only been able to examine a few images on the rear LCD, but noise appeared to be controlled well at IS016,000.

The 80D's Mode dial now gives you access to all the fun creative filters

We'll need to perform some thorough tests of both of the 80D's autofocus systems before we can give a full verdict, but the camera got subjects very quickly when I was composing images in the viewfinder of a pre-production sample. The Live View AF system also seems pretty decent, but I haven't tried to shoot moving subjects with it yet.

Under the hood the 80D gets a Digic 6 processor but still 'only' offers Tips, like its 70D predecessor
The 80D's specs look enticing for70D owners (and it's a major upgrade from the 60D)
THE EARLY VERDICT
So is it worth upgrading from the EOS 70D?
With a 20% increase in pixel count, a jump from 19 AF points to 45. a big leap of up to 25 Raws at the maximum burst, the addition of a headphone port and an improvement in the Live View and video mode AF system, the 80D's specs look enticing for 70D owners (and it's a major upgrade from the 60D). Further good news is that handling is largely unchanged, making it easy to slip between the new camera and the model it replaces. What we have yet to see is whether image quality makes any strides forward and if the AF system can cope with fast-moving subjects.
Last update was on: September 19, 2023 8:55 am