This upgrade has been four years in the making. Phil Hall tests Canon's fantastic new full-frame 5D Mk IV to the limit
Canon's 5D series has a rich heritage – the original EOS 5D camera bought full-frame photography to the masses – so the arrival of a new generation of the 5D is a big deal. The 22.3Mp sensor in the 5D Mk III was starting to look a little dated compared to some of the competition, so it's nice to see a notable jump to 30.4Mp here. It's when you zoom into a saved photo that you realize how big a 30Mp image is. Files measure 6720×4480 pixels. This means that if you want to print at 300dpi, the native size is just under A2 at 56.9×37.9cm (22.4×14.9 inches). Those looking for even more pixels already have the option of the 50.6Mp 5DS.
The 5D Mark IV uses the same latest-generation sensor technology that we've seen in both the ID X Mark II and 80D. Canon says this sensor's on-chip digital-to-analogue conversion delivers improved noise performance and dynamic range. The new Dual Pixel Raw technology also gives you the capacity to fine-tune the area of sharpness during post-production (only using Canon's DPP software at present).
It's when you zoom into a saved photo that you realize how big a 30Mp image is.
The Mk IV uses both a Digic 6 and a Digic 6+ processor, with the former used solely for metering, freeing up the Digic 6+ to handle everything else, including the 61-point AF system with 41 crosstype sensors.
The AF system is sensitive down to -3EV (-4EV in Live View), so focusing shouldn't be an issue in poor light, while the fact that you can use lens/teleconverter combinations with a maximum aperture of f/8 and still have the luxury of all 61 AF points (21 cross-type) will be a real draw for sports and wildlife photographers.
The Mark IV also inherits Canon's Dual Pixel AF technology, so there are phase-detection points on the imaging sensor itself, promising quicker AF acquisition than we saw in the Mark III when focusing with Live View, and performance as speedy as many mirrorless cameras.
7Review earns Amazon affiliate commissions from qualifying purchases. You can support the site directly via Paypal donations ☕. Thank you!
The large 3.2-inch display boasts an impressive 1,620,000 dots and touchscreen functionality, as on the ID X Mark II. The touchscreen is active all the time, enabling menu navigation and image review too. Canon has also kept the same battery as in the 5D Mark III, so existing owners looking to use both cameras in tandem don't need two sets of batteries and chargers.
The 5D Mark IV features DCI4K video capture at 4096×2160 pixels, at 30/25/24fps. This also means you can extract 8.8Mp JPEG images from 4K video if desired, thanks to the Motion JPEG file format available for 4K capture.
This is the only file format available when shooting 4K, however, it produces very large files. There's also no option to shoot in a flat gamma profile.
Things get better at 1080p, with a host of Full HD options, as well as the ability to shoot 120fps HD video for some impressive slow-motion movie effects.
The 5D Mark IV has external microphone and headphone ports, as well as HDMI Mini out and USB 3.0 terminals. It also features both Wi-Fi and NFC connectivity for transferring images to a compatible device, and built-in GPS unit for location-tagging.
Build and handling
The 5D Mark IV looks very similar to the Mark III, but there have been numerous tweaks and refinements to the body. The hand grip has been enlarged, providing an even more satisfying hold when you pick the camera up, while the pentaprism viewfinder stands slightly taller to accommodate the GPS unit. Despite cramming more tech into the body, Canon's engineers have managed to cut the weight of the 5D Mark IV by 60g compared with the Mark III, while at the same time improving the weatherproofing.
The camera features a customizable button just below the joypad on the rear of the body. This can be assigned to perform a multitude of functions in conjunction with the front Main dial. A useful option would be to set it to control ISO, allowing you to toggle the sensitivity without first having to take your eye away from the viewfinder.
The 5D Mark IV sports a virtually identical AF configuration to the flagship ID X Mk II, and the AF performance doesn't disappoint.
The 5D Mark IV's sophisticated 61-point AF system performed very well when tracking fast-moving subjects.
5D Mk IV vs 5D Mk III vs 5DS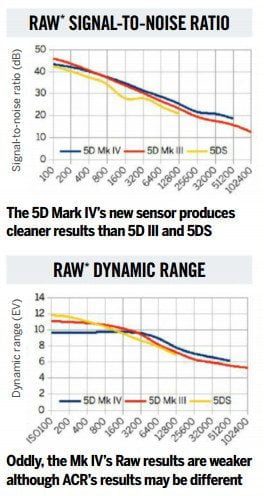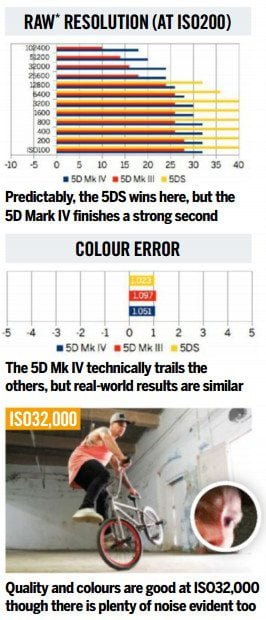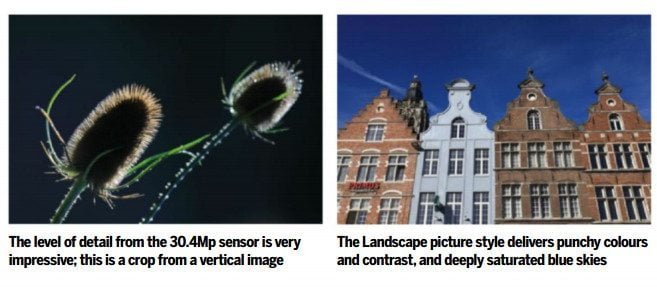 The AF is linked to the 5D Mk IV's metering system, which helps detect and track coloured objects and perform face recognition. Coverage is good, and better than in the 5D Mark III, but there's still a noticeable bias towards the centre of the frame. However, overall the AF performs brilliantly, and noticeably better focusing in a near-dark locations compared to the 5D Mk III. Shooting in Live View, the Dual Pixel AF is a huge improvement over the relatively sluggish system on the 5D Mark III, with focusing being almost instantaneous.
Performance
The 5D Mark IV gets Canon's 252-zone RGB+IR metering system with Intelligent Scene Analysis, and it's all the better for it compared to the older iFCL system. It weights the exposure to the active AF point, and does a good job of assessing the scene as a whole to deliver well-balanced exposures.
As you'd expect from a full-frame DSLR, the camera features a large and bright viewfinder with 100% coverage. It also benefits from what Canon terms Intelligent Viewfinder II technology. This enables you to display an electronic level, along with grid lines and a host of other key shooting info you might need.
The rear LCD has an impressive resolution that must make it one of the sharpest screens out there – great for reviewing images. It also makes composing shots in Live View a piece of cake – even when we used a 10-stop Lee Big Stopper filter, the display was incredibly clear, with no noticeable signal noise. And the touchscreen is a very welcome addition. With touch control over both the main and Quick menus, it makes the Mk Ws comprehensive menus much quicker to navigate; while the ability to pinch to zoom as well as swipe through images, makes things that much quicker.
The burst rate is a speedy 7fps and the Mark IV can now sustain this to shoot 21 Raw files before the buffer needs to take a breather.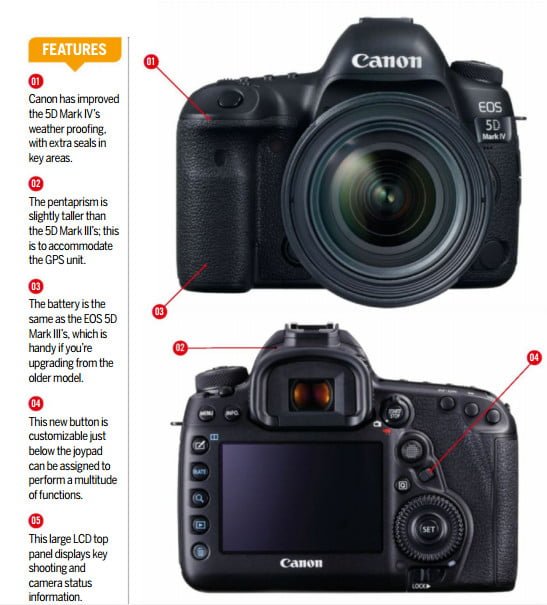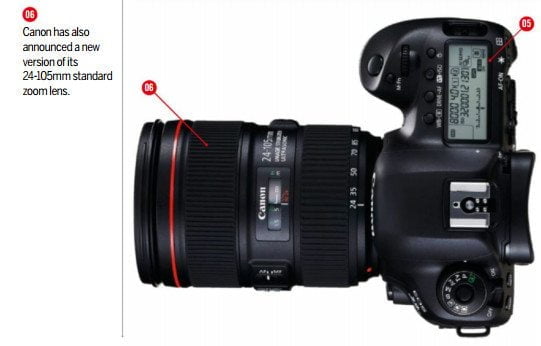 If you're shooting JPEGs, the capacity is unlimited. Canon claims the LP-E6N battery is good for around 900 shots on a single charge. We used the camera heavily, and while 900 shots is optimistic, we'd still be happy heading out for the day with a single battery.
It's really no surprise to find that the results from the new 30.4Mp sensor display excellent levels of detail, offering the ability to tightly crop images if needed. ISO performance is also very good; images at ISO800 still appear noise-free, while even at IS02000 the results are very impressive – there are some signs of luminance noise, but it looks very organic, while there's no evidence of chroma (color) noise. Raw files can be pushed further, allowing you to intentionally underexpose shots and preserve highlight detail knowing that you can recover lost shadow detail later without your shot being ruined by noise.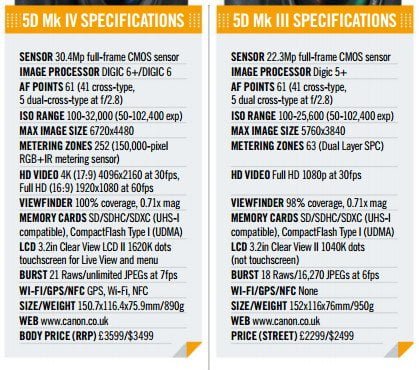 There are no qualms about color reproduction either. The JPEG picture styles produce pleasing results, while skin tones can be faithfully reproduced.
THE VERDICT
The 5D Mark IV is a truly impressive all-rounder, but it's expensive.
While the Canon 5D Mk IV may look underwhelmingly familiar to the Mk III. don't be fooled – almost every element has been improved. The 30.4Mp sensor is a welcome boost in resolution compared to the 22.3Mp of the Mk III, along with improved noise and dynamic range performance. We couldn't see much benefit from the new Dual Pixel Raw feature when adjusting focusing on our images, but we'll go more in-depth into that technology next issue. It's no surprise to see 4K video capture, although the 1.64x crop of the sensor makes it hard to get those wide-angle shots. The only other issue is the fairly hefty price tag, especially in the UK, though this will fall over time. In all, however, the Canon EOS 5D Mark IV is one of the most well-rounded and complete DSLRs we've ever seen.
PROS: New 30Mp sensor creates huge images; 7fps burst of 21 Raws: noise control at high ISO settings; razor-sharp touchscreen LCD: GPS, Wi-Fi andNFC.
CONS: Current price is high; do you really need to create A2 prints; not much visible benefit from Dual Pixel Raw technology.
WE SAY: The Canon EOS 5D Mark IV is a marked improvement over its predecessor and performs admirably in a wide variety of shooting scenarios, from landscapes.

This Canon 5D Mark IV Bundle comes complete in box supplied accessories (Import Model
The Canon 5D Mark IV offers a newly developed 30.4MP full-frame CMOS sensor paired with the DIGIC 6+ image processor in order to balance fine detail and resolution with low-light performance.
Last update was on: September 19, 2023 9:15 am
This Canon 5D Mark IV Bundle comes complete in box supplied accessories (Import Model
The Canon 5D Mark IV offers a newly developed 30.4MP full-frame CMOS sensor paired with the DIGIC 6+ image processor in order to balance fine detail and resolution with low-light performance.
This camera is able to work within a native range of ISO 100-32000, which can then be expanded to an impressive ISO 50-102400, for sharp, low-noise images in a variety of conditions.
Video benefits from the addition of Dual Pixel CMOS AF and Movie Servo AF to smoothly rack focus during a shot.
An improved 61-point High Density Reticular AF furthers the camera's speed by tracking and locking onto subjects quickly and accurately for tack sharp photos.
Included memory card size: 64.0 GB
Viewfinder type: Optical
Optical sensor resolution: 30.4 megapixels
Video capture resolution: 2160p

Controls Focus via Camera's USB
Starts/Stops Video Recording
Controls Digital Zoom to Aid Focusing
Enables/Disables LiveView
Initiates Video Capture Image
Last update was on: September 19, 2023 9:15 am
Controls Focus via Camera's USB
Starts/Stops Video Recording
Controls Digital Zoom to Aid Focusing
Enables/Disables LiveView
Initiates Video Capture Image