Now classier looking and sounding, it's out with the old and in with the new for B&W's latest budget floorstander. Read our B&W 603 Review.
Review: David Price
Lab: Keith Howard

Things can only get better' is a mantra beloved of marketing men and women, and why not? There's an implicit notion that technological progress means everything is automatically moving forward – and those who disagree must be some kind of latter-day Luddite. They're pushing at an open door, because when people treat themselves to something shiny and new, most have already bought into the idea that it is superior to what came before.
However, as anyone who has worked their way up the upgrading ladder knows, sometimes it's not that simple. So what to make of B&W's brand new 603 floorstander? The company is an assiduous upgrader of its various ranges, introducing fresh-looking new loudspeakers as regularly as car manufacturers revamp their mid-market family-sized SUVs.
This autumn, it's the turn of the company's entry- level hi-fi speaker range to go under scrutiny, and the result is the new 600 series.
7Review earns Amazon affiliate commissions from qualifying purchases. You can support the site directly via Paypal donations ☕. Thank you!
See also TOP 10 Subwoofers
It's crowned by the 603 reviewed here, the sixth iteration of B&W's 'bread and butter' floorstander, which replaces the old 683 S originally launched some four years ago [see boxout, p65].
SILVER DREAM
Superficially at least, the new 603 looks a whole lot better than what came before. Cone is the visually jarring yellow Kevlar midrange driver, and in its place is a version of B&W's silvery-grey Continuum FST cone in 150mm form. Students of the brand will already know that this has made its way into the company's higher- end loudspeakers – admittedly in a more expensive form [HFN Dec '15]. Even in this budget floorstander however, its benefits are easily measurable, both by computer mapping of the cone behaviour under load, or by the more simple expedient of listening – more of which later.
Stiff, lightweight cones have typically been the goal in the past but the
It's easy listening, with all the musical energy intact
Continuum, with its lossy fibre/polymer cone, represents an understanding that controlling resonances is a more practical approach than trying to push them just outside of the driver's passband. Benign modes within the driver's range are better than aggressive resonances at higher frequency, or so the thinking goes. Anyway, this Continuum unit is joined by the company's 25mm 'Decoupled Double Dome' alloy tweeter, now with a re-engineered frontal assembly, and completed by two new 165mm paper/ Kevlar bass drivers.
The 603 is a classic reflex-ported three- way design, albeit with the two bass drivers working in parallel to improve the radiating area from what is a slim front baffle. The cabinet measures 985x190x340mm (hwd) but becomes more substantial when sitting on the wide bases that come supplied in the box. These provide extra stability, something to bear in mind if you have children in the room – you wouldn't want a 603 to topple over, because it weighs a not inconsiderable 24kg. It is a very well made speaker and the classic knuckle- rap on the side of the cabinet shows it to be impressively inert – certainly by the standards of other floorstanders at its price point [see KH's Lab Report, p67].
Our review sample was supplied in a matt white eggshell finish which looks neat enough. It's actually the subtle detailing that lifts the appearance – the 603's front baffle is very tidily laid out and the new tweeter grille looks classy, as well as being strong and fairly silent when you tap it. Furthermore the front baffle grille [not shown] is now magnetically attached, obviating the need for unsightly mounting
RIGHT: The 603 features an updated version of B&W's 'Decoupled Double Dome' tweeter, a 150mm FST midrange driver with Continuum cone, plus two 165mm paper-coned bass drivers reinforced with Kevlar

RINGING THE CHANGES
The outgoing 683 S2 last sold and when the new 603 was launched to the press a key feature of B&W's presentation, attended by HFN, was an A/B demo between old and new models. Sonically there's a larger difference between the two than you might expect – compare them directly and it's clear that the greatest change is in the midband, which is now conspicuously smoother and less nasal sounding. It integrates better with the new pulp/Kevlar bass drivers, and even confers a smoother sound to the treble, although the tweeter itself is largely unchanged. Factor in greater low- level detail, sharper soundstaging and improved dynamics and it's a big win for the new model. In practical terms, by far the greatest improvement comes from B&W replacing the old Kevlar FST midrange driver with the Continuum cone on the 603. Similarly, the old twin alloy-skinned bass drivers are replaced by lighter/stiffer cones on the new model. Structurally, the cabinet is neater with a flush-mounted back rather than the old speaker's stepped profile, and the 'Flowport' reflex tube moves from the front to the rear of the cabinet.
—-
lugs. The white finished version gets a grey grille, and the black speaker has a black grille for a more discreet look.
The new smoothed-out rear panel looks clean, with the company's Flowport bass port now located there.
INSIGHTFUL PANORAMA
As a brand with real heritage, Bowers & Wilkins is more about evolutionary rather than revolutionary change. The company typically makes careful, incremental improvements in all its ranges over the years, and the 603 is no exception. So it still sounds distinctively 'B&W' while bettering the speaker it replaces in almost every key area of performance.
Like the proverbial 'new broom', this floorstander sweeps away the slightly nasal midband of its predecessor, instead delivering a wide, open and clean sound that is fundamentally more insightful and three-dimensional. In the manner of the best loudspeakers, it steps out of the way (figuratively) to give a deliciously panoramic view of the music that it's being asked to play. This is 'easy listening' with all the musical energy kept intact.
Surprisingly simple to set up, the 603 works well at just a half-metre out into the room – more for larger rooms and/ or higher volumes – and requires only modest toe-in. The speaker is supplied with a two-stage reflex port bung, so you can listen with the foam bung full in, half removed, or without. The choice comes down to your own listening room and preference, but I left the port fully unimpeded, finding that any other arrangement produced a slightly stifled, albeit tighter, upper bass sound.
This done, the 603 really does perform rather well. I liked its clarity, which is something I couldn't truthfully say about its predecessor.
Paul Weller's 'Above The Clouds' [Paul Weller, PCCY-00337] can sound lacklustre on lesser hi-fi systems, but the better the equipment you play it on, the more you realise it is simply less processed than most recordings of its era. Play this classic '90s guitar pop track on most similarly- priced floorstanders and it can seem bland and unresolved. Not so with the 603, which gently unpacks things, proving unexpectedly transparent with a surprising degree of focus and precision. The fretwork on Weller's lead guitar was beautifully carried by this new speaker, and the crispness with which the bass notes started and stopped was admirable.
HARMONIOUS BALANCE
The Continuum cone would seem to be key to this, giving a more even and subtle tonality that lets you hear deeper into the recording, rather than being kept at bay by the 'sound' of the cone. James Taylor Quartet's 'Redneck' [Extended Play; Acid Jazz JAZID 110CD] highlighted this.
It's a super warm recording that sounds positively gloopy on some budget speakers, but the 603 got a grip on the proceedings and made it an enjoyable listen. There are no particular colorations, obvious peaks, troughs or sweet spots here, where one part of the music is subsumed into another. Instead, this speaker sounds all-of-a-piece – it's a fully integrated performer that delivers the music in harmonious balance.
Its ability to recreate a believable acoustic is also impressive. Fed the super clean electropop of Depeche Mode's 'Leave In Silence' [The Singles 81-85; MUTEL 1], the 603 really shone. It loves clean, well- recorded material, when it can recreate the soundstage in three dimensions. That absence of coloration and the detail on offer are factors here, and the result is a surprisingly expansive- sounding loudspeaker.
It's also easy to locate each strand in the mix. The lead vocal was pinned smack in the centre of the Depeche Mode track, behind which the accompanying synthesisers did their thing with heady abandon. There was also a fine sense of atmosphere with simple but well made recordings such as this one, even to the backing vocals, where you could almost sense the four walls of the recording booth.
Treble performance is very pleasing too. You never quite forget
LEFT: The external moulding for the low turbulence 'Flowport' reflex port continues down to the dual 4mm cable terminals. These are split to facilitate bi-amping and/or bi-wiring
that you're listening to an alloy dome tweeter, yet I did wonder quite how the designers had got it to be so well behaved. It's satisfyingly crisp and extended with pop or rock music, but the real test is how well it deals with the 'space' of a concert hall and orchestra. The LPO/Haitink account of Vaughan Williams's 'London' Symphony [EMI CDC 749394 2] was conveyed with all the air and atmosphere that it warrants, the 603 giving a vivid rendition of this great performance.
HYPNOTIC GROOVE
While the 603 never comes across as bright, forceful or otherwise 'in your face', it still manages to capture the drama of most recordings – indeed it really picked up its skirt and ran with pacy beat-driven rock music tracks such as REM's 'Texarkana' [Out of Time; Warner Bros WPCP-4195]. This song pushes along at great speed, that multi-tracked jangling Rickenbacker guitar setting up a hypnotic groove to complement the frenetic bass and drum work.
Taut and tight from top to bottom, the 603 demonstrated its 'rhythmic rightness', the music bristling with energy and drive, and its finely-etched nature unpicking this densely recorded rock music to great effect. In short, at this price the 603's poise, balance and musical sophistication is pretty well unmatched.
HI-FI NEWS VERDICT
B&W 603 Review
By the time its number came up, the old 683 S2 was some way off the pace, but B&W's new 603 shows just how far the company has progressed. It's a class-leading performer with fine transparency, a smooth tone, plus excellent soundstaging and rhythmic articulation. Best of all is how well balanced all these attributes are, making it a great performer across many types of music. A significant change for the better.
Add your review
Best B&W 603 prices ?
MORE DEALS

See also TOP 10 Subwoofers
LAB REPORT
B&W 603
It's a notable feature of modem B&Ws that they don't have particularly flat frequency responses – even the 800 D3 series.
So it is no surprise to find that the 603's forward frequency response [Graph 1 below, measured at 1m on the tweeter axis] is on the uneven side, although it is unexpected to see the deep if narrow notch just below 6kHz. This has the effect of increasing the response errors to a high ±6.1dB and ±6.0dB respectively, well outside B&Ws claimed ±3dB. Despite this, pair matching is excellent at ±0.6dB over the same 300Hz-20kHz frequency range. Diffraction-corrected near-field measurement showed the bass response to reach 52Hz (-6dB re. 200Hz) – typical for a floorstander of this size although shy of B&W's 29Hz spec.
B&Ws claim of 88.5dB sensitivity we couldn't quite match either, our measured 88.1dB on pink noise and 87.6dB with a 'music-shaped' noise spectrum suggesting that 88dB is perhaps more realistic. Low impedance is used to help achieve this, the measured 2.7ohm minimum modulus belying both the 8ohm nominal rating and B&Ws quoted 3ohm minimum. Large impedance phase angles at low frequency drop the EPDR (equivalent peak dissipation resistance) to a very low minimum of 1.1 ohm at 92Hz. with further dips to 1.6ohm at 736Hz and 2.0ohm at 10.5kHz completing the picture of a loudspeaker that is notably challenging to drive, particularly at this price point.
As usual with B&W. total harmonic distortion is low at 100Hz, 1kHz and 10kHz – certainly lower than many competitors. The cumulative spectral decay waterfall [Graph 2, below] is pretty clean, the Continuum driver displaying only a few well-damped treble resonances.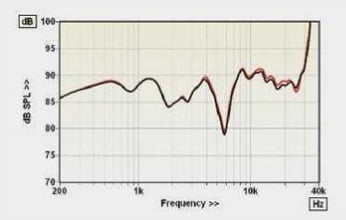 ABOVE: Forward response is not especially flat, and the deep notch at 6kHz certainly unexpected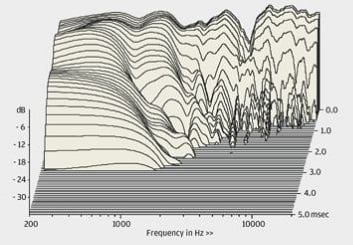 ABOVE: Cabinet modes are well suppressed as are any resonances associated with the Continuum mid driver
Specifications
| | |
| --- | --- |
| Sensitivity (SPL/1m/2.83V-Mean/IEC/Music) | 88.8dB/88.1dB/87.6dB |
| Impedance modulus: minimum & maximum (20Hz-20kHz) | 2.7ohm @ 129Hz 29.3ohm @ 53Hz |
| Impedance phase: minimum & maximum (20Hz-20kHz) | -75°@64Hz 51° @ 1.3kHz |
| Pair matching/Resp. error (300Hz-20kHz) | ±0.6dB/ ±6.1dB/±6.0dB |
| LF/HF extension (-6dB ref 200Hz/ 10kHz) | 52Hz / >40kHz/>40kHz |
| THD 100Hz/1kHz/10kHz (for 90dB SPL/1m) | 0.4% / 0.1% / <0.1% |
| Dimensions (HWD) / Weight (each) | 985x190x340mm / 24kg |