Mark assesses if the new BT Smart Hub lives up to its claims
DETAILS
• Manufacturer: BT
• Requirements: BT broadband service
Despite the new name, this system identifies itself as Home Hub 6, so it's a replacement for the five previous incarnations of BT's own router solution. As one of their customers (for now), the BT Home Hub series has got progressively better, though some early attempts were exceptionally bad.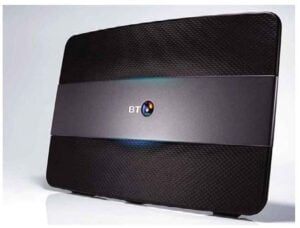 In terms of specifications, the Home Hub 5 was almost the bottom rung of the 802.11ac wi-fi class ladder, having no appreciable MIMO capabilities even on 2.4GHz. As a result, lots of people complained about the relatively poor wi-fi connectivity it offered and how far behind the technology curve BT was. Home Hub 5 offered 1,300Mbps on 5GHz and just 300Mbps on 2.4GHz, giving an AC rating of just AC 1600.
Arriving almost three years on from version 5, the Smart Hub appears to have been designed to address numerous wi-fi related problems. BT built it with no less than seven antennas fitted in its enlarged case, allowing for 3×3 MIMO on 2.4GHz connections and 4×4 MIMO on the 5GHz range. That's 1,700Mbps and 450Mbps respectively, or AC2200 as it is referred to. BT claims that this antenna functionality allows the Smart Hub to stay connected to smartphones up to 300m through a single wall, 350m for tablets, and 500m for a laptop.
7Review earns Amazon affiliate commissions from qualifying purchases. You can support the site directly via Paypal donations ☕. Thank you!
But before I get to the reality of that, I should point out that this has both ADSL2+ and VDSL2 modems, allowing it to work with whatever BT service you have. It's also a four-port gigabit hub, and it has a USB port to allow the sharing of files across the network.
Nothing especially radical in that line-up. And the USB port is only USB 2.0, so it won't be transferring anything quickly to wired or wireless connected devices, in case you wondered.
There are some minor improvements over the Home Hub5 in respect of the IPv6, but when it comes down to it, the Smart Hub is being pushed hardest on its improved connectivity.
For that reason, I extensively tested it, and it is an improvement over Home Hub 5 in regard to signal range and quality. However, I got absolutely nowhere near the connection ranges that BT is claiming.
It could be money well spent if it avoids the need to install a wi-fi extender.
My most useful test was to take my Dell XPS 13 for a wander around my home, to perform a wireless site survey for both the ground floor and upstairs. Despite having a very small home, connectivity on the first floor when not above the lounge wasn't great previously, and with the Smart Hub it is much better. That said, 802.11ac wasn't built for range but performance, and to get a good signal level outside the room where the router resides you need to use 2.4GHz and not 5GHz.
As for those incredible ranges? I don't need Ryan Reynolds or a helicopter to tell me that these are high numbers optimistic at best. The furthest I got away from my home with a phone, with a single wall between me and the router was 60-70 metres. The signal was detectable further away, but it wouldn't connect.
Using a laptop I managed to get at least 120m away and still be connected, which is good if you've got a big garden, and bad if you've ever let your neighbours find out your router password. What I don't have an issue with are BT's claims about speed, because once you've established a decent connection, the data flows back and forth remarkably smartly.
To get the best out of the system, you need to separate the bands, but once you've done that, devices connect faster and work more reliably.
Using a laptop, I was able to file transfer from a wired server at 70MB/S in the same room and at least 25MB/S in the adjacent one. As the best performance I get out of Infinity 2 is roughly 50Mbits, then wirelessly connected devices are limited in the house by that and not the Smart Hub when accessing the internet.
The cost I quoted is an RRP, so very few people will actually be paying that for the Smart Hub. New Infinity customers will get it for free, as will those who agree to restart their contracts. Existing Infinity customers who don't wish to do that can pay to get one. It could be money well spent if it avoids the need to install and power a wi-fi extender for full coverage.
There are faster routers with even greater range available, but they're likely to cost you much more than this. For anyone still with the Home Hub 3 or 4 that is sticking with BT, this is a no-brainer, though there isn't any guarantee that it will fix your wi-fi woes, depending on their nature, mm Mark Pickavance
BT Smart Hub 2 and Single BT Complete Wi-Fi Disc Bundle Locked To BT Internet AC Wireless Dual Band Router DSL Modem
2 new from £139.99
1 used from £149.99

as of November 30, 2023 9:10 pm
Features
Features Gigabit LAN ports and integrates an ADSL2+, VDSL2 and G.fast modem and FXS port (phone).
Two DECT antenna and the functionality to enable any DECT CATiq 2.1 compliant phone to work with the hub without needing a base station.
supports 802.11 b/g/n/ac 3—3 MIMO on 2.4 GHz, and 802.11 a/n/ac 4—4 MIMO on 5GHz, has four Gigabit LAN ports, a single USB 2.0 socket and a modem that works with ADSL2+ and VDSL2 services.
Smart Hub Box contents: Setup Guide, Power Supply, Wireless Card, RJ11 and Network Cable and Filter.
Wi-Fi Disc Box Contents: Disc, Setup Guide and Power Supply