Bowers & Wilkins' Panorama 3 soundbar may not come with a subwoofer, but it still drops deep. I've got Bad Guy booming out, and the bass beat on this Billie Eilish 'banger' is brutal. The instrumentation is minimal, but the 'bar still spreads it wide, musical flourishes placed far apart. It's a reassuringly raunchy musical performance for what is ostensibly a home cinema product aimed at the no-fuss streaming movie market.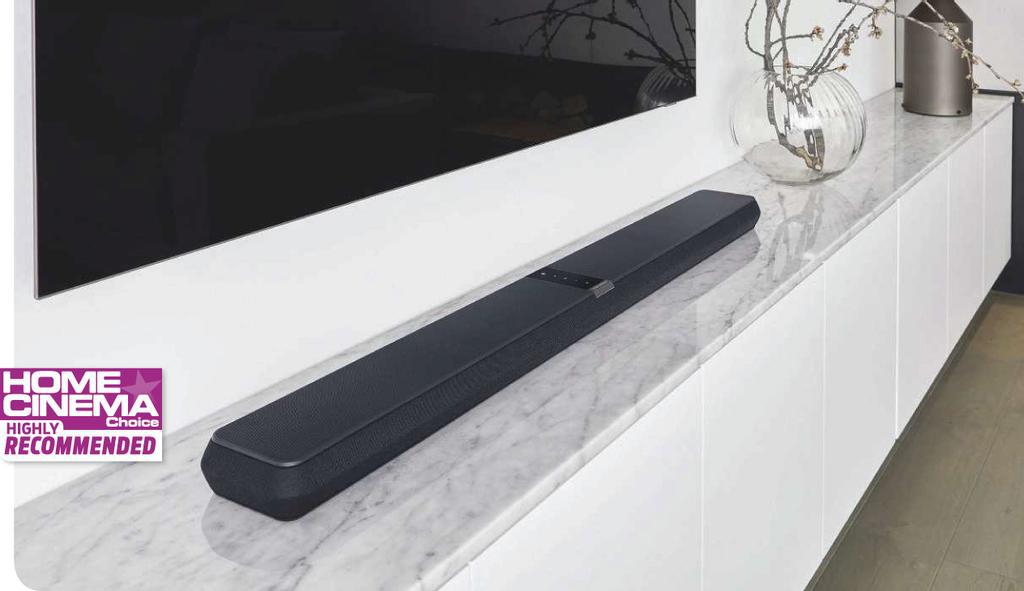 Self evidently the third iteration of B&W's flagship soundbar, it's unquestionably the best. The first Panorama launched back in 2009, the second model some four years later, its reappearance blessed with an HDMI connection for the first time.
This latest addition is the first to embrace Dolby Atmos (but not DTS:X), and it's a game-changing refinement. Spatial audio, be it straight Atmos, or an upscale of 5.1 or stereo source material, allows this speaker to sound larger and more impressive – but you'll need a big TV to partner it.
At 1,210mm wide, the Panorama 3 is a sizable beast. Ideally, you wouldn't want to use it with anything smaller than a 65in screen. You'll need wide AV furniture too, unless you intend to wall mount, for which a bracket is included in the box. The 'bar weighs a significant 6.5kg.
As you'd expect from the manufacturer, build quality and finish is excellent. There are pleasing angles to its chassis that help it appear sleeker than it actually is. The soundbar's forward-facing driver array is hidden behind an acoustic fabric wrap, while the top plate is perforated metal – you can just about see the upfiring height drivers if you squint.
At the centre of the 'bar is a capacitive touchpanel with proximity sensor that causes the display to light up when your digits approach. A quick wave reveals volume controls, a multifunction source select button and power.
7Review earns Amazon affiliate commissions from qualifying purchases. You can support the site directly via Paypal donations ☕. Thank you!
Should not buy anything from AudioAffair.
RECOMMENDED VIDEOS FOR YOU...
See also TOP 10 Soundbars & Soundbases
In total, the Panorama 3 uses 13 drivers, including two 4in low-frequency units for deeper bass, and a pair of Dolby Atmos upfiring glass fibre cones, each bunkered in an individual acoustic chamber and pointing skyward. This leaves the remaining nine – three 19mm Titanium dome tweeters and six 2in glass fibre mid-rangers – to face front and side. The Atmos configuration is designated 3.1.2, with overall amplification rated at 400W.
Start me up
Setup requires you to jump through a few hoops, but is fairly straightforward. You'll need to download the Bowers & Wilkins Music app (available for iOS and Android, and originally launched to work with the brand's Formation wireless speakers), create an account and then discover and network-enable the 'bar itself.
There's no multi-room support out of the box, although a firmware update to resolve this is on the cards. We're told that in the future, the Panorama 3 will link with other Panoramas on your network (on the off chance you might own more than one), as well as stablemate Formation speakers. What the 'bar won't do is allow expansion of its own soundfield through an additional wireless subwoofer or rear speakers. It's been designed as an 'integrated self-contained solution,' explains Andy Kerr, B&W's director of product marketing.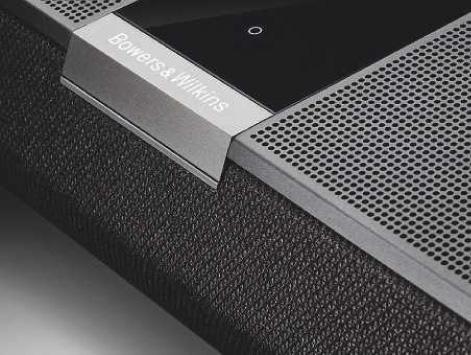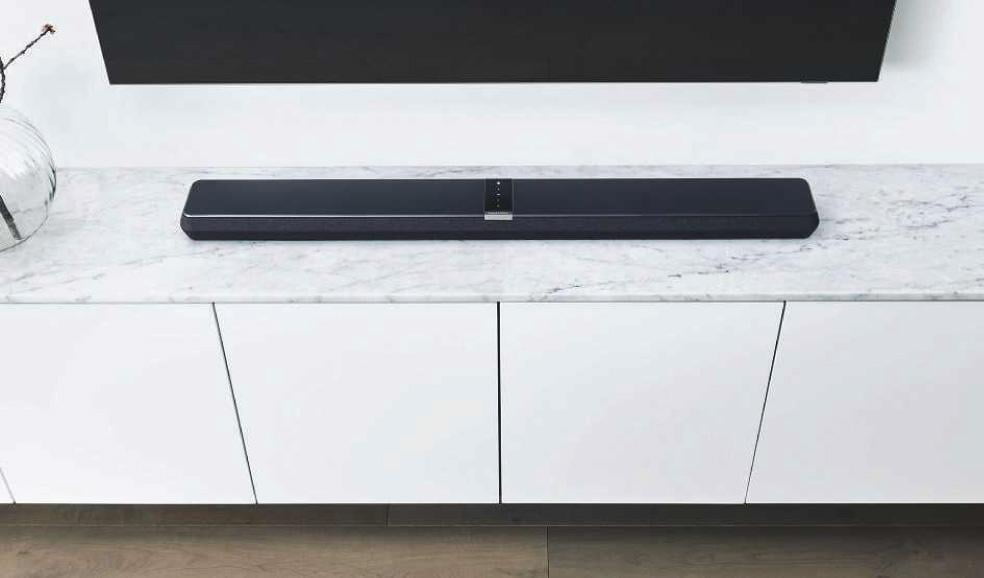 There's no remote control supplied, so basic Panorama 3 operation comes either via your TV remote or the on-body controls. There's also the option of looping the speaker to an Amazon Alexa ecosystem.
Just the one
While this one-box sound system has a higher-end ticket price, connectivity is disappointingly frugal. There's a single HDMI for eARC screen hookup, plus legacy digital optical audio should you need it, as well as (aptX Adaptive) Bluetooth and Wi-Fi/Ethernet.
This means that AV sources, whether they're over-the-top streaming services, a gaming console, or broadcast TV/set-top box, can only be fed into the Panorama 3 via your connected flatscreen. It's not an AV hub in itself.
You can add music subscription services to B&W's Music app, however. There's support for Deezer, Last.fm, Qobuz, Soundcloud, Tidal and TuneIn, but note that although the app streams Tidal and Qobuz in hi-res 24-bit, you'll need the Tidal app on a Google Android TV, or connected Amazon Fire/Nvidia Shield/Apple TV media streamer, to deliver spatial audio.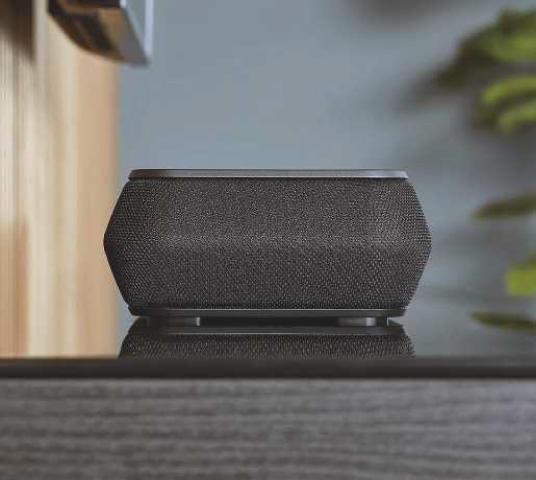 Chaos theory
Bowers & Wilkins has a long and storied history of movie sound. Its premium speakers are routinely used in mastering suites at top-tier recording studios – including, famously, Abbey Road – although it has to be said the Panorama 3 is some way removed from the brand's 800 Series Diamond floor-standers (see p24). Somewhat surprisingly, it doesn't even adopt the Tweeter on Top design employed for some of B&W's collaborations with Philips TVs.
'B&W has done a brilliant job balancing the convenience of a one-box design with overall sound quality'
Thankfully, it doesn't lack treble snap or articulation. The proto electronica of The Robots, by Kraftwerk, allows its glass fibre domes to shine, the track's distinctive robot voice effects sounding suitably crystalline. And despite the 'bar having a relatively modest footprint, it does big cinema audio remarkably well, and it's not totally dependent on Dolby Atmos content either.
The 5.1 soundtrack of Chaos Walking (Netflix), is given a seamless upmix. In the opening sequence, as our POV descends from orbit to New World terra firma, the soundstage blooms and opens as we swoop to meet Tom Holland for the first time. It's a wide and inviting performance.
Dialogue handling is good too. Clearly central to the movie's narrative in Chaos Walking, both spoken and imagined chatter is clear and well-rounded. Shut your eyes and it sounds like a bona fide centre channel speaker.
When misogynistic Mads Mikkelsen's horseback riders chase down Daisy Ridley, their hooves clump with believable weight, effectively cleaving through the score, pushing it wide left and right. I like how the bar sounds authoritative, and unapologetically cinematic.
Of course, to hear the soundbar at its spatial best, you'll want to feed it Dolby Atmos. The opening episode of Marvel's Moon Knight (Disney+) has an alpine chase sequence that's a full-on sonic thrill ride, with screeching tires and gunfire competing with Wham!'s Wake Me Up Before You Go-Go. Here the Panorama 3 is tight and exciting, neatly differentiating the pop track from the high-octane action – nothing gets lost in the mix.
There is a caveat, naturally. Without dedicated rear speakers, or any proactive DSP to create a surround illusion, the Panorama 3 doesn't fully envelop. In Moon Knight's fourth episode, Steve Grant finds himself in a medical facility, where a bingo caller is calling numbers. The Atmos mix cleverly rolls the caller from rear left around the entire soundstage, emphasising Grant's disorientation. On the Panorama 3, though, these calls remain chained to the front.
Balancing act
The Panorama 3 is an impressive Dolby Atmos soundbar. The sheer size of the sonic canvas it paints is profound – it plays loud, and sounds formidable. Bowers & Wilkins' engineering team has done a brilliant job balancing the convenience of its one-box design with overall sound quality.
It's also enjoyably musical, and it's this that elevates it from a TV sound system to something rather more. I would have no qualms using it as a living room wireless speaker.
Operation could be improved. The lack of even a single HDMI input is a frustration, and while it's handy to use a TV wand to control volume, the reliance on the Music app to remotely switch sources is a pain point. After all, you'll not always be there when the system is being used, forcing everyone else to go manual with the touchpanel controls. Once they hear it in action, though, they'll love it
AV INFO
PRODUCT: Premium single-box Dolby Atmos soundbar
POSITION: Third-generation of B&W's standalone soundbar joining the previous multi-room Formation Bar
PEERS: Sonos ARC; Bluesound Pulse Soundbar+
SPECIFICATIONS
DRIVE UNITS: 3 x 0.75in Titanium dome tweeters; 6 x 2in woven glass fibre cone bass/mid; 2 x 2in woven glass fibre cone Dolby Atmos upfirers; 2 x 4in 'low-profile' bass drivers ONBOARD POWER (CLAIMED): 400W CONNECTIONS: 1 x HDMI eARC; 1 x optical digital audio input; Ethernet DOLBY ATMOS/DTS:X: Yes/No SEPARATE SUBWOOFER: No REMOTE CONTROL: No DIMENSIONS: 1,210(w) x 65(h) x 140(d)mm WEIGHT: 6.5kg
FEATURES: 3.1.2 Dolby Atmos playback; Dolby Digital Plus; stereo/5.1 upmixing; wall-mountable; Apply AirPlay 2; Spotify Connect; Bluetooth v5.0; Amazon Alexa built-in; Bowers & Wilkins Music app (incl. Deezer, Qobuz, Tidal and TuneIn)
TESTED WITH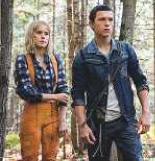 CHAOS WALKING: Now streaming on Netflix, Doug Liman's 2021 sci-fi offers a plethora of innovative sound design, and proof you don't need native Dolby Atmos content for a soundbar to strut its stuff. The film hinges on the clarity of its dialogue, but still manages to excite with its inventive multichannel 5.1 mix.
VERDICT
Bowers And Wilkins Panorama 3 Review
This slick Dolby Atmos 'bar may not be the easiest to live with, but it sounds terrific with movies and music, and the lack of a separate subwoofer is hardly missed at all.
Add your review
Best Bowers & Wilkins Panorama 3 prices in the US ?
Best Bowers & Wilkins Panorama 3 prices in the UK ?
MORE DEALS

See also TOP 10 Soundbars & Soundbases
Specifications
| | |
| --- | --- |
| Product Name | Bowers & Wilkins Panorama 3 - Wireless Dolby Atmos Soundbar |
| Product Type | Sound bar - for home theater |
| Enclosure Color | Black |
| Speaker Type | Active |
| Continuous Power | 400 Watt |
| Frequency Response | 43 - 48000 Hz |
| Multiroom | Yes |
| Multiroom Technology | AirPlay 2 |
| Amplifier | Integrated |
| Audio Return Channel (ARC) Capability | Yes |
| Interfaces | IEEE 802.3 (Ethernet), IEEE 802.3u (Fast Ethernet), Bluetooth |
| Bluetooth Audio Codec | SBC, AAC, aptX Adaptive |
| AirPlay | Yes |
| Internet Streaming Services | Spotify Connect |
| Recommended Placing | Wall-mountable / table-top |
| Built-in Decoders | Dolby Digital Plus, Dolby TrueHD, Dolby Atmos |
| App-Controlled | Yes |
| Internet of Things (IoT) Compatible | Yes |
| Communications Type | Product-to-product |
| Intelligent Assistant | Alexa ready |
| Voice Control | Indirect |
| Speaker Details | Sound bar - front channel x 2 - 2-way - active Sound bar - center channel - 2-way - active Sound bar - height channel x 2 - active Sound bar - subwoofer x 2 - active |
| Driver Details | Sound bar: 3 x tweeter driver - 0.75" - titanium Sound bar: 8 x mid/woofer driver - 2" - woven fiberglass Sound bar: 2 x woofer driver - 4" |
| Connector Type | HDMI input (19 pin HDMI Type A) Network (RJ-45) SPDIF input (TOSLINK) Service (USB Type-C) |
| Included Accessories | Wall mounting bracket |
| Power Source | Integrated power supply |
| Voltage Required | AC 100-240 V (50/60 Hz) |
| Width | 47.6 in |
| Depth | 5.5 in |
| Height | 2.6 in |
| Weight | 14.33 lbs |