Bitdefender Internet Security 2017
ALTHOUGH ITS PERFORMANCE HAS SLIPPED A LITTLE,
IT STILL HAS THE BEST FEATURE SET IN THE BUSINESS.
BITDEFENDER HAS BEEN our top suite pick for four years running, and it remains so today, but with one difference: it's now rivalled by Kaspersky. While we think Bitdefender still has the better suite of ancillary features, its anti-malware performance has slipped a little.
It's still good, but not the world-beater it once was.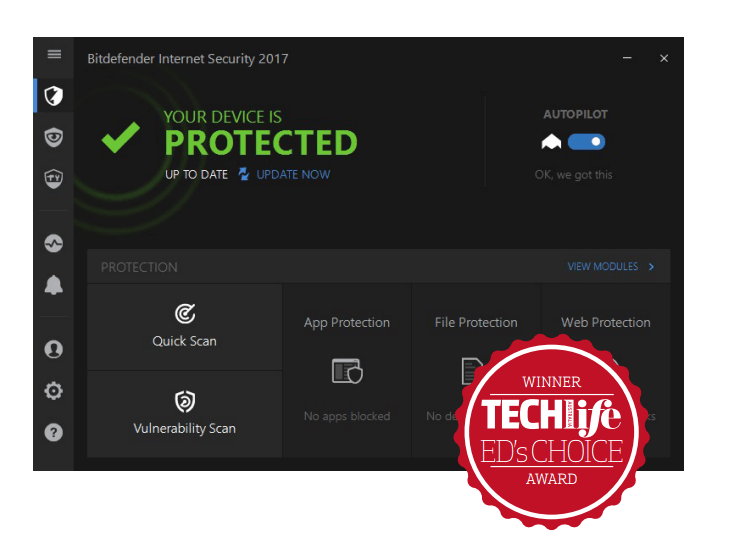 The trick that Bitdefender has so successfully pulled off is its ability to pack in a huge number of features while still remaining relatively transparent to the user. There's a lot going on under the hood, from anti-malware, to system optimization tools and security checks, to application risk and update checkers, to a very useful password manager, to a secure privacy browser and more. It boasts a pre-boot rescue mode for removing rootkits and other hard-to-remove infections as well as ransomware protection, locking selected directories and preventing them from being modified. In short, the feature set is the best in the business, covering everything you need, except maybe backup.
It also has particularly excellent parental controls now, taking a leaf out of Symantec's book by introducing cloud management. It's not quite as smooth or as slick as Norton Family, but it's a big step up from most of the competition, allowing you to remotely track and monitor your kids' online activity and even trigger remote anti-malware scans.
The suite also happens to be a bargain right now, and there's a version called Total Security that is differentiated not by features but by the right to install versions of the suite on Mac computers and Android mobiles.
7Review earns Amazon affiliate commissions from qualifying purchases. You can support the site directly via Paypal donations ☕. Thank you!
CRITICAL SPECS
Anti-malware, anti-spam, anti-ransomware, firewall, website filtering, parental controls, password manager, secure browser, backup, file encryption, system optimisation and cleaning, update checker