The beamer brand pulls out all the stops with its UST 4K model. Time for some WALL-E, suggests Steve May. Read our BENQ V6050 Review.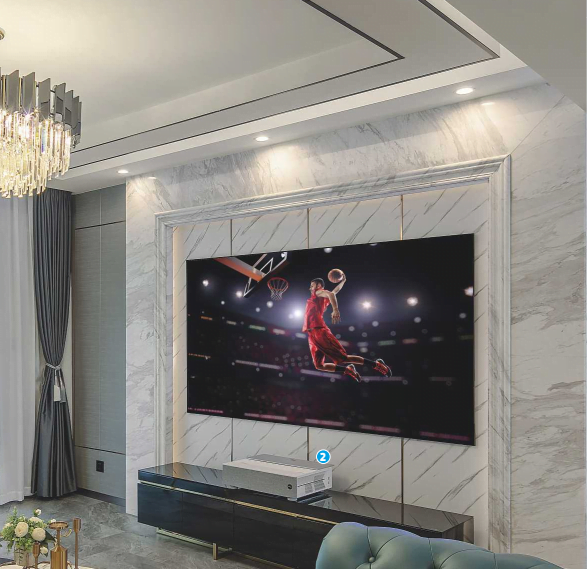 AV INFO
Ultra-short-throw 4K HDR projector
Position: 
BenQ's only
UST/'laser TV' model
PEERS: Optoma CinemaX P2; Epson EH-LS500
7Review earns Amazon affiliate commissions from qualifying purchases. You can support the site directly via Paypal donations ☕. Thank you!
See also TOP 15 projectors
It could soon be time to trade up from your trusty flatscreen to an ultra-short-throw projector, if this flagship BenQ model is anything to go by. While conventional beamers require room to project, UST models are far more versatile, and with the V6050, BenQ has produced a premium cinema solution able to turn practically any space into a jaw-dropping 4K theatre.
As suggested by its 'laser TV' nickname, the V6050 is a projector and sound system rolled into one. And there's next to no setup required – just add a clear white wall and you're good to go.
The hardware specs are impressive. Based around a laser light engine with a rated 20,000-hour life span, this 4K DLP projector claims to offer a colour performance reaching 98 per cent of the DCI-P3 space, and a peak brightness of 3,000 Lumens.
It's also gorgeous. A Red Dot Design Award winner, the V6050 has a contemporary dark grey aesthetic with squared-off corners (a sister model, the V6000, opts for white), and hides its front-facing speaker array behind a cloth covered grille. Those not in the know might think it some sort of space-age radiogram.
Backside story
A peek at the back reveals a standard connections bank of two HDMI inputs (one with ARC), an optical digital audio output, powered USB port and RS232-C. There's no 12V trigger, something that BenQ includes on more affordable PJs. The remote control, which you'll always want on hand to manage the volume of the V6050's onboard sound system, is large, clearly labelled and backlit.
Setup options support front or rear configuration. For most, the former will suffice. Just park it on some low-rise furniture or cabinet, or alternatively the floor, close to a wall. From a distance of just 0.5m, you'll get a 90in image. Pull back a little further and you'll soon be staring at an image 100in across. A handy pull-out screen measuring tool pops out the rear. Focus is automatic.
BenQ sells a 100in ALR (ambient light reflection) screen as an optional extra, or bundled with the projector for a package price. Claimed to absorb 93 per cent of reflected light, this screen should deliver maximum colour performance and contrast, and improve performance in rooms with ambient light. It's the way to go to see the V6050 at its best, but most users will just opt for their wall.
The overall design here is more thoughtful than most. For example, to prevent a build-up of dust and exposing the lens to mishap, a motorised sun-roof slider rolls back when the PJ is powered up, and shuts when it's powered down. An eye protection motion sensor also kills the laser light source should anyone stick their head too close for comfort. I found this wasn't on by default, though, so check the settings and engage it pronto, particularly if you have curious youngsters.
Flipping genius
The single-chip DLP solution used here warrants 2160p status through ingenious mirror-flipping; it's not native 4K as such. But what we have is an 8million pixel-dense picture with no visible structure – it's smooth and filmic, and completely convincing when viewed wall-sized.
BenQ's picture presets cover Bright, Living Room, Cinema with a REC.709 colour space, a DCI-P3 alternative, and a user configurable mode. In addition to standard tweaks for brightness, contrast, colour tint and sharpness,
2. A white option – the V6000 – is also available
there's an advanced menu offering gamma selection from 1.8 to 2.6, plus a Lumiexpert mode allowing incremental brightness adjustment.
What's immediately striking about the V6050's performance is the colour vibrancy of its imagery. The opening of Wonder Woman (4K Blu-ray) depicts the Amazons practising their battle moves on Paradise Island, gold costumes glinting against a lush green backdrop. The Cinema mode here really pops; there's no sense of the picture being dulled or diminished, so often the case with this style of preset.
And because there's no panel alignment necessary, the picture is also consistently sharp, offering pinpoint detail precision. It's genuinely spectacular.
Animation is an obvious beneficiary of the V6050's colour finesse. Star Trek: Lower Decks (Prime Video) looks glorious when supersized. Reds are deep red, not orangey. If you're looking for textural nuance, meanwhile, then Pixar's WALL-E (Disney+) has that in abundance. Colour depth is first-rate, the projector's laser light engine offering superb fidelity.
The V6050 exhibits a decent dynamic range, albeit with some qualification. Limitations inevitably centre on its inability to deliver a truly convincing deep black. Like any other single-chip DLP projector, letterbox movie bars tend toward a dark grey.
HDR presentation remains a thorny issue for projectors, as they can't deliver the kind of specular highlights so commonly associated with HDR TVs. So what we really want to see is the ability to deliver dynamics without sacrificing average picture brightness, and here the BenQ doesn't disappoint. Under the banner of HDR-Pro processing, it cleverly mixes tone mapping techniques with brightness and contrast image optimisation to great effect.
'Stylish in repose, when powered up the V6050 delivers huge images with outstanding colour and detail'
The eldritch spells cast in Fate: The Winx Saga (Netflix, HDR) have a suitably spooky luminosity, a good example of the projector's ability to maintain a consistent picture level, yet still lift parts of the screen as required.
The V6050 supports regular HDR10 and HLG. This gives it an advantage over its principal rival, Optoma's CinemaX P2, which doesn't implement HLG support over HDMI.
Gangs of Lemur Island, Sky's 4K HDR nature showcase, looks beguiling, its titular cast gloriously depicted roaming around the Berenty Reserve in Madagascar. The fine texture of their coats, bathed in brilliant sunlight, makes for a wonderfully three-dimensional presentation.
There's also some solid image interpolation under the hood. MEMC motion estimation is useful for smoothing sports, without painful artefacting.
Keep it down a bit
The BenQ's laser light engine is adjustable between Normal, Economic and Smart-Eco, and your selection here will have an impact on its running noise. Stick to Normal, and operational clamour is relatively high at 37dB. Inevitably, the Eco mode drops brightness, but also reduces running noise to around 30dB. In a light- controlled cinema room, this brightness reduction is a price worth paying. In a room with moderate ambient light, you're going to have to get used to the whirr.
While the V6050's images are enviably crisp, the forward-facing sound system has a tad less clarity. Unlike Themyscira, it's sometimes rather muddy, and not as convincing as that of Optoma's CinemaX. It comes with a variety of audio modes (Standard, Cinema, Music, Game and Sport), but they all sound largely the same, with the notable exception of Sport, which strips out the bass.
That's not to say I was ever really tempted to route audio to an external sound system. The V6050 plays loud enough and has decent mid-range clout.
It's worth noting that the projector doesn't recognise Dolby Digital Plus, so bear that in mind when hooking up your source components. This all-in-one merely requires a regular stereo feed.
Ideal partner
Overall, this is an impressive UST home entertainment projector that will look good anywhere. Stylish in repose, when powered up it delivers huge images with outstanding colour and detail. And while its onboard sound system isn't as engaging as that found on its Optoma rival, it trumps it with support for HLG HDR over HDMI, making it an ideal partner for streaming players and premium pay TV boxes
Verdict
Recommended
BENQ V6050 Review
This high-brightness 4K laser-based UST all-in-one is gloriously vibrant and easy to live with - a megascreen proposition with living room smarts.
Add your review
Best BENQ V6050 prices in the UK ?
MORE DEALS

See also TOP 15 projectors
SPECIFICATIONS
3D: No 4K: Yes. 3,840 x 2,160 via Texas Instruments DLP mirror technology HDR: Yes. HDR10; HLG CONNECTIONS: 2 x HDMI inputs; optical digital audio output; RS232-C; 3 x USB (one with powered output) BRIGHTNESS (CLAIMED): 3,000 Lumens CONTRAST (CLAIMED): 3,000,000:1 ZOOM: N/A DIMENSIONS: 500(w) x 157(h) x 388(d)mm WEIGHT: 10kg
FEATURES: Ultra-short-throw lens (with 0.25:1 throw ratio); 70in-120in image size; laser light engine; 10W built-in sound system; 20,000-hour claimed lamp life; claimed 32dB fan noise in Eco mode; MEMC motion compensation; vertical keystone correction; claimed 98% DCI-P3 colour space; motorized lens cover; eye protection sensor
TESTED WITH
GANGS OF LEMUR ISLAND: Sky Q owners will know this five-episode nature series (a 'docu-soap' following rival 'gangs' of furry critters) was part of the first wave of content the satcaster made available in 4K HDR last year. Worth checking out to see if your setup is ticking along nicely with HLG content, and to ogle at the life-like imagery.