More home entertainment than home cinema, the TK850 is the sports bar projector you've been waiting for, declares Steve May. Read our BENQ TK850 Review.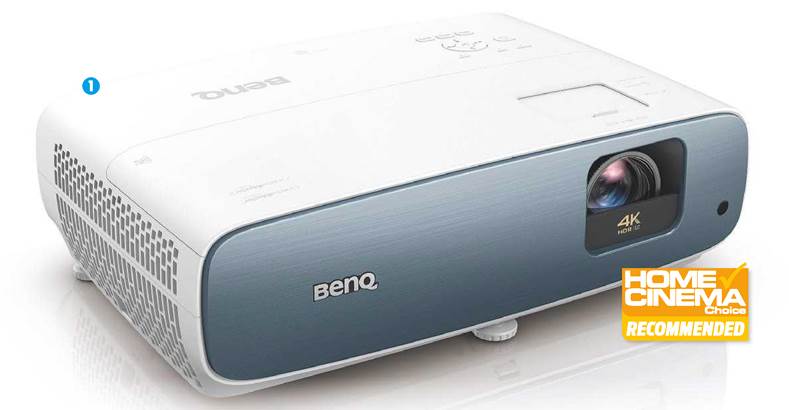 Mid-range 4K DLP HDR projector
Bigger brother to the BenQ TK810
PEERS: Viewsonic X10; Optoma UHD52ALV
THE LATEST ADDITION to BenQ's compact home entertainment projection line, the TK850 features promising HDR-PRO image technology, to tone map (after a fashion) HDR sources, and a bright 3,000 Lumens light engine. If you're hankering for super-sized UHD sports, it's a brilliant buy. But there are caveats…
The step-up model from BenQ's TK801 (which is around cheaper), by dint of its HDR-PRO talents and greater luminosity, the TK850 definitely has premier league form.
7Review earns Amazon affiliate commissions from qualifying purchases. You can support the site directly via Paypal donations ☕. Thank you!
See also TOP 15 projectors
For one thing, it's living-room smart with its white fuselage, rounded sides, and an offset lens surrounded by a fetching grey-blue face plate.
Manual zoom and focus controls are hidden beneath a sliding door up top, and there's the usual on-body menu controls, in case the remote goes AWOL down the back of the sofa. Not that you should lose it; this zapper is helpfully backlit and offers access to all key functionality, including picture modes, the PJ's dynamic Iris, and more.
Rear connectivity includes twin HDMI v2.0 inputs; a 12V trigger for integration with an electric screen; RS232 control; USB media reader; and a USB power port should you want to park a streaming TV stick in one of the PJ's HDMIs. There's also an optical audio digital output and 3.5mm analogue stereo jack to connect to external sound systems if the onboard 10W stereo array doesn't cut it.
Straight from the box, you'll be up and running in just a few minutes. There's 10 per cent vertical lens shift to aid installation, plus vertical keystone correction, and a 1.3x zoom. A 100in image can be achieved from as short a distance as 2.5m, up to around 3.25m.
HDR impact
HDR-PRO tone mapping, as touted here, is actually a cocktail of Dynamic Iris control and Dynamic Black. The Dynamic Iris manages the amount of light that enters the projector's optical system, while Dynamic Black analyses and optimises a scene's brightness levels, in an effort to boost contrast but retain shadow detail.
It goes without saying that any tone mapping is a challenge for a projector, because the hardware doesn't have pixel-level control, unlike a TV. The implementation here works well, in so much as the HDR image remains bright, but with noticeable peaks and troughs.
And rated at 3,000 lumens, the TK850 has enough pop to work well in rooms with relatively high ambient light. You won't need to dim the lights come kick-off.
While the TK850 ostensibly makes an effort to manage HDR, it's worth remembering that the TI chip under the bonnet doesn't support wide colour gamut sources (BenQ claims 98 per cent coverage of the REC.709 colour space), although it's no less vibrant for the limitation.
A run-through of period zombie drama Kingdom (Netflix, 4K) really allows the projector to glow. The rich red gown of the duplicitous emperor's daughter, the royal blues and purples of the Crown Prince, the conflicting shades of brown and ochre worn by the shambling peasants – the
'Colour fidelity and sharpness are excellent, and it delivers picture dynamics with HDR source material'
TK850 does them all justice. Skin tone handling is impressive, with tangible texture and convincing hues – and that's just the fast-running dead – while exterior shots of palace gardens and ramshackle villages look almost three-dimensional. Subjective detail is excellent.
While colour fidelity is strong, black level performance is inevitably limited. The projector can't manage a really deep black, proffering a dark grey at best, something quickly revealed by the letterbox bars top and bottom of Cinemascope content. Yet this trait is less of an issue with sports and (a lot of) TV programming, and ultimately it's here that the TK850 carves out its niche.
Not going native
This BenQ is based around a 0.47in DLP chipset, and the colour wheel is a four-segment (RGBW) design. I didn't notice any obvious rainbow effect.
There's been a good deal of debate as to the efficacy of Tl's single-chip DLP approach to 4K. It's not native UHD, given that it achieves 2160p pixel density through a clever image flipping technique, but it still produces nuanced, detailed visuals that frequently look razor-sharp.
Unlike rival 3LCD technology, there's no potential for panel misalignment.
The TK850's optics are also top-notch. It employs a 10-element, 8-group glass lens array, able – boasts BenQ – to maintain image sharpness to the edge of the screen. A proprietary low-dispersion lens coating is then used to minimise chromatic aberration, which I can only assume works well, because I didn't spot any.
Fed an HDR source, the TK850 locks into its HDR picture preset, and the lamp goes into full brightness, with

consequent hubbub. View HD SDR, and the full range of image presets appear: Living Room, Cinema, Sports, User and Bright. You'll also be able to make adjustments to lamp intensity – Normal, Economic and Smart Eco – and therefore operating noise.
BenQ's built-in chambered sound system is good enough for casual viewing/sports parties, and will serve should you want to set the projector up in a den or kid's room for a special event. Obviously, a more permanent home theatre installation would warrant a dedicated sound system.
Arguably, though, the TK850 is better thought of as a media room projector for sports and TV. Its colour fidelity and sharpness are excellent, and its ability to deliver picture dynamics with HDR source material warrants two thumbs up. For film fans it's a little on the noisy side when managing HDR, and black level performance is limited. However neither characteristic is significant if your primary want is for lights-on viewing parties
Verdict
Recommended
BENQ TK850 Review
Bright enough for non-dark viewing, this 4K HDR beamer excels with sports and is fine with movies. What it lacks in black level in makes up for in sheer vivacity.
Add your review
Best BENQ TK850 prices in the US ?

$

1,999.00

$2,198.00
5 used from $945.07
1 new from $1,999.00
in stock

Best BENQ TK850 prices in the UK ?

£

1,199.00

£1,478.99
12 new from £1,175.02
in stock

MORE DEALS

See also TOP 15 projectors
1. The PJ's two-tone chassis design is easy on the eye
2. In addition to HDMI and USB hookup, BenQ provides 12V and RS232 connections for system integration
SPECIFICATIONS
3D: Yes. DLP 3D with optional active shutter glasses 4K: Yes. 3,840 x 2,160 HDR: Yes. HDR10; HLG CONNECTIONS: 2 x HDMI inputs; digital optical audio output; 3.5mm stereo jack; 2 x USB; RS232; 12V trigger BRIGHTNESS (CLAIMED): 3,000 Lumens CONTRAST (CLAIMED): 30,000:1 (Dynamic) ZOOM: 1.3x DIMENSIONS: 380(w) x 127(h) x 263(d)mm WEIGHT: 4.2kg
FEATURES: Single-chip DLP projector; 2 x 5W 'chamber' speaker system; CinemaMaster Audio+; HDR, Living Room, Cinema, Sports, User and Bright picture presets; 1.13-1.47:1 throw ratio; dynamic iris; HDR-PRO tone mapping; MEMC motion interpolation; claimed lamp life 4,000 hours (Normal), 10,000 hours (Economic), 15,000 (Smart Eco); powered USB port
PARTNER WITH
SAPPHIRESWS240WSF-ASR2: Available through Richer Sounds, this 16:9 ratio projector screen measures 106in (diagonal) and pulls down from its white chassis for an unobtrusive installation. 77in, 92in and 122in variants are available.