BenQ's new projector treats gamers pretty well, but John Archer isn't convinced it's for movie lovers too
Video gaming is currently enjoying the sort of explosion in popularity that home cinema did in the 1980s.
Sales of the latest Xbox Series X and PS5 consoles are truly mind-boggling (despite ongoing supply issues). It's no surprise, then, to see makers of traditionally AV gear suddenly falling over themselves to cater for the gaming market.
BenQ's new TH685 projector is a perfect case in point. Rather than majoring on its home cinema talents, this model is pushed as a gamer's delight thanks to its high brightness, low input lag, 'Game' picture and sound presets, and support for the 120Hz refresh rates that have arguably proved the best new feature of the latest consoles and PCs.
All this is deliverable at screen sizes up to and beyond 100in for just £, which is not much more than a PlayStation 5 will currently cost you on the resale market.
The TH685 does come with one budget string attached, however: it's only a Full HD projector rather than one supporting the 4K graphics now commonplace on the latest gaming devices, not to mention Netflix, Prime Video, iPlayer and your UHD Blu-ray collection. How much this matters in the context of a £ product will obviously be one of the focus points of my review.
First things first, though. Given that it will likely be used in a relatively casual way rather than being permanently fixed in a dedicated room, does the TH685 look decent on your coffee table? Yes, it does. It's dressed in a crisp and glossy white finish, features calming rounded corners, and doesn't take up much space at all, being only 31cm wide and 22cm deep.
av info
PRODUCT:
Gaming-focused Full HD DLP projector
POSITION:
Towards the bottom of BenQ's home entertainment range, below various 4K DLP options
PEERS:
Optoma UHD38;
BenQ X1300i
WEBSITE
:
www.benq.eu
It's also pleasingly easy to set up. There are simple drop-down legs to adjust the angle of projection; effective zoom and focus rings accessible through a panel cut out of the chassis's top edge; and the amount of zoom available is a very respectable (for this money) 1.3x.
The lack of any optical vertical image shifting might leave you dependent on the projector's less-than-ideal digital automatic keystone correction or digital image shifting to get the edges of your image perpendicular. Yet this limitation is standard for the sub- £ projector market.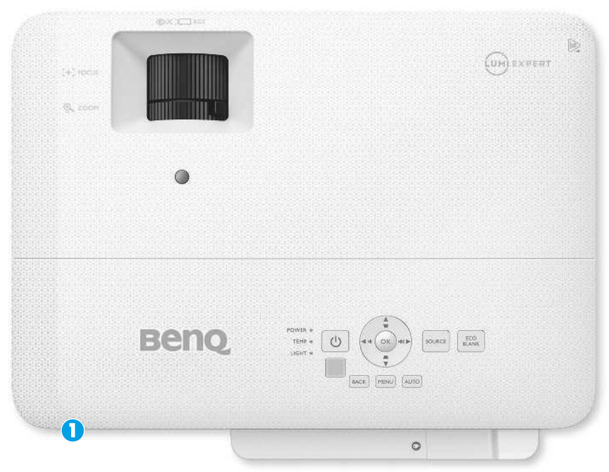 The TH685's optics consist of a single-chip DLP system illuminated by a standard UHP lamp. The claimed peak brightness of 3,500 Lumens, though, is anything but standard, and should be enough to deliver either explosively potent images in a dark room, or still enjoyable images in a fairly bright room. Both handy options fora gaming-oriented projector.
The brightness helps it claim coverage of up to 95 percent of the REC.709 colour palette, and should provide a healthy foundation for the TH685's unexpected support for the HDR10 HDR format.
Resolution is, as mentioned earlier, limited to Full HD. So while the projector is able to accept 4K feeds through its two HDMI ports, 4K is downscaled to 1080p for playback. There's no pseudo 4K 'double flashing' or pixel shifting going on here.
It will also play 3D sources if you've still got any, but a lack of compatible glasses meant we weren't able to try the 3D playback out for this review.
Crucially for any projector leading on its gaming chops, BenQ's TH685 takes only 16ms in its dedicated Game picture mode to render 50/60Hz images, and just 8.3ms to render 120Hz sources. This is an excellent result that means you really can't blame the projector at all for your gaming fails.
There's also a Game sound preset that has been designed to give more emphasis to subtle details, making them clearer and spotlighting their location in the soundstage. Its potential is undoubtedly hamstrung a bit by the projector only carrying a mono 5W speaker system, but nonetheless this beamer actually sounds much better than expected, throwing its audio a good distance clear of its enclosure, keeping dialogue clear and convincing, and delivering on the promise of lots of subtle audio detailing.
More bass and volume would have been great and most gamers will surely prefer a good set of headphones, while most movie fans will surely prefer a decent soundbar.
As integrated, convenient projector sound systems go, though, it's really not bad.
The story is more mixed when it comes to the TH685's picture performance. Kicking off with the upsides, the 3,500 Lumens of claimed brightness doesn't feel exaggerated in the slightest. Images enjoy a spectacular level of lustre and impact for such an affordable model. This BenQ does unexpectedly fulsome justice to the increasingly bold use of HDR in many of today's video games.
Game worlds appear more vital and three-dimensional as a result, which also makes them seem more immersive. This experience is certainly helped by the fact you don't feel aware of any lag while running, driving or shooting your way around a game landscape.
I was also pleasantly surprised by how sharp and detailed game titles look given the lack of (upscaled) 4K playback. Inevitably there's a little more jaggedness to diagonal lines and more visible general image structure than you would see with a 4K projector, and details are a little less dense, too. But the sharpness is excellent by HD standards, and as a testament to how good the TH685's downscaler is, native 4K sources actually look

slightly cleaner than native HD ones – so you still feel like you're getting some of your money's worth from Ultra HD sources.
This sense of sharpness holds up well no matter how quickly you hurtle through a gaming world, thanks to the PJ's excellently executed support for 120Hz refresh rates (with games that support it). This 120Hz performance, together with the low input lag, are enough in themselves to make the TH685 something of a gaming hero for its money, even without any true 4K support.
'Images enjoy a spectacular level of lustre and impact for an affordable model. This BenQ does justice to HDR'
Bright HDR games, such as Forza Horizon 4, benefit from a punchy, saturated colour presentation, with little evidence of the pallid tones you can experience with projectors that deliver more brightness than their colour systems can keep up with.
It's also worth adding that the TH685 runs decently quietly for such a small, bright projector, useful since you might end up sitting quite close to it.
What we don't do in the shadows
This model's main problem – especially when using it to play movies – is that its strong brightness performance comes at the expense of black level and contrast. This is perhaps to be expected, but still merits discussion. Dark scenes bottom out into grey rather than black, costing them depth and subtle shadow detailing, as well as flattening dark colours. The PJ's HDR Brightness option can improve black levels a little, but only at the cost of even more shadow detail.
The extreme brightness can also sometimes cause subtle detailing to be clipped out of the very brightest highlights of pictures. The reflected sun 'spotlights' used by the War Boys when we first see their desert base in Mad Max: Fury Road (4K BD), for instance, bleach out to pure white rather than containing the subtle blue and orange tones they're supposed to.
Finally, as we've seen numerous times before with very bright single-chip DLP projectors, the TH685 is more prone than I'd like to DLP's rainbow effect, where stripes of colour flit over stand-out bright edges and objects. The title sequence of Alien on 4K Blu-ray reveals this problem clearly

enough for me to instantly notice it – and I'd generally only consider myself around average in terms of my susceptibility to rainbowing issues.
Both the TH685's rainbowing and black level shortcomings are significantly less noticeable if there's a little ambient light in the room. So if you anticipate that full dark room viewing isn't going to be something you'll be able to enjoy very often, you could potentially discount those issues. Suddenly, the TH685 becomes a much more satisfying option. Its shortcomings might also be easy to ignore if you're looking for a dedicated gaming projector to run alongside a home theatre model, perhaps only brought out as and when required.
If you're hoping for a one-stop solution to meet both your gaming and movie needs, however, I'd suggest trying to find a bit more money for something more versatile
BENQ TH685 Review
The TH685 is a fast and fun gaming projector that excels on brightness and response time. Black levels and rainbow effect are a problem, though, especially with films.
Add your review
Best BENQ TH685 prices in the US ?

$

169.89
1 new from $169.89
in stock


$

169.99
2 new from $169.99
in stock


$

199.89
1 new from $199.89
in stock

Best BENQ TH685 prices in the UK ?

£

749.00
4 new from £749.00
in stock

MORE DEALS

See also TOP 15 projectors
Specifications
| | |
| --- | --- |
| Product Name | BenQ TH685 3D Full HD Projector White |
| Tipo di dispositivo | Proiettore DLP - 1080p |
| 3D Capable | Su00ec (occhiali 3D venduti separatamente) |
| Luminositu00e0 | 3500 lumen |
| Rapporto di contrasto | 10000:1 |
| Dimensioni immagine | 76.2 cm - 762 cm |
| Rapporto corsa | 1.13 - 1.46:1 |
| Risoluzione | Full HD (1920 x 1080) (nativo) / 1920 x 1200 (ridimensionato) |
| Rapporto d'aspetto nativo | 16:9 |
| Supporto colore | 1,07 miliardi di colori (30 bit) |
| Max Sync Rate (V x H) | 120 Hz x 102 kHz |
| Ciclo di vita lampada | Fino a 4000 ora/e - modalitu00e0 normale Fino a 10000 ora/e - modalitu00e0 economica Fino a 8000 ora/e - modalitu00e0 economica intelligente Fino a 15000 ora/e - modalitu00e0 risparmio energetico della lampada |
| Comandi e regolazioni | Correzione keystone |
| Linguaggi OSD | Danese, Hindi, Ungherese, Ceco, Croato, Indonesiano, Tailandese, Cinese (tradizionale), Cinese (semplificato), Vietnamita, Inglese, Tedesco, Francese, Italiano, Norvegese, Portoghese, Polacco, Finlandese, svedese, Russo, Spagnolo, Olandese, Greco, Turco, Arabo, Bulgaro, Rumeno, Giapponese, Coreano, persiano |
| Caratteristiche | Ruota colori a 6 segmenti, modalitu00e0 gioco, High Dynamic Range (HDR), LumiExpert, CinemaMaster Audio+ 2, Sport Mode, Cinema Mode, Hybrid Log-Gamma (HLG), Copertura 95% Rec.709, modalitu00e0 living room, modalitu00e0 per ambienti luminosi |
| Fattore di zoom | 1.3x |
| Direzione correzione distorsione trapezoidale | Verticale |
| Correzione della distorsione trapezoidale verticale | -30 / +30 |
| Direzione scorrimento obiettivo | Verticale |
| Scorrimento verticale obiettivo | 5% / 5% |
| Interfacce video | VGA, HDMI |
| Modalitu00e0 video | 1080/24p, 1080/60i, 720/60p, 1080/50i, 720/50p, 1080/50p, 1080/60p, 1080/30p, 1080/25p, 2160/24p, 2160/25p, 2160/30p, 2160/60p, 2160/23p |
| Tipo | Integrato |
| Modalitu00e0 uscita audio | Mono |
| Potenza di uscita / canale | 5 Watt |
| Altoparlanti | 1 x canale misto |
| Interfacce | 1 x Ingresso VGA - D-Sub HD a 15 pin (HD-15) 2 x HDMI - HDMI 19 pin Tipo A 1 x Uscita VGA - D-Sub HD a 15 pin (HD-15) 1 x ingresso linea audio - mini jack stereo 3,5 mm 1 x uscita linea audio - mini jack stereo 3,5 mm 1 x USB (solo alimentazione) - USB tipo A a 4 pin (solo alimentazione) 1 x RS-232 seriale - D-Sub 9 pin (DB-9) |
| Accessori in dotazione | 2 batterie AAA, telecomando wireless |
| Caratteristiche di sicurezza | Foro per lucchetto di sicurezza (cavo con lucchetto venduto a parte), sbarra di sicurezza |
| Tipo di slot di sicurezza | Slot di sicurezza Kensington |
| Fonte di energia | CA |
| Tensione richiesta | 120/230 V c.a. (50/60 Hz) |
| Potenza assorbita in esercizio | 297 Watt |
| Consumo energetico in stand-by | 0.5 Watt |
| Larghezza | 31.2 cm |
| Profonditu00e0 | 22.5 cm |
| Altezza | 11 cm |
| Peso | 2.8 kg |
| Temperatura min esercizio | 0 u00b0C |
| Temperatura max esercizio | 40 u00b0C |
| Emissione acustica | 35 dBA |
| Emissione suono (modalitu00e0 economica) | 29 dBA |
specifications
3D: Yes. Active shutter (no glasses supplied) 4K: No. 1,920 x 1080 HDR: Yes. HDR10 CONNECTIONS: 2 x HDMI inputs; RS-232; 3.5mm audio loopthrough; powered USB port; D-Sub PC input; monitor output BRIGHTNESS (CLAIMED): 3,500 Lumens CONTRAST (CLAIMED): 10,000:1 ZOOM: 1.3x DIMENSIONS: 312(w) x 110(h) x 225(d)mm WEIGHT: 2.79kg
FEATURES: Low latency Game mode; Game sound preset; 1080p/120Hz refresh rate support; 4K compatibility via downscaling; 5W mono speaker with CinemaMaster Audio+2 technology; digital vertical image shift; 15,000-hour max claimed lamp life (LampSave mode); 1.127-1.46:1 throw ratio; 95 per cent REC.709 coverage; picture presets including Bright, Cinema, Game, Living Room and Sports
TESTED WITH: FORZA HORIZON 4: This 2018 driving title was enhanced in 2020 for the Xbox Series X/S with 60fps playback. Add in the eye-popping 4K HDR graphics and it makes for an A-grade visual experience. There's also plenty of long-play potential thanks to its open-world nature. A follow-up was released November 9 this year.