This projector's legacy video inputs and quirky presets might not appeal to John Archer, but its 3D performance and price tag do. Read our BENQ TH535 review.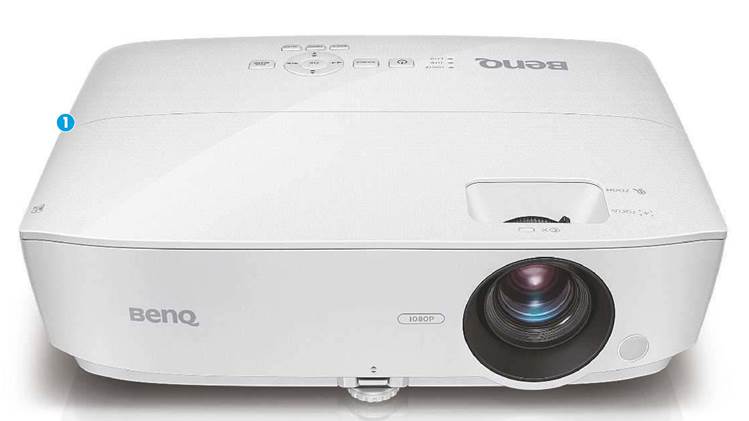 A very bright, Full HD single-chip DLP projector
Position: Near entry-level for BenQ's home entertainment projector stable
PEERS: Optoma HD144X; Epson EB-U05
THERE ARE FOUR things you need to know about the BenQ TH535 right off the bat. First, it's a DLP projector that costs just £. Second, while pitched as a home entertainment projector, it's also got a Presentation preset. Third, it's a Full HD model with no 4K or HDR capabilities. And, finally, it's really bright – a claimed 3,500 Lumens bright, to be precise.
We're therefore not in the presence of a home cinema specialist. This is a projector designed to hit a price and be flexible enough to perform a variety of tasks – including providing a bigscreen option for casual movie/sports fans, or people who don't have a dedicated cinema room. And provided it suits your needs, it hits its various marks pretty well.
7Review earns Amazon affiliate commissions from qualifying purchases. You can support the site directly via Paypal donations ☕. Thank you!
See also TOP 15 projectors
Make mine a flat white
The design is perfect coffee table fodder. It's small, and the glossy white finish is both cute and hides some rather plasticky build quality.
On its sides is some extensive venting (through which quite a bit of lamp light can spill), and the unit can run hot. Yet while its struggling cooling fans are certainly audible, their sound is even enough to be fairly easy to filter out. This is handy, given that the TH535's built-in speaker system is so underpowered (BenQ rates it at 1 x 2W) that even at maximum volume you can scarcely hear it. Needless to say, such puny, bass-free audio has no hope of sounding like a suitable accompaniment to the PJ's bigscreen movie images, nor does it fill the room with crowd noise when you're watching sport.
In short, you'll need to partner the TH535 with an external speaker system (there's a 3.5mm digital optical audio output), which certainly dents the 'plug and play' appeal a bit.
Connections are plentiful and cater for 'legacy' video sources via S-Video and composite video, as well as newer devices through dual HDMIs.
An RS-232 control port, monitor output and two D-Sub PC ports, meanwhile, remind your that this projector is designed to be an all-rounder rather than a dedicated home theatre machine.
Key specifications beside the Full HD (1080p) resolution, Blu-ray-friendly 16:9 ratio and 3,500 Lumens brightness rating are a moderate 1.2x optical zoom (resulting in a throw ratio of 1.37-1.64:1), and +/-40 degrees of digital keystone adjustment. As always, you should avoid using digital keystone unless you really have to, but it may be unavoidable given that the TH535 (understandably for its price) doesn't provide any optical vertical image shifting.
Picture presets include Cinema, Presentation, sRGB, Bright and two User options. There's no Game mode, although the measured input lag of 33ms isn't bad by projector standards.
Key picture adjustments include colour and white balance management, Texas Instruments' BrilliantColor processing, and 3D adjustments.
Yep, this projector supports 3D. In fact, it excels at it.
Firing up Pacific Rim on 3D Blu-ray [one of our Discs of the Decade, see p25] delivered a strikingly bright, detailed and sharp 3D image. There was no hint of flicker from BenQ's active shutter glasses (which are sold as an optional extra); colours looked vibrant but well- managed in richly hued sequences such as those in the Shatterdome control room; motion, while a touch blurry, was largely free from judder, even during the motion-packed Kaiju/Jaeger fights; and, best of all, there was almost zero crosstalk ghosting noise, even around the vertical bridge struts during the opening news-reel Kaiju attack.
Honestly, it was one of the most enjoyable 3D experiences I've had. From a projector that costs just £.
The only problem with the BenQ TH535's 3D playback is that it's the projector's best asset. With 2D material, a couple of fairly significant flaws appear.
The projector suffers with DLP's rainbow effect, where stripes of pure red, green and blue flit over , bright parts of the picture. It's not shockingly intrusive, but you'd have to be practically immune to it (some people are more susceptible to seeing it than others) not to spot it hanging about over some of the bright artificial lighting in, say, the strip club in Hustlers (Blu-ray).
And black levels look pretty average. This is what I was expecting given the TH535's affordability and focus on brightness. But if you're watching in a blacked-out room you'll be aware that dark backdrops become more grey than black, and how some shadow detail can be swallowed up in that greyness.
The natural dimming effect of active shutter 3D glasses counters the TH535's black level shortcomings, but with 2D the only thing that really helps is choosing the PJ's Economic lamp mode. You should definitely do this if you're viewing 2D in a dark room.
Other smaller issues found the image on my review sample looking a little brighter on the right side than the left, and some softening in the image's corners.
The right environment
As I said at the start, however, BenQ doesn't pretend that the TH535 is a cinephile projector. And in the 'right' environment, namely an ordinary living room with a bit of low-level lighting on, it's rather effective.
In these circumstances the average black levels don't really matter any more, and the impact of the rainbow effect diminishes. The projector's high brightness comes into its own, creating pictures that still look punchy despite having to battle against ambient light. Colours hold on to their vibrancy and naturalism during Hustlers' stylised club fantasy sequences (they also look excellent in dark rooms, too), avoiding the bleached look some models suffer when used in a well-lit environment.
Shadow details don't seem great in a dark room, but with some ambient light around I was struck by how much subtle dark picture information the TH535's brightness allows it to retain versus typical projectors, while bright scenes showcase impressive vibrancy and clarity.
With this decent light management, it becomes easier to enjoy other smaller but still rewarding things you wouldn't expect to see on a £ DLP model – such as no dithering noise on skin tones during camera pans; no fizzing noise in dark areas; natural motion; bags of sharpness and detail everywhere bar the corners; and no bleaching or 'glowing' over even the brightest of Hustlers' club spotlights.
Entertainment first
In some ways, BenQ's TH535 delivers more natural and engaging pictures than many projectors costing more; it just needs a touch of ambient light to hide the flaws.
And provided you can cope with the slightly soft corners, it adapts quite well to presentations use. This could be useful if you're looking for more justification for splurging £ on a PJ.
Yet it really feels more like an entertainment-focused model than a business-centric beast. It's not perfect, nor even a true home cinema projector, but it's seldom less than entertaining
Verdict
Best BENQ TH535 prices in the US ?

$

102.51
1 new from $102.51
in stock


$

109.99
1 new from $109.99
in stock

Best BENQ TH535 prices in the UK ?

£

102.00
1 new from £102.00
in stock


£

112.38
1 new from £112.38
in stock

MORE DEALS

See also TOP 15 projectors
1. There's no vertical lens shift, so you may have to use the PJ's keystone correction
2. BenQ suggests its bulb can last for up to 15,000 hours
SPECIFICATIONS
3D: Yes. Active shutter (glasses optional) 4K: No. 1,920 x 1,080 HDR: No CONNECTIONS: 2 x HDMI inputs; 2 x PC (D-Sub) inputs; 3.5mm audio output; 3.5mm audio input; USB (mini); RS-232C; monitor output (D-Sub); composite video input; S-Video input BRIGHTNESS (CLAIMED): 3,500 Lumens CONTRAST (CLAIMED): 15,000:1 ZOOM: 1.2x DIMENSIONS: 332(w) x 99(h) x 341(d)mm WEIGHT: 2.4kg
FEATURES: Single-chip DLP projector; 2W onboard speaker; 15,000-hour claimed lamp life (depending on lamp setting); Cinema, Presentation, Bright, sRGB and User picture presets; 1.37-1.64:1 throw ratio; six-segment colour wheel with BrilliantColor technology; Wall Colour mode; Smart Eco mode
PARTNER WITH
BENQ DGD5 3D ACTIVE SHUTTER GLASSES:
Make the most of this budget beamer's entertaining 3D performance by adding these DLP Link 3D spex (priced around £ per pair). Battery life is rated at around 30 hours.