Standmount speakers–it's easy to see why they're popular. They're relatively compact and light enough to position with ease, whether on bookshelves or stands. They aim to offer a compelling sound in smaller spaces, are affordable, often due to mass-production overseas, and can be driven with ease by relatively modest amplification. Trouble is, the AVID Reference Three, while undeniably a standmount speaker, flies in the face of all the above. Read our AVID Reference Three Review.

Review: Andrew Everard
Lab: Paul Miller
To cover off some of the practicalities, these £k-a-pair speakers are tall at 114cm on their dedicated stands, and weigh 100kg apiece with an all-up shipping weight of 150kg per speaker. They come in black as standard, with chrome trimmings and a decorative lattice on the sidewalls, but other finishes are available to order, every set built by hand in Huntingdon, Cambs. The enclosures are assembled from 'aerospace grade' aluminium plate up to 2cm thick, with no visible fixings and joints sealed with O-ring gaskets. In other words, these speakers are built like the finest of British mobile armour, except they tend to work rather better straight from the box.
You'll probably want to be a little more ambitious with the amplification than you might with a pair of 'normal' bookshelf speakers–AVID suggests 40-400W as the recommended output, but I'd probably err toward the upper reaches of that range, as we did under test with a pair of hefty Constellation Inspiration Mono power amps [HFN Oct '19]. In return you'll make best use out of that claimed 88dB sensitivity and bass extension down to 35Hz [see PM's Lab Report, p65], plus a design aimed to be more room-friendly than you might expect from a speaker with such output.
'Clare Farr's trombone more than holds its own'
That's where the stand comes into play–its aluminium T-shaped frame bolted to the underside of the speaker between its two downward-venting ports. Unlike the smaller Reference Four [HFN Feb '22]–a mere 25kg tiddler–whose port fires onto the top of its integral stand above a conical diffuser, the Reference Three's dual reflex tubes are more conventional in design [see inset picture, p63].
The speaker is part of a four-strong range topped by the massive Reference One, a £ 340kg floorstander reaching 205cm in height and hosting seven drivers to deliver a bass response that's rated down to 20Hz. All four models use similar technology, just to varying degrees, and weight…
The Morel-sourced drivers, which are clamped into the baffle between aluminium compression plates, start with a 28mm silk dome tweeter that's set into a short flare to improve its off-axis response. This dome is coated with a damping material called Acuflex, to better manage any breakup modes, just as the combination of a titanium former and 'Hexatech' aluminium voice coil improve linearity and power handling.
Below is a pair of 160mm woofers with damped polymer composite cones and tuned mass damping to control distortion [see PM's boxout, p63], AVID claiming to have 'resolved the vibration issue at source, just leaving a stunning clarity of sound', which is certainly fighting talk! Again the combination of titanium former and Hexatech winding is used in the motor assembly, which also employs a hybrid neodymium/ferrite magnet system to increase the system efficiency.
7Review earns Amazon affiliate commissions from qualifying purchases. You can support the site directly via Paypal donations ☕. Thank you!
See also TOP 10 Subwoofers

The cabinets are divided internally using angled baffles to combat standing waves while, of course, those hefty panels resist flexing and resonance. The crossover, tucked into the rear of the cabinet, uses high voltage ClarityCap capacitors and lowresistance air core inductors wound with 1.25mm self-bonding enamelled wire.
So, who are the Reference Three speakers for? Well, AVID indicates they're suited for rooms that the larger Two and One models might overpower, suggesting that they are 'capable of performing to the same high level as our other Reference loudspeakers, just on a more intimate basis'. We certainly encountered no problems with the speakers set up in PM's listening room, where they were no more imposing than a pair of modest floorstanders–despite the uncommon depth of the cabinets–while the design enabled them to be used well back, positioned close to the rear wall.
From the off they grabbed the attention, with a dramatic rendition of the Aldeburgh Strings' recording of Britten's Young Apollo [Linn Records CKD478]. There was a wonderful sonority to the piano against the orchestra, and a completely integrated balance. The weight of the lower octaves of the keyboard was suffused with a real sense of the vibration of the strings in the frame, and then speed and rhythmic acuity in the right hand. So there was substance, but with tight control, too, this contributing to the sense of space and precise soundstaging.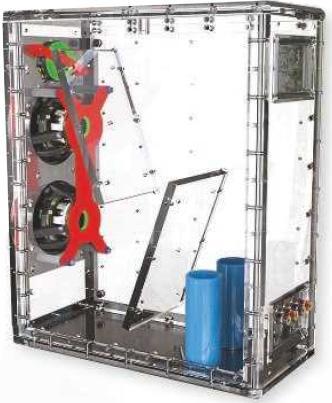 And that detailed sound was also in evidence with Art Of Noise's 'Moments In Love' from Noise In The City [Music on CD MOCCD14069]. True, this isn't the most obviously live sound, but rather just packed with information. Yet things get a bit livelier with the closing cover of 'In The Mood', with very well-disciplined clapping along with the music, and a great grumbling bassline. Superb, silly fun!
The (Le) Concert Spirituel recording of Handel's 'The King Shall Rejoice' [Coronation Anthems; Alpha ALPHA868] sounded magnificent, complete with powerful drums and a fine unforced sense of live performance. There was nothing artificial or studio-y here, but instead a real impression of experiencing the music in a live space. It was a big, exuberant sound, but one with bags of detail to back it up, and those very 'Handel' vocal flourishes had a glorious ringing quality.
With the unusual instrumentation of Sachse's 'Concerto In F major' from Clare Farr's Loudmouthed Beauty recital [Lawo LWC1242]–bass trombone accompanied by church organ–the AVID Reference Threes delivered a persuasive impression of the two instruments in a church acoustic. Both the low-frequency power and harmonic richness of each was evoked, their notes ringing through the space. In the theme and variations of the third movement the effect was even more striking, with the extraordinary power of Farr's instrument holding its own against the mighty organ.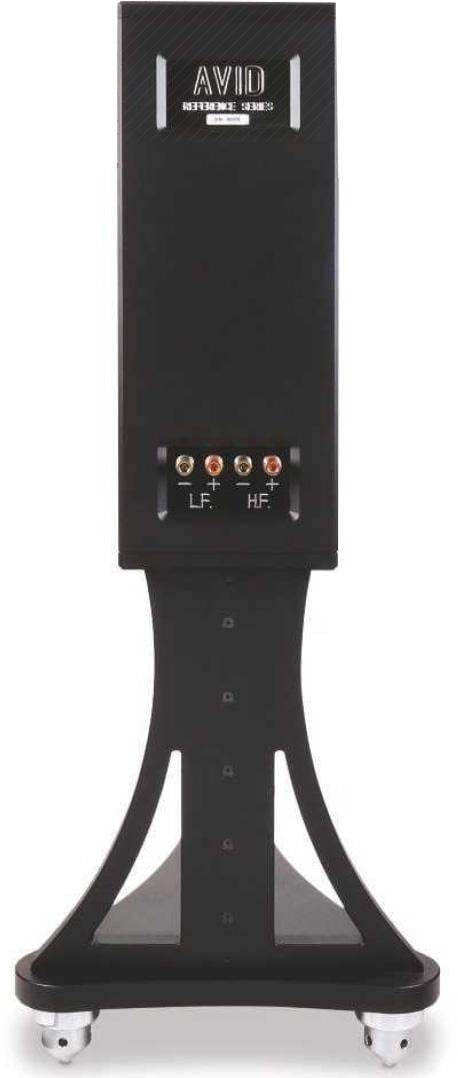 Give these speakers a somewhat lower-fi recording, such as 'Ain't No Secret Thing' from guitarist Snowy White's Driving On The 44 album [self-released, SWWF 2022], and the effect is just as captivating. The vocal is slightly recessed and suitably careworn, while the guitars sing against a driving rhythm section, powering out a slow blues, complete with power chords and the odd solo. It's a curiously old-fashioned sounding album, and some way short of an audiophile recording, but AVID's Reference Threes brought it out into the room with real impact–and just the right 'old blokes sitting around making music' vibe.
That ability to dig deep into the tonality of instruments was equally clear with the soundscapes of Robert Fripp's Washington Square Church [Panegyric DGMSP103]. With the guitars and the washes of electronica behind them, it was a spacey, at times unsettling experience, helped enormously by the weight of the speakers and their ruthless control, ensuring that every element of the sometimes-frantic sound was readily apparent.
Pushing their low-frequency ability with the appropriately-titled 'The Drum Thing', from Hungarian jazzers Reservátum Orchestra [Towards South; Hunnia Records HRES2211], showed the speakers could slam hard without smothering the subtle tones of the winding percussion. All this, before the whole track shifts into a full-on assault with seemingly everything including the pots, pans and kitchen sink being struck.
Returning to audiophile turf with the simple 'straight to single microphone' recording of Paul Berner & Michael Moore's The Gift [Sound Liaison SL1058A], and the sheer presence of the clarinet and bass before the listener was spellbinding. This is a truly 'in the room' recording, and the Reference Threes' remarkable imaging and clarity really made it spring to life in an entirely 3D fashion, with every breath apparent. There is real beauty in the sound of these beasts!
Over the years many methods have been employed by loudspeaker designers to manage cabinet resonances, from the controlled flexure of lightweight plywood panels to lattice-like internal bracing or the constrained layer damping favoured by the heavyweight brigade. Here a very 'lossy' polymer layer is sandwiched between panels of fibreboard, wood or alloy, or a brace and panel, to convert this vibration to heat. AVID, by contrast, meets this unwanted mechanical energy at source, using 'tuned mass dampers' to suppress resonances in the driver frames themselves. Computer modelling predicts the mass, shape and position of these vibration-suppressing masses, seen here [red] clamped to the rear of the bass/mid drivers via decoupled risers [green]. All that remains are the two diagonal side-wall braces and downward-firing reflex ports.
AVID Reference Three Review
Put aside the jaw-dropping price for a moment, for these speakers really are something special, with a performance as monumental as their build, projecting sensational detail and musical involvement. Unless you live in a converted hangar, these are probably as big as you'll need to go in the AVID range, delivering a sound easily the match of many a larger floorstander, with breathtaking imaging and soundstaging.
Add your review
Best AVID Reference Three prices ?
MORE DEALS

See also TOP 10 Subwoofers
AVID REFERENCE THREE
Take AVID's reflex-loaded Reference Four [HFN Feb '22], double the cabinet volume and add a further 160mm polymer-coned woofer and, broadly speaking, out pops the Reference Three. An increase in sensitivity should be possible, and although AVID rates both models at 88dB, in practice the Four's 85.5dB/1kHz sensitivity is boosted to 87.2dB/1kHz (87.9dB/500Hz-8kHz) in the Three. This worthwhile uplift in sensitivity is partially traded against bass extension and amplifier loading. The latter is tougher–though not atypically tough–than we saw in the Four, with the largest–50o/+46o swings in phase angle and minimum 3.6ohm/140Hz impedance all occurring at low frequencies and resulting in a minimum EPDR of 1.7ohm/97Hz.
Meanwhile, the dual 160mm drivers both operate over a 50Hz-630Hz/–6dB bandpass (the lower woofer is filtered >900Hz) and augmented by two downward-firing ports at 30Hz to deliver an impressive, diffraction-corrected bass extension of 35Hz (–6dB re. 200Hz). The Four achieves 30Hz, but requires more amplifier power to realise the same bass level. The forward response [Graph 1] is slightly 'U-shaped' with a rising, undulating presence/treble contributing to errors of ±2.6dB and ±3.1dB (200Hz-20kHz), but pair matching is just 1.0dB, tightening to 0.5dB from 500Hz-8kHz. The partnering 28mm doped silk dome tweeter rolls away above 19kHz to ~26kHz (–6dB re. 10kHz) and while minor mid/presence resonances are visible in the CSD waterfall [Graph 2], the lack of any ultrasonic dome break-up ensures a clean impulse response. Distortion is also consistently low at ~0.2% through mid and treble (re. 90dB SPL/1m). PM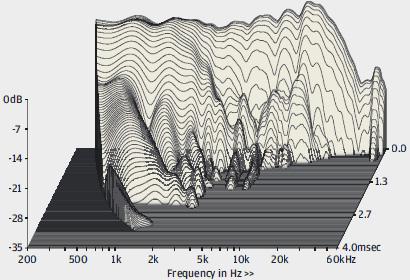 Sensitivity (SPL/1m/2.83V–1kHz/Mean/IEC) 87.2dB/87.9dB/86.3dB
Impedance modulus: minimum & maximum (20Hz–20kHz) 3.6ohm @140Hz 24ohm @64Hz
Impedance phase: minimum & maximum (20Hz–20kHz) –50o @75Hz +45o @54Hz
Pair matching/Resp. error (200Hz–20kHz) 1.0dB/±2.6dB/±3.1dB
LF/HF extension (–6dB ref 200Hz/10kHz) 35Hz/26.3kHz/26.1kHz
THD 100Hz/1kHz/10kHz (for 90dB SPL/1m) 0.45%/0.2%/0.18%
Dimensions (HWD)/Weight (each) 1140x460x605mm/100kg
Two-and-a-half-way standmount loudspeaker
Made by: AVID Hi-Fi Ltd, Kimbolton, Cambs
Supplied by: AVID Hi-Fi Ltd
Telephone: 01480 869900
Web: www.avidhifi.co.uk
Price: £ (including stands)