Audioengine A5+ Wireless loudspeaker
by Buzz Hughes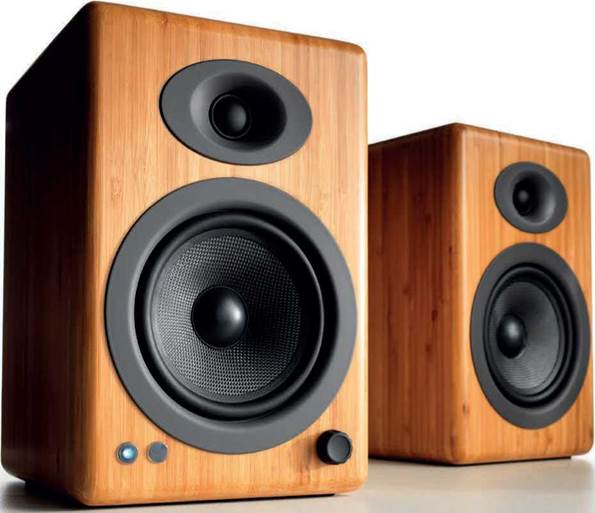 If you have a friend or acquaintance who enjoys music but has yet to catch the spendy audiophile bug, you probably share a common experience with the rest of us. The familiar scenario to which I am referring often pops up when its time to play some music at said friend's latest gathering and inevitably a brick-shaped, one-piece wireless speaker appears to pour out bland and lifeless music for the rest of the evening. Audioengine understands the horror you were forced to bear Mr. or Mrs. Audiophile, and they would love to meet your friend and show them the light by way of their new affordable "all in one" A5+ wireless speaker solution. The A5+ Wireless speaker is aimed directly at this neglected set of music lovers that are reticent and/or unable to drop big money on a component-based home audio system.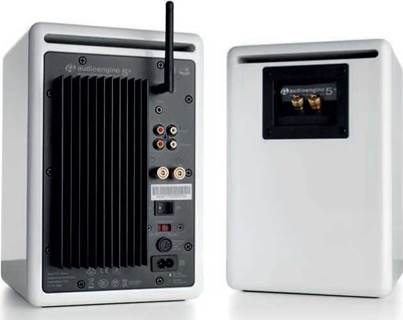 While the A5+ wireless speaker is by no means a lower tier performer, it does fashion itself as virtually idiot-proof as it requires no additional amplification or component matching whatsoever. Needing only to be set down and plugged into a wall power outlet, the A5+ wireless is then immediately ready to take any social get together to a new level of higher fidelity and save all of us from soulless 'brick speaker' social functions.
7Review earns Amazon affiliate commissions from qualifying purchases. You can support the site directly via Paypal donations ☕. Thank you!
Should not buy anything from AudioAffair.
See also TOP 10 Subwoofers
The A5+ is the third generation of Audioengine's A5 series which has enjoyed over a decade of success for the Texas-based firm. The primary improvement between the well-received A5+ Classic and the new A5+ Wireless is a functionality upgrade by way of a high fidelity aptX-HD Bluetooth receiver. With a range of about 30m via an antenna mounted to the back of the speaker, the aptX technology pioneered by Qualcomm is an audio enhancing innovation that is seeking to put Bluetooth technology back in the hi-fi conversation after years of being maligned in audio snob circles. Instead of reducing the bit rate transmission like previous generations of Bluetooth, aptX-HD featured on the A5+ Wireless speaker covers the entire audio spectrum with better than CD quality audio. aptX-HD works by improving the bit input threshold from the standard 16-bit aptX up to the new 24-bit/48kHz benchmark. This extra two bits of audio spread over four sub-bands is able to deliver a much higher quality of sound by way of a lower signal-to-noise ratio and also through the encoding/ decoding process by creating less distortion. aptX-HD also includes support for other Bluetooth codecs like the MPEG-1 and MPEG-2, MPEG, 4, and AAC. While most people using the A5+ wireless won't feel the need to experiment with Bluetooth codecs, the options are there for those inclined and can potentially present their own unique advantages to streaming audio playback. In addition to being equipped with the aptX-HD Bluetooth receiver the A5+ wireless also is designed to use an internal AKM (Asahi Kasei Microdevices) AK4396 digital to analogue converter. One of the largest suppliers of DACs
The right speaker is passive and driven by the amplifier in the left.
The Asahi AK4396 can sample up to 192khz and is known in the digital to analogue world for having an extremely quiet background and a wide dynamic range. Loaded with these current primetime Bluetooth and DAC technologies, the A5+ wireless speaker oasts that it will connect to any smartphone, ablet, or other device and should work effortlessly with streaming services such as idal, iTunes, Spotify, Amarra, and Pandora dust to name a few.
As we examine the build of the 'all in one' A5+ wireless it should be noted that Audioengine makes a point to use custom built and manufactured parts in the A5+ Wireless' construction whenever possible. Tweeters and Woofers are a few of the parts built in-house at the Audioengine factory and when custom-made parts are not possible (such as the transformers, magnets, and wiring harnesses), the outsourced parts are designed to rigorous internal specifications, and the collective sum is fastidiously tuned together to assemble a complete product. Audioengine takes its assembly procedures seriously and would be quick to point out that the A5+ Wireless speaker has little resemblance to any other 'off the shelf' wireless speaker currently produced by audio giants sitting atop the market that seem comfortable rolling out mass produced quality-optional speaker products.
The amplifier section for the A5+ Wireless is an analogue design with mounted circuit boards that perform the duties of a traditional component based preamp and power amp. The electronics sit in the left speaker, which greatly outweighs the right. The right speaker is passive and driven by the amplifier in the left. Mounted to minimise shock exposure, the amplifier circuit boards are dual Class A/B monolithic designs and are claimed to rival
The affordable A5+ Wireless speakers are cramming quite a bit of technology into that nice and compact bookshelf size.
most if not all integrated amp solutions at the price point in performance and efficiency. In a combined design such as the A5+ Wireless Audioengine has chosen to use gapless core toroidal transformer for the A5+ Wireless speaker system. These relatively light "EI" transformers substitute well for the toroidal devices found in a traditional power amp and they generate less heat while maintaining a tight magnetic field.
On the exterior of a sturdy hand built 13mm thick MDF wood cabinet you will find the two components that set the A5+ Wireless in another class from its competition: the in-house assembled tweeters and woofers. The A5+ Wireless 20mm tweeters are ferrofluid cooled silk dome tweeters with neodymium magnets. The tweeters are an edge-driven design and have been moved to the centre of the front face from the previous version of the A5+ for a smoother frequency response. The woofers are rugged 130mm Kevlar units complimented by bass ports on the back of each speaker. Not relying on any bass 'enhancement' circuits the A5+ wireless in essence comes equipped with a mini sub-woofer that is able to deliver defined bass comfortable extending to lower registers. A linear limiter will manage bass only when distortion starts to become a concern, but endeavours to manage the shape of the waveform, keeping it from entering distortion instead of slicing the profile of the signal. If you already happen to own a subwoofer you can connect it to the A5+ Wireless through the subs line-level output.
It is plain to see that the affordable A5+ Wireless speakers are cramming quite a bit of technology into that nice and compact bookshelf size. You will note that the A5+ Wireless does not include any speaker grills and the real wood finished wood cabinets have been designed with rounded edges. The A5+ Wireless is designed to live and interact in the busy environment of your daily life and seems to be intentionally urging you to just relax and forget about them… just enjoy your music! Both drivers are video shielded so they can be placed close to a TV, computer monitor, or digital music hard drive. As the cherry on top the A5+ Wireless comes with a pleasantly heavy aluminium volume remote that further augments the notion that their system outpaces the competition. The solid feeling remote comes with a nice sleep function which will place your A5+ Wireless into a low-power model so you can leave the speakers on standby without having to turn them on and off.
At the A5+'s price range for black and gloss white finish (for natural bamboo finish upgrade) you would expect the sonics to play it safe and focus on delivering an accurate and well balanced mid-range. The A5+ Wireless does have an engaging smooth and warm midrange, but surprisingly the strengths of the speakers are easily identified as a firm grip on the low end and a top end that really sparkles. Constantly through my auditions I found myself noting deep and controlled bass extension and exceptional treble. The A5+ Wireless is well positioned to suit established audio-holics as well as
TECHNICAL SPECIFICATIONS
Type: 2-way active powered bookshelf- style speaker system Driver complement: 20mm silk dome tweeters with neodymium magnets and 130mm Kevlar woofers with advanced voice coils Frequency response: 50Hz-22kHz ±1.5dB Impedance: 10K ohms unbalanced Sensitivity: Not listed Dimensions (HxWxD):
Left: 27x18cmx23cm Right: 27x18cmx20cm Weight: Left: 7 kg
Right: 4.4 kg
Finishes: Satin Black Paint, Hi-Gloss White Paint, Solid Carbonized Bamboo
carry the role of hi-f ambassador to entirely new segment of ears who are ready for an upgrade but can't find the money to sink into several new components. The A5+ Wreless is a speaker system that looks, feels, and sounds like you are getting more for your money than you thought possible. The clear and present bottom end complimented by a capable and exciting midrange and treble gives the listener all the tantalising treats found in bigger, badder, more expensive systems.