IN 2016, AOC released the C3583FQ, a curved 165Hz monitor running at 2,560×1,080. It had a few issues, including washed-out colors and, with certain Nvidia graphics cards, frame skipping at 165Hz.
Now, there's the AGON AG352QCX, a similar 35in curved monitor that comes equipped with an MVA panel, 200Hz maximum refresh rate and built-in support for AMD's FreeSync technology. Can this new model fix its predecessor's problems? The monitor is extremely well built and looks striking with its silver and black color scheme. Underneath and around the back, you'll find six LED strips that can be used to bathe your desk in red, green or blue. They're a bit silly and can be disabled if you find them distracting, but can work as mood lighting, especially when the lights are dimmed.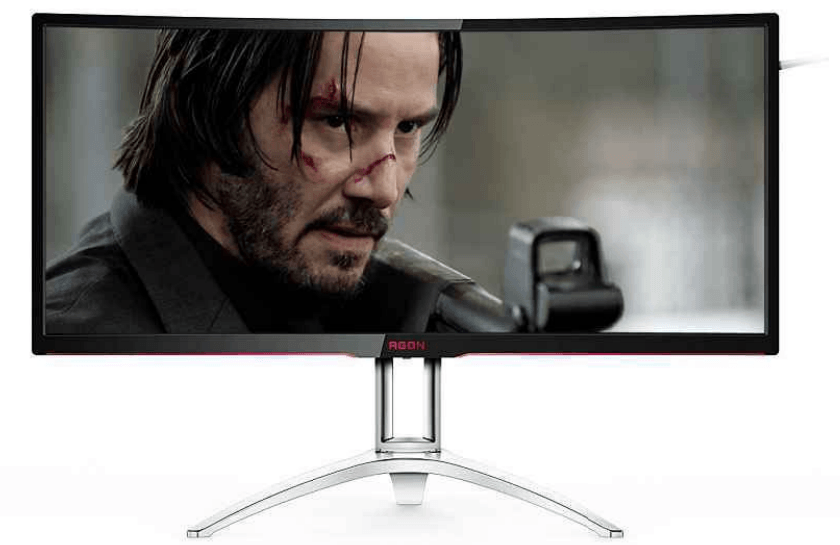 The stand allows -3° to 15° of tilt and 15cm of height adjustment, while a handle at the top of the metal stand allows you to carry it around – though with a monitor this big, we're not sure why you'd want to.
NOW HOOK HERE
If you're looking to wall-mount it, you can do so via the 100x100mm VESA mounts at the back. In the top left-hand corner, you'll find a retractable headphone arm, which conveniently lets you keep your headphones or headset close to hand without cluttering up your desk.
There are DisplayPort, HDMI, DVI and VGA video inputs, two sets of 3.5mm input and output audio jacks and two USB3 ports, one of which supports quick charge. There's also a surprisingly effective 5W speaker in the chassis, which provides a loud output with great sound quality by monitor speaker standards. Physical controls are great, especially the QuickSwitch Controller – a separate dongle equipped with a series of buttons – which allows you to flick between color profiles and navigate around the OSD menu. Even if you don't use that, though, you should find the on-monitor joystick controller easy to use. It provides a far more effective way of accessing settings than the touch-sensitive buttons favored by many other manufacturers.
7Review earns Amazon affiliate commissions from qualifying purchases. You can support the site directly via Paypal donations ☕. Thank you!
AMD FreeSync is another fine inclusion. If you have a recent AMD graphics card, the AG352QCX syncs its refresh rate with the GPU's output to prevent screen tearing in games.
REFRESH PRICE
The monitor uses a 2,560×1,080 resolution MVA panel with a native refresh rate of 144Hz, but through your graphics card's settings, this can be cranked up to an 'overclocked' 200Hz.
Unlike the C3583FQ, the AG352QCX doesn't suffer from any frame skipping at 200Hz, but we did notice a gamma shift at this refresh rate, resulting in washed-out colors.
If you're looking to use the monitor at 200Hz, you'll have to put up with this, or calibrate it to compensate. We therefore conducted our image-quality tests at 144Hz, which in any case should be enough for most users.
The AOC performs extremely well in sRGB mode. Color accuracy is good, with an average delta-E of 0.59. Its 2,467:1 contrast ratio is also very impressive, providing excellent detail in even the darkest scenes.
However, the monitor's color gamut coverage is rather disappointing in sRGB mode. Despite 95.4% sRGB coverage, which is good, it has below-par 67.4% Adobe RGB and 70% DCI P3 coverage.
Maximum brightness reaches 260cd/m2, which is fine for use in most environments, although brightness uniformity is disappointing. We found a dramatic variation of 27.29% between the top corners of the panel and the bottom corners, which is where the monitor's backlight is located.
That means if you're looking at a dark scene in a film or game, you might find it brighter in the top corners than the bottom. Backlight bleed isn't a deal breaker but is noticeable in very dark scenes at the top corners.
One benefit of enabling the 200Hz refresh rate is that it's buttery smooth in fast-paced gaming, even if the improvement over 144Hz isn't very noticeable. Nevertheless, it's ideal for competitive gaming, and with a low perceived response time and low input lag, the monitor flew through our tests. Better still, when adjusting its response time settings, ghosting overshoot (which typically takes the form of shadows around objects) was barely visible.
BEND OF THE LINE
The curvature of the screen isn't as deep as the Samsung CF791, which takes away from the immersion a touch, but compared with a flat-panel ultra-wide monitor, the AG352QCX still provides a better gaming experience.
Our only real complaint is that the 2,560×1,080 resolution results in games not looking as crisp as they do on the admittedly more expensive 3,440×1,440 Samsung CF791.
Despite both the resolution and brightness uniformity flaws, there's still plenty to like about the AOC AG352QCX. In fact, the high refresh rate, fast response times, low input lag, good color accuracy and lovely overall design make it tough not to recommend.
The price may look high, but there aren't many ultra-wide monitors on the market that can provide as good all-round performance for much less. It comes warmly recommended.
Christopher Minasians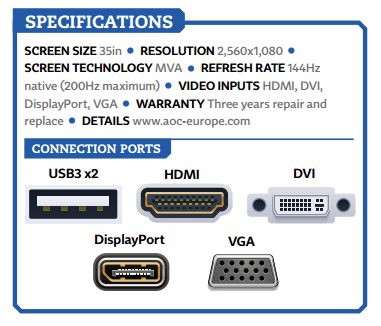 Verdict
With its 200Hz refresh rate and accurate colors, the AOC AG352QCX is a fantastic curved gaming monitor
Rating 4/5