This stylish design claims a wide soundstage, but does it deliver on the promise? Read our Amphion Helium510 Review.
DETAILS
PRODUCT Amphion Helium510
ORIGIN Finland
TYPE 2-way standmount loudspeaker
WEIGHT 7kg
DIMENSIONS (WxHxD) 160 x 316 x 265mm
FEATURES
7Review earns Amazon affiliate commissions from qualifying purchases. You can support the site directly via Paypal donations ☕. Thank you!
See also TOP 10 Subwoofers
•  1x 25mm tweeter
•  1x 130mm mid/bass driver
• Quoted sensitivity: 86dB/1W/1m (8ohm)
DISTRIBUTOR Auden Distribution Ltd.
TELEPHONE 07917 685759
WEBSITE amphion.fi
One of three standmounts in the Helium range, the 510 offers a combination of relatively conventional components implemented in a slightly unusual way. The 25mm titanium dome tweeter is set inside a deep waveguide that the Finnish maker says is key to the overall performance. By using such a waveguide, the claim is that the Helium510 produces a broad stereo image that is not confined to a single 'sweet spot'.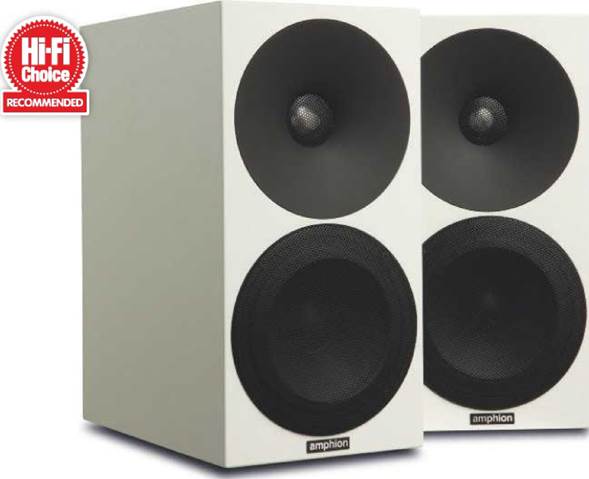 This is partnered with a 130mm doped paper cone mid/bass driver, covered with a metal grille. The bass output is augmented by a fairly large circular reflex port at the rear. Unusually, the port is placed directly behind the driver and the terminal panel is located behind the tweeter towards the top of the cabinet. It looks a little unusual, but is said to improve the flow and integration between port and driver.
Amphion has a very distinctive design aesthetic, making the Helium510 one of the more striking cabinets here. The black waveguide and mid/bass driver grille cover break up the white of the cabinet effectively, while full white, black and walnut wood veneer options are also available and livelier grille colours can be had for £ per set.
Sound quality
The claimed sensitivity of 86dB into 8ohm feels a little pessimistic, but this should not be considered a tricky speaker to drive. It also largely succeeds in Amphion's stated aim of avoiding a clear sweet spot. Almost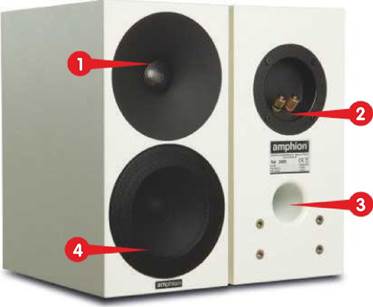 1 25mm tweeter
2 Single-wire binding posts
3 Bass reflex port
4 130mm mid/bass driver
Lover is delivered in a spacious and even fashion that avoids sounding diffuse. The tonality is wholly convincing too, with vocals that are rich and smooth while the piano displays excellent decay. With the more upbeat Lose Yourself To Dance, the bass extension isn't as deep as some designs here, but it is detailed, fast and superbly integrated with the rest of the frequency response.
This same liveliness sees the Amphion also work well with the rougher Doors recording. At all but the most firmly anti-social volumes, it manages to balance top-end sparkle with enough refinement to avoid
The port is placed behind the mid/bass driver to aid flow and integration
coming across as harsh, while its open and expansive presentation does a good job of helping to place fine detail in a convincing fashion – making the whole performance more believable.
The Amphion then finishes a strong showing in fine style with Synchrony.
The complex percussion and bass are given the space they need and the Helium510 handles the challenging time signature of the track with a confidence and assurance that some other speakers here can lack. Once again, the three dimensionality and space around the upper registers makes for a satisfying listen
OUR VERDICT
Recommended
Amphion Helium510 Review
A seriously capable speaker that should work well in a variety of systems
PROS
Spacious, engaging and potent performance;
very well made
CONS
Styling won't appeal to everyone;
high-ish price
Add your review
Best Amphion Helium510 prices ?
MORE DEALS

See also TOP 10 Subwoofers