DETAILS
Manufacturer: AMD
Requirements: AM3+ motherboard, DDR3 RAM, 450W minimum
AMD has an odd numbering system going on. You would expect a more recent processor than the FX-9370 to have a higher number, but in fact it's lower. The FX-8370E came out in September 2014, over a year after the FX-9370, and it's not like it's based on another FX-8370 from an older date, as that model came out at the same time.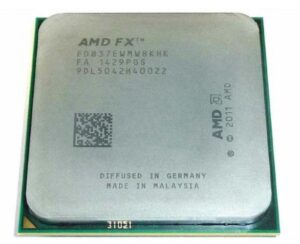 Anyway, the FX-8370E has a 3.3GHz base clock speed, 4.3GHz turbo, and is based on Piledriver micro architecture.
This Vishera processor has eight cores and eight threads. As with most of the higher-numbered AMD CPUs, this model comes with 8MB of L2 and L3 cache -1 MB for each core.
7Review earns Amazon affiliate commissions from qualifying purchases. You can support the site directly via Paypal donations ☕. Thank you!
The 'E' (Efficiency) and Black Edition branding is something we've already come across with the FX-8320E, and again it means that the FX-8370E has a lower TDP of 95W than its sibling FX-8370, which has a TDP of 125W. This version also has a lower base clock speed compared to the non-E version, which offers 4GHz base – both have the same turbo clock speeds, though.
The average overclock speeds using an air cooler are around 4.75GHz, with the average liquid-cooled overclock speeds hitting 5GHz. With our Arctic Liquid Freezer 240, we didn't get as high as 5GHz. Instead, we stuck with a stable 4.9GHz; there were instability problems when we touched on the 5GHz speeds. Still, 4.9GHz isn't too shabby.
Our benchmark tests were adequate enough for most users and to be expected for a processor of this kind. The Cinebench R15 singlecore score was a more than reasonable 98 (equal to that of the FX-9370), with a multi-core score of 620. The PassMark version 8 overall score was an equally good 8,290, with a single-core score of 1,530. This puts this processor in second place behind the higher-end FX-9370 – not bad for a more efficient CPU.
Although it's a capable CPU, the price of around is a little steep for the level of performance offered. Of course, the E-efficiency part is something well worth considering, especially since most AMD FX processors tend to be a little power hungry, even compared to their Intel counterparts. The main problem, though, is that the Piledriver microarchitecture hasn't really added anything new since it appeared in mid-2012, and the FX-8370E is a prime example of AMD just tuning the processor rather than stretching the manufacturing process to effectively compete with Intel.
Positively speaking, though, the AMD FX-8370E ticks a number of boxes for the vast majority of users. It'll remain reasonably high in performance ranks for a while yet, and with a good GPU paired with it, it'll still keep avid gamers happy.