Some weeks ago, we looked at a collection of Intel i5 and i7 processors, so now it's the turn of AMD's FX-range.
AMD is known for producing cost-effective alternatives to Intel's processors, but in recent years AMD has dropped the ball when it comes to manufacturing the latest processor technology.
We have six of the company's higher-end FX processors to look at this week. Which are worth considering for your AMD system?
DETAILS
• Manufacturer AMD
• Requirements: AM3+ motherboard, DDR3 RAM, 450W minimum PSU
The FX range of AMD's processors were originally designed to be the affordable Intel i5 and i7 killers. Bred for high-end computing tasks, the range featured high clock speeds and an equally impressive number of cores.
The AMD FX-6300 falls into the middle of the range, but since its release in October 2012,the CPU has dropped in price significantly, making it one of the cheapest of the FX family.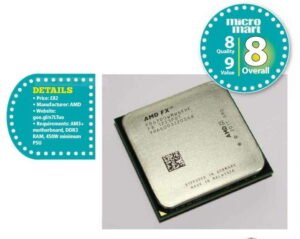 This 3.5GHz AM3+ socket CPU, with a turbo clock speed of 4.1GHz, boasts six cores, six threads, 6MB of L2 cache (1 MB per core), 8MB of L3 cache (1,33MB per core) and a TDP of 95W. It follows the Piledriver micro architecture, based on the Vishera processor core and a 32nm manufacturing process.
7Review earns Amazon affiliate commissions from qualifying purchases. You can support the site directly via Paypal donations ☕. Thank you!
The processor is unlocked, as with all of the FX range and, on average, the overclock speed hits around the 4.7GHz range with a decent air cooler or around 4.8/9GHZ with a liquid CPU cooler. We did manage to hit an okay 4.8GHz using an Arctic Liquid Freezer 240, and we felt we could have gone a little higher, but we didn't due to this being the only chip we had for testing.
Ideally, the FX-6300 makes a great budget gaming CPU, although in all fairness it's not as fast a processor as Intel's higher-end i5 series. However, you could easily put the savings into buying a higher-end graphics card. Likewise, the multicore tasks make for an excellent video and photo editing system, and for those who avoid gaming and focus instead on day-to-day computing tasks, the FX-6300 certainly won't let you down.
The AMD FX-6300 manages to combine decent performance with a low cost

It's the cheapest of the FX-range at present
As for benchmarks, we ran the FX-6300 at its stock speeds (3.5/4.1 GHz), and with Cinebench R15 single-core, the FX-6300 managed a reasonable score of 95, and 458 for the multi-core test. The PassMark version 8.0 test came back with an overall score of 6,385 and a single-core score of 1411.
The scores are quite reasonable, placing the AMD FX-6300 just below the Intel i5-6400. While Intel still has the edge over AMD, it's worth keeping in mind that the aforementioned rival to the FX-6300, the i5-6400, can be spent on some other component while you only suffer a slight drop in terms of performance. If you were to push the overclock, even up to a base of 4GHz, then you'll obviously be looking at a faster system and better frame-rates or quicker decoding.
The AMD FX-6300 processor is an amazingly versatile and nicely priced CPU. It may not have the edge on some of the Intel models, especially the newer sixth-generation CPUs, but it can hold its own without breaking the bank.