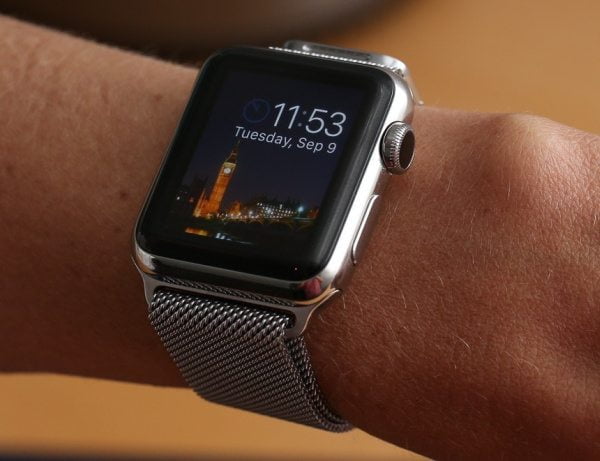 Apple Watch is the world's best-looking smartwatch. Sure, that's not really surprising given the clunky competition, but Apple has come up trumps with its first smartwatch. The worlds of fashion and tech have very much collided, and that's exactly what Apple intended. It's an object of lust that consumers will buy because it looks gorgeous, rather than for any of its market-defining features. Its curved face mimics the edges of the iPhone, while the Retina display wipes the floor with any competitors. We struggled with visibility in direct sunlight, but show us a modern device that doesn't.

The back of the watch is rounded, too (this means the microphone and speaker are virtually invisible) and houses the inductive charging system and heart rate sensor. The attention to detail is eye-catching – this is the back of the watch after all, largely unseen, but it seems like Apple has taken just as much care with it as the front. On the right you'll find the Apple Watch's two action buttons – the Digital Crown and the side button. That Digital Crown is mightily impressive, enabling you to zoom in and scroll through menus. Admittedly it takes a while to work out when to use it – initially you'll swipe up and down with your finger, but Apple would rather you use its digital scroll wheel. Unfortunately the side button wasn't our favourite. We kept pressing it to lock the screen like an iPhone's wake/unlock button, and its Friends functionality had limited appeal. US customers can use it as a shortcut to Apple Pay, which is a genuinely useful feature. Maybe we'll get it in the UK later this year.At just 10.5mm thick, the Apple Watch sits perfectly on your wrist. Our 38mm Silver Aluminium Case tips the scales at a measly 25g. As a result it never feels cumbersome, although it does stick out enough to catch on walls and doors as you walk past. If anything, the 38mm isn't big enough for an average male user. We were surprised by how discreet it looked. A brightly coloured Sport Band would of course change all that, but our White Sport Band never felt garish. It was comfortable, well suited to all-day use and, much to our surprise, easy to keep clean. It felt robust and always firmly fixed in place. There's an extra, medium-large strap in the box too (the packaging is as immaculate as ever), and switching out one for the other is super-intuitive thanks to the release mechanism that sits flush to the watch that you press while sliding the strap out. It's a bit different than having to make a trip to your local independent watchmaker and mess around with fiddly pin connectors. It's a massive plus point, and one that will come into its own when third-party straps become available. As well as an extra strap, there's a new folding-pin plug in the box – something that gave us more joy than it probably should.As with all Apple products, setting up your Apple Watch is straightforward. Follow the prompts and it's hard not to get up and running in more than ten minutes. It does take a while to turn on, and this is a familiar theme when using the Apple Watch. Viewing notifications isn't always seamless; neither is opening an app. It takes time for information to load up over Bluetooth and Wi-Fi and across to your Watch. This is most noticeable with location-based apps. It might test your patience at times, but the Watch is never unusable as a result. A software update should help things out. Navigating around, however, is a joy.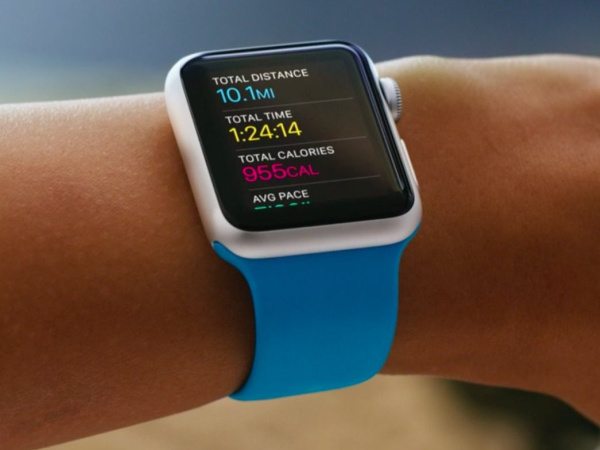 What about telling the time? Apple has, after all, made a song and dance about Apple Watch being an unrivalled timepiece. Unlike some other smartwatches, the screen isn't always on. As long as you have enabled the wrist detection option in your settings, the Apple Watch screen will switch on when you lift your wrist. Our main concern is that it only works nine times out of ten. You want to glance at the time and see it staring back at you. Waiting to twist your wrist a couple of times defeats the object. There are also moments when it comes on when you don't want it to, like at the dinner table when you're using your fork. Or turns off because your wrist moves. Maybe the screen should always be on.Apple Watch is all about connecting with your wrist for as small amount of time as possible. Subsequently most apps only display notifications and no actions. Most notifications are there to be read and dismissed, and there's a massive novelty factor when it comes to receiving them. Your Watch becomes your first port of call for deciding which notifications are important and which can be dismissed. It's essential to spend some time in the Apple Watch's Settings app to get it right, otherwise you'll be swamped with alerts. The Taptic engine works a treat, so much so that we turned off sounds completely. The gentle vibrations were more than enough to notify us.Built-in apps like Messages, Phone and Mail give you short, sharp replies and make the most of the built-in mic, which performed admirably. It translates your voice well, but isn't a fan of punctuation. And that's why Handoff is so prominent. Many, many tasks need to be finished on your iPhone. So it's not much use then? Not true. Apple Watch certainly excels as a remote, whether that's controlling your Apple TV or music collection. We did find Camera Remote rather fiddly, though.Perhaps our favourite aspect of Apple's new smartwatch is its undeniable health and fitness benefits. Apple Watch comes with two key apps in this sector: Activity and Workout. The latter is a pretty straightforward app for providing up-to-date statistics and summaries on your exercise, whether that's running or cycling. It works very well, but it's nothing we haven't seen before.Activity, on the other hand, is a brand new concept, and one that we've enjoyed using. It's essentially a motivational tool for becoming more active throughout the day. Once you've entered details like age, weight and activity level, it's split into three parts: Stand, Move and Exercise. We loved the gentle alert that reminded us to stand up for a minute when we'd been glued to our chair (although it does the same when you're in the car on a long journey or stuck in traffic). The aim is to complete a target each day, symbolised by three multicoloured rings in Activity's already iconic screen. The motivational milestone badges are awarded when you complete your goals.More than anything, Apple Watch will make you realise how little most of us move on a daily basis. It's not in-your-face advice, though. It is up to you to set your daily targets and it's certainly a lot a fun.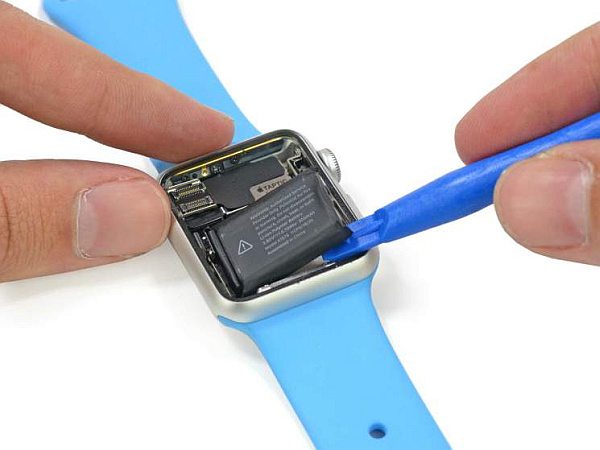 We were promised all-day battery life or the equivalent of 18 hours of charge. In our time with the Apple Watch we've been mightily impressed, regularly finishing the day with 25 per cent charge left. Those still wanting more need to remember just how much this little supercomputer on your wrist does. This isn't an e-ink display, after all. It's Retina and that needs powering somehow. It's a fine balance to find, but we're not complaining. It lasts all day; you take it off at night and put it to charge just like your iPhone. The Power Reserve mode is an excellent safeguard, too. We had concerns that simply by virtue of being connected to the Watch that the iPhone battery would be impacted, but these worries proved unfounded. In fact, using Apple Watch means your phone stays in your pocket more, negating the need for powering on the screen. We found we wasted less time using our iPhone just for the sake of it – those pointless minutes you spend everyday opening up your phone when there's no need to. Battery life shouldn't be a reason for not buying an Apple Watch.So if battery life isn't a reason to not buy an Apple Watch, what is? We've already mentioned how slow Apple Watch can be when turning on, opening an app and loading a notification. That's going to get better in time, but will it be with a new software update, or not until Apple Watch 2? The old wive's tale says that you should wait until the second iteration of any Apple product. We're not arguing with that. The software will get smoother and faster, the hardware will mature into something even more mind-blowing and third-party apps will continue to get better and better.At present, Apple Watch is not an essential purchase. That's not to say it isn't good, because it's a mightily impressive start. This is hands-down the best smartwatch in the world already. Apple Watch ticks so many boxes, but that might be its biggest problem. It's a jack-of-all-trades rather than a master of a select few. When Apple works out what a smartwatch is best for, that's when Apple Watch becomes a must-have. For now we'll enjoy it for what it is – a masterful feat of technology.It's not perfect, but Apple Watch rarely disappoints. This is a new benchmark for smartwatches; definitely the hottest device in the world.