Acronis True Image 2018
Backup your data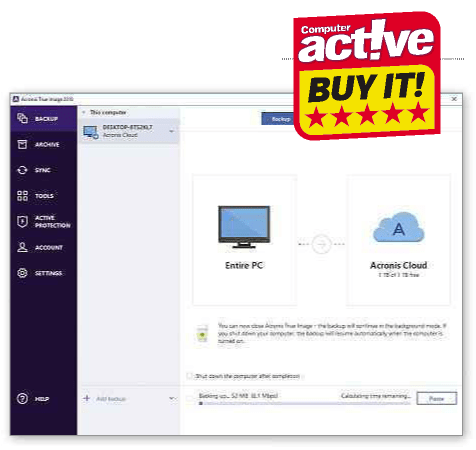 There are lots of good reasons to backup your data, but one that's been in the news recently is ransomware. This is malware that locks all your files, and displays a message saying you won't get them back unless you pay money into a foreign account. This new version of one of the best backup tools provides extra peace of mind with 'Active Protection', which monitors your PC for any untrusted software trying to mess with your files. Because True Image keeps an up-to-date copy of everything you choose to back up, it can easily restore it all if you're affected.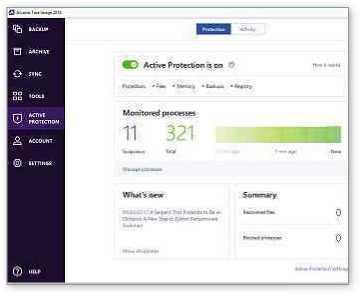 This feature previously cost extra, but it's now included in the standard package, which costs for a standalone version (which you can use for as long as you want) or exactly the same price for a one-year rolling licence that includes updates and 250GB of cloud storage for backing up your most important files remotely.
Bearing in mind that out-of-date security software is less secure, the subscription deal seems the wiser choice. If backing up to the cloud is your priority, Backblaze (www.snipca.com/25689) gives you unlimited space
7Review earns Amazon affiliate commissions from qualifying purchases. You can support the site directly via Paypal donations ☕. Thank you!
SYSTEM REQUIREMENTS
Windows XP (limited), 7,8 or 10 with 1GB memory and 1.5GB free hard-drive space • OS X 10.10.5 or 10.11.6 or macOS 10.12 • Android 4.1 or later • iOS 8.0 or later www.snipca.com/25691 for the same price.
But True Image has an unrivalled set of functions for keeping backups at home. It lets you choose what to copy automatically from your PC and all your your iOS/Android devices to your hard drives. The only catch is that you're limited to one PC.
While you can back up exactly those drives or folders that you need to keep safe, and nothing more, True Image also specialises in full drive cloning. You can make a complete image of a Windows PC even while it's running (no need to fiddle around booting up from a special drive), and even restore this to a different PC. What really impresses us about True Image 2018 is that it gives you so much control over everything and lets you see exactly what's going on, which is reassuring. It's simply the most versatile backup software around.
VERDICT: It still feels a bit more cluttered than it needs to be, but this is an excellent backup package that's now even more comprehensive
5/5
ALTERNATIVE: EaseUS Todo Backup Free Free This program comes with irrelevant extras (untick them) and omits advanced features, but it may be enough for you