GAMING PROJECTORS are a niche market right now, with many projectors focusing on standard media playing rather than games. Some manufacturers have stepped up, such as BenQ with its chunky X1300i gaming projector last year. The latest brand to take a shot at this market is Acer, with the Predator GD711. Read our Acer Predator GD711 Review.
–CHRISTIAN GUYTON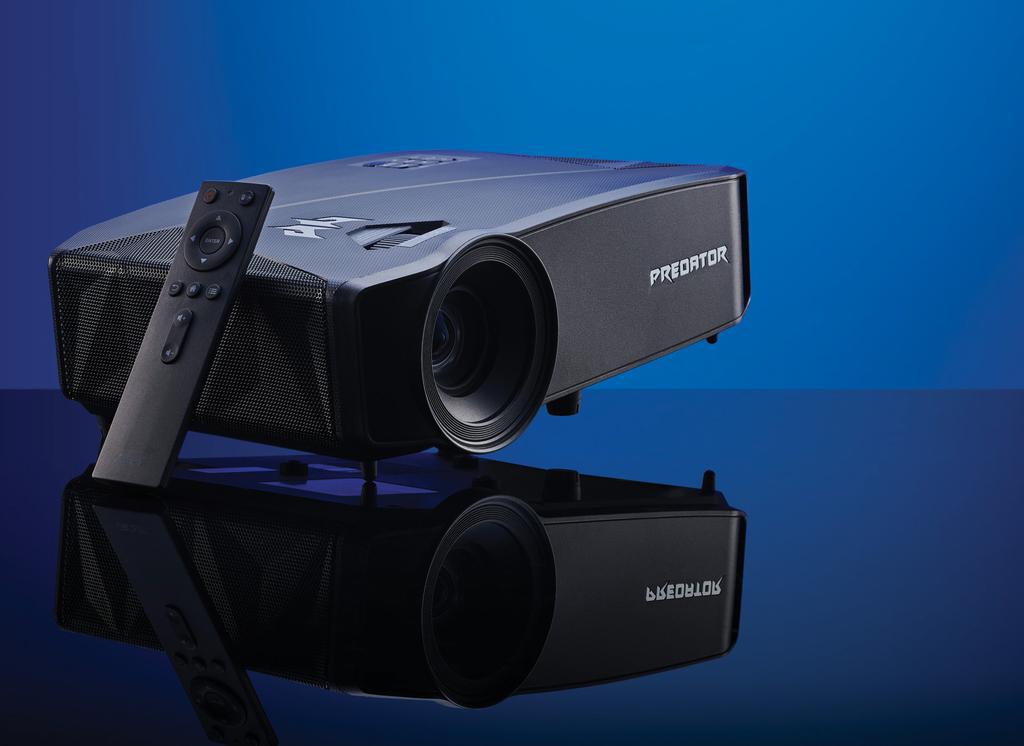 If the reflective Acer Predator logo on the top doesn't give it away, the sharp lines and triangular patterning on the sides of the unit make it clear this is a gaming product. But it's unassuming for a piece of gaming kit, free of RGB lighting, and should look at home in any room.
The first thing we noticed upon firing up the GD711 was the lack of a zoom feature, an egregious exclusion in any projector. A rolling wheel on the top of the unit allows you to adjust the focus for an ultra-sharp image, but to adjust the size of the projection you're limited to altering the video output from your device itself or physically moving the projector around.
Once the GD711 is set up, the picture quality is incredible. The sharpness of detail at 4K resolution is amazing, and there's a whole bunch of display presets to choose from, including one specifically for soccer games. The brightness is excellent, making the GD711 usable even without a black-out home cinema setup.
The refresh rate at 4K is limited to 60Hz, but shifting down to 1080p allows up to a speedy 240Hz, ideal for eSports games where framerate is everything. Variable refresh rate technology lets the projector adjust the refresh rate on the fly to reduce tearing and stuttering. We also didn't notice any appreciable amount of input lag while gaming on the GD711.
7Review earns Amazon affiliate commissions from qualifying purchases. You can support the site directly via Paypal donations ☕. Thank you!
RECOMMENDED VIDEOS FOR YOU...
See also TOP 15 projectors
This projector is no slouch for cinema uses, either. Colors are vibrant and blacks are almost as solid as a similarly priced TV. HDR10 capabilities and a 2,000,000:1 contrast ratio further sweeten the deal. The LED lamp means that the GD711 never gets too warm, and can run for days without overheating. Acer claims a lamp lifespan of 30,000 operating hours, an undeniably impressive figure.
The GD711 runs a simple Android-based operating system that includes Aptoide TV, which theoretically lets you run a limited selection of apps such as Netflix, but we found it to be buggy. Fortunately, it's easy to plug and play with a laptop or desktop PC, via either an HDMI cable or the wireless USB dongle, which slots into the rear of the projector.
Although there's a set of buttons on the top of the projector, it comes with a small infrared remote. Acer says it is coated with a 'silver-ion antimicrobial agent' that keeps germs from building up on the remote. Unfortunately, the remote feels a bit cheap; it's plain matte-black plastic, with rubber buttons that wobble around too much in their housings.
The GD711 comes with a host of features, including the auto-keystone mode that compensates for any amount of distortion caused by the projector's positioning which works well. Other features of note include HDMI Power On, which switches on the projector when it detects an input signal, and support for 3D content via DLP Link 3D.
But where the Predator GD711 falls down is the 10W integrated speaker. The maximum volume is impressive, but the overall audio performance is poor, with little bass and a tinny quality to higher notes. At least this won't be a dealbreaker for most potential buyers, because if you can afford the $k price tag, you probably already have a solid home speaker system.
VERDICT
+ HOME CINEMA Amazing refresh rate; impressive sharpness at 4K; zero cooling issues.
– HOME INVASION No zoom is a problem; integrated speaker isn't great; remote feels cheap.
$, acer.com
Best Acer Predator GD711 prices in the UK ?

£

1,342.73
1 used from £995.00
4 new from £1,342.73
in stock

MORE DEALS

See also TOP 15 projectors
SPECIFICATIONS
Projector type LED
Native resolution UHD 3840 x 2160
Refresh rate 240Hz (1080p), 60Hz (4K)
Brightness 4000 lumens
Projection size Up to 300-inches
Connectivity Wi-Fi 5, Bluetooth 5.0
Ports 2x HDMI 2.0, USB-A, USB 5V DC Out, 3.5mm audio jack, DC in
Dimensions 12.6 x 9.1 x 4.3 inches
Weight 6.8lbs