A GREAT-LOOKING BUDGET CONVERTIBLE, BUT WINDOWS 10 DRIVER PROBLEMS ARE A SHOWSTOPPER
Ruggedness is an oft-forgotten but important part of a laptop. If you take your computer with you every day, it needs to be able to withstand a few knocks. That's why the colorful shell on the Acer R11 is more than just a fashion statement.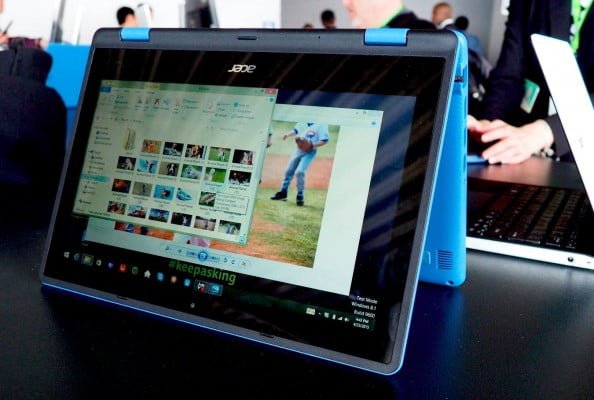 While our unit came "Cloud White", there is also a "Sky Blue" model available, and both look great. The textured lid doesn't have any give or pick up greasy marks. The rest of the laptop is inflexible and gives you the confidence to chuck the machine around without fear.
The screen isn't half bad, either. While its low contrast levels and 1,366 x 768 resolution are drawbacks, viewing angles are excellent and it uses Corning Gorilla Glass to keep it scratch-free. Flip the laptop around and you have an effective, if weighty, tablet. The speakers are loud, crisp and avoid distortion with loud music.
The inflexible lid can withstand a few knocks
Performance isn't bad, but the dual-core 1.6GHz Intel Celeron N3050 is a processor that you'll typically find in cheaper laptops. While the extra cost has gone on clever hinges and a touchscreen, it's disappointing that we don't have more grunt. But a time of 8hrs 26mins in our battery test is a welcome by-product. The 802.11ac Wi-Fi is also a good addition, and helps explain the higher price.
However, there were real problems during the Windows 10 installation.
A Synaptics driver issue hindered the drag-selection of objects, with a beep accompanying each error. This made the laptop impossible to use at times.
The Gorilla Glass screen has great viewing angles
A new driver mostly solved things, but not completely. The device is adorned with a "Windows 10 NOW" sticker – but "Windows 10 NOT QUITE YET" would be more suitable.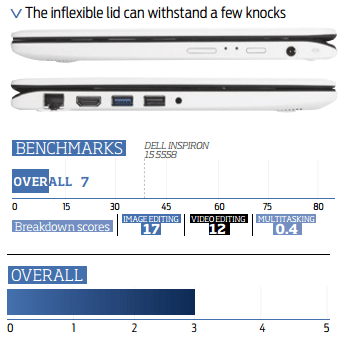 Until such issues are rectified, the Toshiba Satellite C40-C is a better bet.