They're not always great, but Rob Leane has picked out a few gems…
The combination of being a comic book fan and a PC gamer isn't always an easy one. Back when Spider-Man 2 was being heralded as one of the best offerings ever produced for PS2, PC players were lumbered with a totally different product that wasn't up to snuff. Last year we ended up in a similar position again: as Arkham Knight took the console world by storm, it became apparent that the Windows version was glitchy, unfinished and a big waste of money.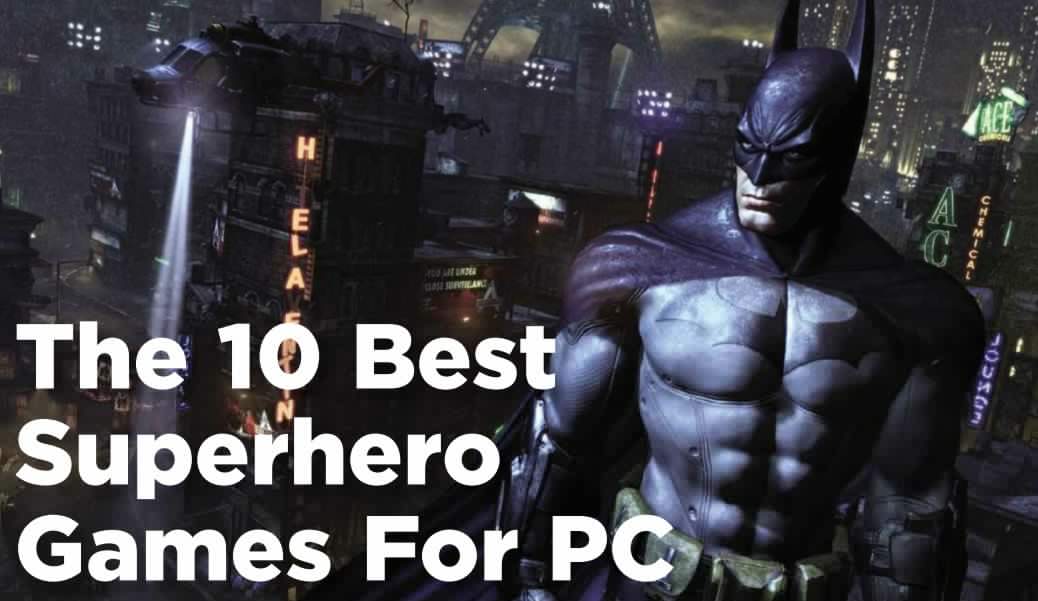 If both of those occurrences affected you, you might think that there aren't any decent superhero games for PC-owners to play. Thankfully, though, you'd be wrong. These ten are genuinely excellent… (N.B. An honourable mention goes to Batman: The Telltale Series, which offers gripping point-and-click thrills, mostly from the perspective of Bruce Wayne in his civvies. Only the first two chunks of the game have been released thus far, though, and it doesn't seem fair to put a game we haven't finished in a list like this).
10. X-Men Legends II: Rise Of Apocalypse
The sequel to the brilliant X-Men Legends (which sadly didn't come out on PC), Rise Of Apocalypse is a terrific game for fans of Marvel's memorable mutants. It's an action role-playing game offering single player and multiplayer modes. The basic story set up is that uber-powerful ancient mutant Apocalypse has shown up and decided to conquer Earth.
To stop him, the heroes and villains under the banner of Marvel's X-Men brand decide to team up. You'll be faced with an impressively lengthy barrage of missions, and you'll have to pick the four best mutants to take with you each time. Their unique powers are very enjoyable to explore, although the repetitive nature of the game's structure does grate a bit during long sessions.
9. Saints Row IV
The sandbox series Saints Row began as a gang-based action title stuffed with street battles and car chases. Somehow, when the fourth game came to PC and consoles in 2013, the franchise had morphed into an alien invasion story stuffed with superpowers.
Not only is the player character inexplicably elected the President Of The United States, but soon after the game begins he's imbued with amazing abilities as well: telekinesis, super speed and massive jumping skills, alongside elemental talents that let the player manipulate fire and ice.
7Review earns Amazon affiliate commissions from qualifying purchases. You can support the site directly via Paypal donations ☕. Thank you!
The game – much to my surprise – ended up being one of the best superhero games ever. The story is utterly barmy, the gameplay is great fun and you'll get a decent amount of carnage-laden hours out of it.
8. Marvel Heroes 2016
The canon of Marvel comics is chock-full of iconic superheroes, many of whom have never been given the chance to shine in their own solo gaming title. While Marvel Heroes doesn't remedy that, it does offer fans the chance to lark around with their favourite Marvel heroes in a massively multiplayer online action role-playing environment.
The game includes a few optional microtransactions if you're not bothered about parting with a bit of money, but refraining from spending cash doesn't diminish the fun of tackling missions with your chums – embodying anyone from Iron Man to The Punisher and addictively attempting to level up in order to gain extra powers. The raids (when 10 of your friends have to take on unique bosses against a timer and a death limit) are particularly fun, and the roster of over a hundred playable characters is bound to keep you interested in the long-term.
7. Prototype
Much like Saints Row IV, Prototype wasn't based on any preexisting superhero property like all the others on this list. And, similarly to how that game turned out, it's pretty darn brilliant. Prototype is a straight up action-adventure title which is perfect for comic book fans who feel that Spider-Man and Batman really aren't coming to our gaming systems regularly enough.
The player-character is Alex, whose main superpower is shape-shifting. This lets him transform into anyone he pleases, and it also comes in handy during a fight (there's something strangely satisfying about absorbing someone into your belly as a means of defeating them). The story's pretty simple (uncovering secrets of the past, stopping escaped monsters), but the barmy fight mechanics make up for it.
6. Injustice: Gods Among Us
Injustice: Gods Among Us finally gave us a modern version of what Tekken would look like through a comic book lens. Far more than the Marvel Vs Capcom or Mortal Kombat Vs DC Universe games ever did. Injustice lets you truly get inside the mechanics and tactics of a superhero bust-up.
The only flaw is the 2D fighting space, these days you almost can't help but wish for a few more angles to amp up the action as you go toe-to-toe. The quality of the graphics, the story (a really dark one involving the Joker, Superman and Batman), and the sheer joy of dishing out a super-powered beat down comfortably compensate for that, however.
5. LEGO Batman 3: Beyond Gotham
Traveller's Tales' LEGO videogame series has been continuously impressive since it established its winning formula with LEGO Star Wars back in 2005, offering up playful yet challenging multifranchise experiences for all ages to enjoy. There are three Batman-focused instalments in the series so far, and they're all worth a play if this is your sort of game. My personal favourite, however, is LEGO Batman 3: Beyond Gotham, because this one really embraced the broadness of the DC Comics fandom.
As well as the usual mix of main missions and optional extras, with LEGO Batman 3 you also get cameos from the likes of former Batman Adam West, incumbent Green Arrow Stephen Amell and legendary movie writer/DC mega-fan Kevin Smith. It's fun for everyone, but DC fans will get extra layers of enjoyment.
4. Ultimate Spider-Man
Ultimate Spider-Man is the answer to those 'the PC version of Spider-Man 2 really sucked' woes. It has simple-but-effective web-slinging mechanics, comic book throwback graphics and an engaging story following a young Peter Parker and his chum Eddie Brock after the invention of the Venom symbiote.
In many ways, Ultimate Spider-Man feels like a throwback to the classic Spider-Man game from 2000 and its sequel Enter Electro (the latter of which didn't make it to PC for some reason). Ultimate Spider-Man has everything a Spidey game should have, from the quips, to the thwips, to the bevvy of iconic baddies.
3. LEGO Marvel Superheroes
As much as I love LEGO Batman 3: Beyond Gotham, it doesn't quite nab the crown of being the best superhero-themed instalment in the franchise. That honour goes LEGO Marvel Superheroes, which reinvigorated the Traveller's Tales series with its hugely impressive scope and uncountable imaginative ideas.
The Marvel characters and LEGO feel like a perfect match together, with hundreds of characters and all their wacky abilities providing many great moments of problem solving, both inside the levels and in the free-roaming Manhattan where you spend your time in between. I often get bored before 100%-ing LEGO games, but with this one I never did.
2. Arkham Asylum
Marvel has made some very good videogames, but nothing they've done gets anywhere near DC and Rocksteady's amazing work on Arkham Asylum. A simple starting point (the lunatics taking over the asylum) gives way to a twisty narrative, which is brought to life by the best voice talent in the business (Kevin Conroy, Mark Hamill, and plenty more), some highly slick graphics, tricky stealth levels, trippy hallucinations and easy-to-learn-but-tough-to-master fighting mechanics.
This is the sort of game that you'll play again and again, straining not to miss anything and to secure that elusive 100% completion score. I'd say Arkham Asylum was perfect, if I didn't know that they somehow made the sequel even better…
1. Arkham City
And finally… the best PC game for superhero fans has to be Arkham City. Building on the stellar execution of Arkham Asylum, Rocksteady pulled together a bigger and better sequel. With Gotham's criminally insane contingent relocated to a sprawling inner-city complex, and a chilling new baddie in the shape of Hugo Strange, Arkham City let Bats loose within an extraordinary gaming experience.
There are also some really imaginative moments, like the opening sequence where you have to play as a not-suited-or-booted Bruce Wayne and the jaw-dropping plot point at the end. It's just a shame that Arkham Origins was naff and that the PC release of Arkham Knight was botched, because the two games that came before them were pretty much perfect, mm